Market Alert: Active Home Listings at Snoqualmie Ridge Increase 69% in July
Posted by Tony Gilbert on Saturday, August 9, 2014 at 3:05 PM
By Tony Gilbert / August 9, 2014
Comment
Active resale single-family home listings at Snoqualmie Ridge increased 36% in July over June, and a dramatic 69% increase compared to July 2013. It's worth a special note, that this is a month ahead of the "typical" seasonal pattern, when inventory creeps upwards and buyer traffic begins to wane. While more resale home inventory is good news for buyers, especially those buyers who've grown weary of limited inventory and multiple offer situations, the changing market is of course not welcome news for prospective sellers.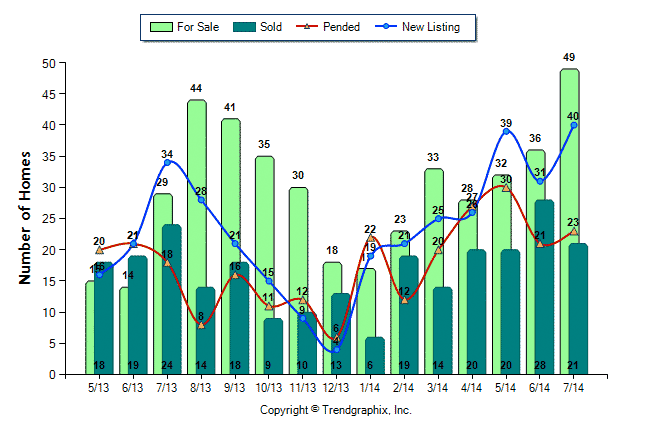 In Snoqualmie Ridge specifically, the first half of 2014 saw home prices increase rapidly with limited inventory - almost an identical pattern to the spring of 2013. Some new listings were selling in only a matter of a few days - most in 10 days or less (in the most common price brackets). But, that trend began to change at the end of May - and the gap between active & pending listings has continued to grow.
So, what's the deal? Why the sudden slow-down in buyer traffic & sentiment? Well... while the Ridge has been impacted more greatly thus far, the changes in the market are happening elsewhere too.
Eastside Market Dynamics Shifting
Buyer traffic at the Ridge is very strongly influenced by market conditions elsewhere on the Eastside - in particular Issaquah & Sammamish. While Sammamish has indeed slowed, it remains quite active - although buyers definitely have more homes to choose from. The northern portion of Issaquah (north of I-90) however, has seen a rather surprising shift downward. While Issaquah overall is still "technically" in a seller's market, there's far more inventory to choose from than in months prior. Thus, fewer buyers are willing to consider purchasing a home at Snoqualmie Ridge - even when it's crystal clear they would be getting a "better value" by comparison. Remember... "location" trumps nearly all other factors when buying a home.
Issaquah Highlands Market Trends:  For example - take a look at the chart below, noting the growing disparity between Active vs. Pending home listings at the Issaquah Highlands. When was the last time you heard of "price reductions" at the Highlands? Hmmm... certainly not during the past two year's virtual feeding frenzy - but that's precisely what's happening.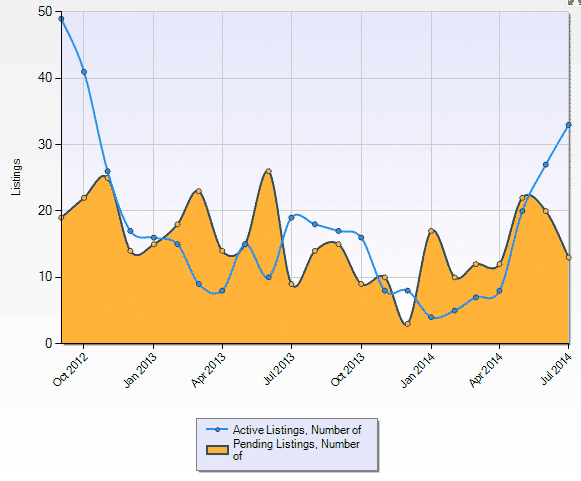 Price reductions are happening with greater frequency, as the number of active and pending listings are heading in the opposite direction. On average, listings aren't selling as quickly - and these specific numbers look more like the market in 2012. A growing disparity between active listings and pending sales is also indicative of increasing Days on Market (on average) - which ultimately means stagnant, or lower asking prices - and reductions for existing listings.
Bellevue Market Trends: Southern Bellevue is seeing similar trends with increasing inventory and price reductions in sought-after neighborhoods near Somerset & Newport Hills - which has been virtually unheard of for many months running. (For almost 2 years now, in some Bellevue hot pockets, buyers have literally been falling over each other as they "compete to win" in what's often amounted to a bidding process.) These changing dynamics in Bellevue are certainly part of the reason Issaquah's market is cooling off - which in turn, directly impacts the Ridge as well.
The long & short is, the more home inventory that becomes available to the west, the greater the impact will be felt at Snoqualmie Ridge. And, when home buyers start to see price reductions more frequently, their "sense of urgency" quickly evaporates.
What Does This Mean for Home Sellers?
Unless these market dynamics suddenly shift back to the positive, then it means sellers will need to be more aggressive when it comes to preparing their homes and setting asking prices. It also means that current sellers must keep a close eye on market trends, and if needed, adjust their strategy accordingly.
Will this trend continue? Of course, no one holds a crystal ball to the future. With that said, we're heading into a traditionally slower time of the year as it is. Thus it's reasonable to predict based upon previous data alone, that any sudden & significant shift back to the positive is unlikely until early next spring.