Active Listings in Issaquah Increase 17% - Signs of a Slow Down?
Posted by Tony Gilbert on Thursday, July 25, 2013 at 12:45 PM
By Tony Gilbert / July 25, 2013
Comment
The number of Issaquah homes for sale continues to rise. For the second month in a row, the number of "active" listings for single-family homes in Issaquah increased significantly. In May 2013, active listings increased 33% from April - and then went up again 17% during June. At the same time however, the number of <empending sales dropped 10% in June compared to May. As evidenced in the chart below, for the time being anyway, active and pending listings are now plotting in the opposite direction, rather than colliding - thus there are at least a "few" more homes available for Issaquah home buyers to choose from - relatively speaking, that is. Since January of 2013 the Issaquah housing market has been decidedly in favor of the seller, with new listings being immediately gobbled up in multiple offer situations.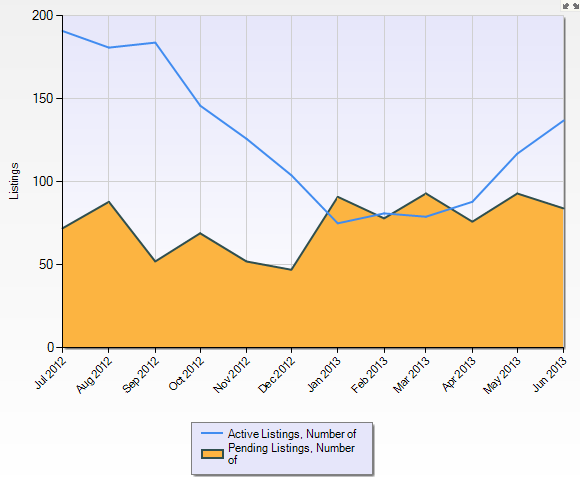 Seller's Market in Issaquah Still Going Strong
While it may look like buyers can relax a bit, don't make the mistake of thinking as a buyer, that you'll have more time to make a decision when you find a home that fits your needs - in fact, the opposite is still true today. When a new listing comes up that's been well-prepared for the market, the chances are very high that it also meets other buyer's needs - meaning it's likely to sell within a matter of days (or in some neighborhoods, possibly have offers on the table in only hours, such as Klahanie).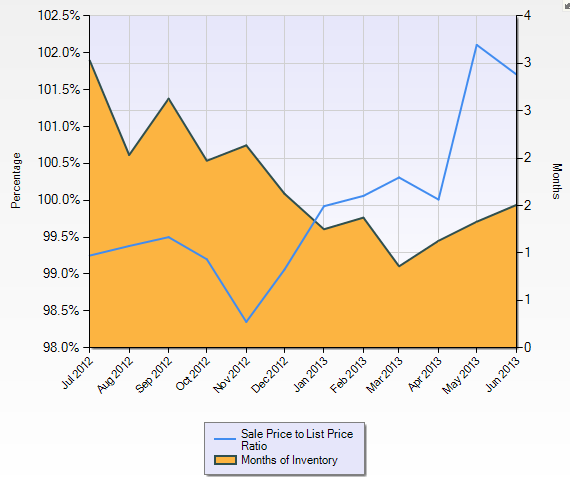 Note in the chart above, in June, there was barely two months of home inventory in Issaquah - this is still in very strong favor of sellers. The exceptionally favorable market for sellers is also evidenced by the "Sale Price to List Price Ratio," which barely dropped by ½ percent. On average in June, buyers paid 1.7% over the asking price... a clear sign that demand is high, and multiple offers are likely taking place. Looking back to July of 2012, sellers were receiving 99.3% of asking, with 3 months of inventory available. Obviously, buyers must remain "determined" and fully prepared before and during the house hunt.
Issaquah Home Prices Stabilizing?
Regardless, the market dynamics have improved since the beginning of 2013. In January, a scant 75 homes were on the market - the
lowest in at least 10 years for ANY month of the year
- and in fact,
at that time there were 21% more homes pending than actually for sale!
February through April weren't much better - but obviously things have improved a bit. Whether or not w'll see the
Issaquah housing market
stabilize depends on many factors. But, with Eastside Seattle home prices less affordable than other Seattle metro areas, it's stands to reason that many buyers will be extremely sensitive to interest rate increases, which are predicted to continue to rise in 2013. Due to interest rates and other affordability factors, most experts in the Seattle area believe that the local real estate trends will continue to "cool" towards a more balanced market, at least through the early spring of 2014.
Related Links