August Home Sale Rise at Snoqualmie Ridge As Inventory Drops
Posted by Tony Gilbert on Sunday, September 16, 2012 at 2:06 AM
By Tony Gilbert / September 16, 2012
Comment
August Home Sale Rise at Snoqualmie Ridge - Upward Momentum Building Again?
After a somewhat surprising early-summer cool down, and the slight bounce-back we spoke about in August's real estate update for Snoqualmie Ridge, it appears we've picked up momentum again, as homes sales for pre-owned, single-family homes in August jumped up, with more closings than we've seen in over a year! (How quickly things change...) Typically, fewer potential sellers list their homes in the fall, so this could mean that the housing market will get even tighter in the coming months, which will likely cause prices to begin to creep up, once again. This is continued good news for current home-owners hoping to recapture some of their lost equity.
This sudden increase in both pending listings and closed transactions is likely due in part, to the exceptionally low home inventory in Issaquah - in fact, in a few popular commnities in Issaquah, there are literally 2 or 3 buyers for every listing! We've been working with a few buyers lately in Issaquah, and after several weeks of waiting for new listings, they eventually "open up" to considering Snoqualmie Ridge. Once they see the commute isn't that much farther, and that they'll most certainly get a larger home for less money, it's a much easier decision. Thus, as inventory continues to dwindle elsewhere, we expect Snoqualmie Ridge to continue the overall upward momentum - eventually following the rest of the Eastside Seattle market.
Housing Market Tightening-Up Again on The Ridge
In August at Snoqualmie Ridge, new listings dropped suddenly - which can be expected to some degree as summer comes to a close. In the chart below (which represents pre-owned homes only, not including condos), the number of homes for sale dropped by 7 homes, as several new and older listings were absorbed by the market. Contrary to last month, when we were concerned about closings being pretty "flat" over the past year, August has reversed this trend. Even glancing at the graph below, one can see, that on average, homes sales have increased overall during the 15 month period - as shown in the dark green bar. However, unless several new listings come available in September, it's likely not possible to continue the trend of increasing sales next month, as obviously there's not enough inventory for buyers to choose from. Naturally, this should put upward pressure on prices, which home sellers will be happy to hear.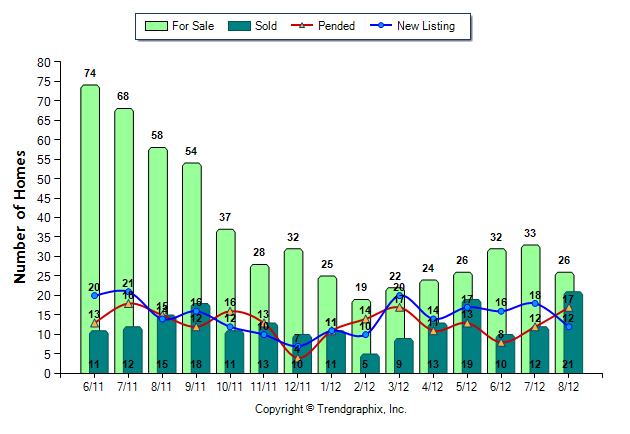 Compared to July, August's pending sales are up by 41.7 %, while new listings are down, by 33.3%. Closed transactions in August increased by a whopping 75% compared to July! Home inventory has tightened up a bit, with only 26 homes for sale as of August 31tst. Clearly, we remain much better-off than one year ago, with available home inventory down by over 55% compared to 2011. Compared to last summer, asking prices have increased on average by 22.9%, while "sold" prices are up 14.4% - but don't take this information incorrectly - this is also due to fewer "distressed" homes - short sales, and foreclosures, combined with a greater number of higher-priced homes for sale & sold this summer. When breaking it down by price range, asking and sold prices have increased between 9% - 16% compared to last year.
Days on Market Still Dropping - But Watch Your Asking Price!
On average, "Days on Market" continues to fall for resale homes at Snoqualmie Ridge - about a 10% drop since last summer. While home prices have increased overall in the past year, we still see price reductions quite often at Snoqualmie Ridge. While we realize in a market with positive trends that it's very tempting to "test" the market at it's upper limits, this is NOT advisable, unless you don't mind making your neighbor's home look like a better deal, that is! When pricing your home, it is ALWAYS best to price at the middle to upper-middle of what the comparable analysis indicates - NEVER at the top. Unless your home has simply amazing features that no one else has, you never want to be the "most expensive" home on the market.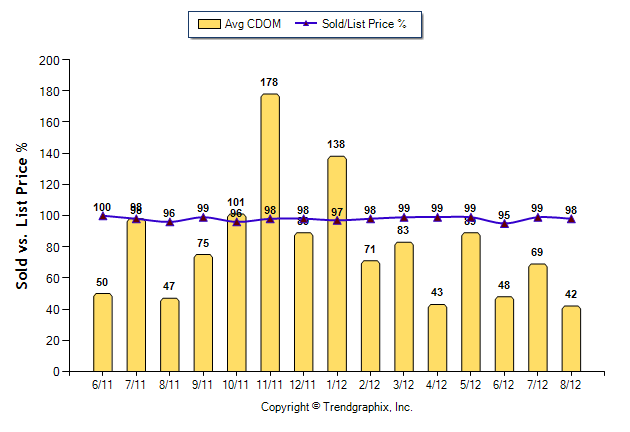 In the chart above, note that the average "list to sold price ratio" currently runs about 98% to 99% of asking price. However, this is the ratio based on the asking price at mutual acceptance, NOT from the "original" asking price. The list to sold price ratio compared to original asking price is about 96%. So, on average, most sellers are forced to drop their original asking price by about 2% before selling. For a $500K home, this is a $10K price drop - and more than likely, a seller who drops their original asking price has been on the market for 20 or more days - meaning another mortgage payment with interest before an agreeable offer comes along. Thus... why pricing your home according to actual present market value is so critical.
Months of Inventory Continues to Drop on Average
There are several ways to calculate "Months of Inventory" - but for the purpose of our real estate market updates, we'll use the basic method of dividing the number of Active Listings on the last day of July, by the Closed Listings during the month. The chart below says it all... after a brief slow-down from the pretty hectic spring, we're presently sitting at the lowest months of inventory during the past year - and well beyond. For home sellers, now is a perfect time to list your home for sale (at the right price, obviously). For buyers however, this means even fewer homes to choose from at Snoqualmie Ridge, and unless a buyer is willing to wait a while, there's not much new construction inventory to choose from either.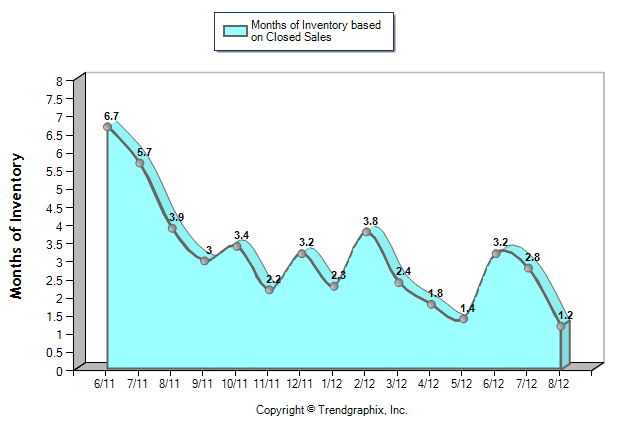 Summary for Snoqualmie Ridge August 31, 2012 Single Family Homes Only - Excluding New Construction or Condos
Closings During August: 21
Average selling price: approx. $488K
New Listings During August: 12
Active Listings on August 31st: 26
Average Asking Price: approx. $564K
Average Price per Square Foot: $167

Statistics not compiled or published by the Northwest Multiple Listing Service.
Related Links