The 8 Best Suburbs Near Houston, Texas
Posted by Danny Evatt on Friday, December 23, 2022 at 8:29 AM
By Danny Evatt / December 23, 2022
Comment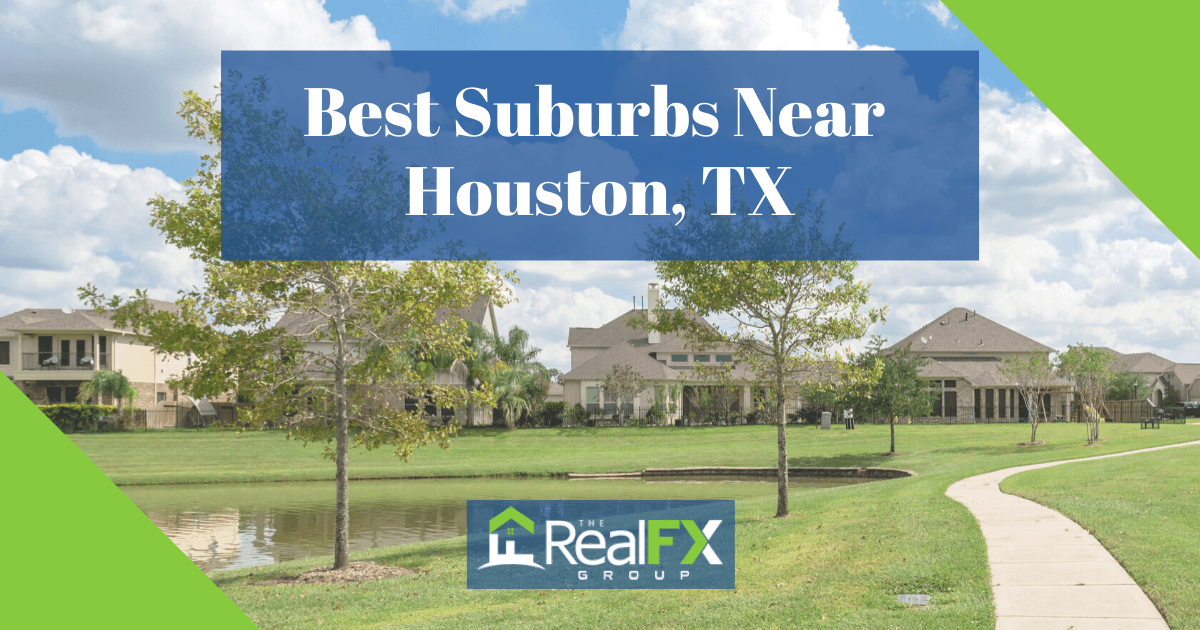 The ever-growing Houston, Texas, is known for its delicious food, vibrant art and cultural scene, and its plethora of outdoor spaces made for cooling off with a cold drink or enjoying a delicious meal. With all that the area has to offer, it's no surprise that crowds of people move to the Houston area every day.
For prospective homebuyers that don't have an interest in living in the heart of downtown and Houston's older neighborhoods, there are several suburbs with plenty to offer residents from all walks of life. Keep reading for more details on some of the best suburbs near Houston, Texas.
The Woodlands
The Woodlands Amenities
The Cynthia Woods Mitchell Pavilion, a spacious outdoor venue
Lakes Edge Boathouse, offering stand-up paddleboard and kayak rentals
Como Social Club, a high-energy and ambient venue inspired by Lake Como, Italy
The Glade Cultural Center and Arts Foundation, offering fascinating exhibits and classes
The Woodlands itself is a heavily wooded master-planned community that offers its residents the opportunity to live amongst the beautiful natural landscape of southeastern Texas. The area was recently named the #1 Place to Live in America, and for good reason. Its walkable downtown area, proximity to nature, and a plethora of unique dining options make the lively and energetic community a great choice for prospective homebuyers.
Homes in the area come in a wide range of prices. Single-family homes typically sell anywhere from $200k to over $1M. Architectural styles vary widely, and it's not uncommon to see intricate stonework adorning the exterior of homes in the area.
Despite its wooded and picturesque feel, dining and shopping opportunities in The Woodlands abound. Churrascos offers its diners a scenic water view to accompany its delicious Latin-inspired cuisine. Likewise, Peli Peli South African Kitchen provides a comfortable atmosphere for diners while they choose between traditional and more daring offerings.
Katy
Katy Amenities
La Centerra Shopping Center, an open-air marketplace
George Bush Park, a 7,800-acre park with a soccer field, shooting range, and numerous trails
Ephesus Mediterranean, a restaurant boasting a huge menu with plenty of fresh ingredients
Little V Vietnamese Bistro, a popular dining spot serving up traditional Vietnamese favorites like Pho and Shaking Beef
A beautiful Houston suburb located 25 miles from downtown Houston, Katy is known for being one of the most desirable suburbs in the Houston area. One of the reasons for Katy's popularity is the variety of major corporations headquartered in the area. Some companies that call Katy home include Igloo, British Petroleum, and Shell Exploration.
There are also plenty of historical shops, dining, and brewery options in Katy. No Label Brewing Co. is a pet-friendly space brewing handcrafted ales and lagers for its patrons. The Katy Mills Mall is an enormous shopping center home to over 200 retail storefronts. Lastly, First Watch in Katy Grand Crossing serves up award-winning meals in its always-bustling dining room.
Prices for properties in the city start at the low $100k's and can grow to well above $2M. There is something for every homebuyer throughout the multiple master-planned communities within Katy, including townhouses, condos, and single-family properties.
Sugar Land
Sugar Land Amenities
Pennison's Sports Pub, offering darts and pool at Sugar Land's oldest bar
Smart Financial Center, a 200,000 sq. ft. climate-controlled event venue
George Ranch Historical Park, a 20,000-acre ranch offering tours, activities, and demonstrations
Escape Again Rooms, offering groups of two or more the chance to try and beat the clock to escape a locked room
Once a sugar plantation, Sugar Land, Texas became an incorporated Texas city in 1959. Appropriately nicknamed the "Sweetest City in Texas," the city is constantly being lauded for its peaceful way of life and laid-back communities. The city was recently named one of the Top Five Best Small Cities in America out of 1,200 cities with comparable populations.
Available properties seem to always abound in this city. The vast majority of homes on the market are single-family properties, but there are plenty of condos and townhouses for sale within the city. Depending on lot size and location, homes in Sugar Land typically sell for anywhere between $100k and $600k.
Sugar Land is also home to plenty of sweet dining and shopping spots. Guru Burgers & Crepes serves up plenty of dishes, including avocado toast, breakfast tacos, and the ever-intriguing PB&J wings. Blendin Coffee Club makes itself at home in a former bank building, which gives it a unique vibe and serves Sugar Land locals a variety of caffeinated beverages.
Pearland
Pearland Amenities
Shadow Creek Ranch Nature Trail, offering folks pleasant strolls and views of Texan greenery and wildlife
Pearl Theater, putting on year-round live performances
Lunar Mini Golf, a black-lit and glowing putt-putt course
Shadow Creek Ranch Disc Golf, a clearly laid-out disc golf course for players
South of Houston, Pearland, Texas, is a suburb with less of the hustle and bustle associated with other nearby suburbs. Instead, this city keeps its focus on maintaining its small-town feel and rural roots, and its residents tend to like it that way.
While Pearland has successfully maintained its small-town feel, the city's growth is undeniable. New construction homes and other recent developments within the city have home prices starting to creep upwards. Single-family homes in the city sell for anywhere between $200k–$600k.
Pearland maintains its reputation as a quiet, peaceful, and laidback city, but it's no stranger to a bit of spice. Magnolia Cajun Comfort in Pearland serves up plenty of comfort favorites with a bit of Cajun-inspired flavor that keeps Pearland residents coming back for more. Another favorite haunt is the Pearland Town Center, which offers a huge range of retail and dining options for all who enter.
Richmond
Richmond Amenities
Fort Bend Museum, which uses live music, rotating exhibits, and educational opportunities to bring the area's history to life
George Park Historical Ranch, offering group tours, demonstrations, and events
Fulbrook Ale Works, brewing unique blends of flavors for local connoisseurs
Mimi's New Orleans Café and Oyster Bar, a bustling Richmond staple with authentic dishes and outdoor seating
Richmond covers 4.3 square miles and offers its residents a thriving and historic downtown area. Its proximity to Houston and numerous master-planned communities boasting trails, community farms, lakes, and fishing ponds have prospective homebuyers clamoring to move in.
Homes in the area sell for anywhere between $200k–$800k. Most properties are spacious, boasting more than 2,000 square feet of living space. It's not uncommon to see properties with three or more bedrooms, multiple bathrooms, and in-ground pools.
For the lucky folks that call Richmond home, there are plenty of nearby watering holes to keep them entertained. Braman Winery and Brewery offers patrons a wide range of wine and beer selections and regularly hosts special events like trivia nights and live music. Sandy McGee's Restaurant in Richmond hand-makes its craft cocktails and somehow manages to maintain its elegant atmosphere amidst the hustle and bustle of downtown.
Cypress
Cypress Amenities
Upper Horsepen Creek Dog Park, a gated area where four-legged friends can swim, play, and enjoy nature
Telge Park, offering nature walks and green space for picnics and relaxation
Vintage Park, an outdoor shopping center modeled after an Italian shopping promenade
Cypress Top Historic Park, a cluster of vintage buildings that take visitors on a trip through history
Cypress sits about a half-hour drive from downtown Houston and is the most distinctive suburb of all. This unincorporated community hit its stride in the 1990s when developers took advantage of the area's proximity to major roadways like US Highway 290 and Spring-Cypress Road. This accessibility to downtown Houston gave way to large commercial and residential developments, which eventually became the Cypress known and loved today.
There are plenty of communities within Cypress to choose from, and home styles and architectural designs are aplenty. New construction homes are common in the area, and lot sizes can be anywhere from 10,000 feet to over 100k. Prices for homes for sale in Cypress range between $200,000 to well over $1 million.
There are a variety of local haunts that satisfy the food, beverage, and retail needs of Cypress locals. Season's Harvest Café curates its menu to the seasonal offerings grown in their very own backyard. The Boardwalk at Towne Lake is an open-air shopping experience offering shopping, dining, boat rides, free classes, and live entertainment events.
Friendswood
Friendswood Amenities
Baybrook Mall, offering plenty of retail therapy for Friendswood shoppers
iLoveKickboxing, offering group classes for students looking to get fit while having fun
1902 Perry House, a Friendswood museum highlighting the most historical aspects of the city
Best Shot Range, a local shooting range offering classes, games, and events like Ladies Nights
Formerly lush prairie land, Friendswood, Texas, became an incorporated city in 1960. The city covers over 20 miles of land and is easily accessible to major nearby cities via several highways, including I-45 and Texas Highway 35.
These amenities and proximity to major cities have made Friendswood a sought-after area for prospective homebuyers. There is a pleasant mix of historic homes, new constructions, single-family homes, townhomes, and condos available for prospective homebuyers. Properties in Friendswood typically sell for anywhere from $100k to over $1M.
Some of the neighborhood favorites dotting along the streets of Friendswood include Summer Moon Coffee, a café offering a cozy atmosphere and wood-fired coffee blends. Friends Uncorked Wine Bar is a favorite for those who like to sit and enjoy a glass of wine on a cozy outdoor patio while listening to live acoustic performances.
Clear Lake City
Clear Lake City Amenities
Johnson Space Center, home to a number of pivotal space developments of the past and many more to come
Armand Bayou Nature Center, a 2,500-acre preserve boasting hundreds of animal species
Helen's Garden, a serene and breathtaking garden perfect for walks and photoshoots
Clear Creek Community Theatre, a historic theater within Clear Lake City offering seating for up to 109 guests
Clear Lake City is the second-largest master-planned community in Houston. The city maintains the slow pace and leisurely feel of the suburbs, but its downtown area still boasts the hustle and bustle that rivals major cities like Houston and nearby Galveston.
There are plenty of neighborhoods to choose from within Clear Lake City. Older neighborhoods boast single-family homes and multi-level estates, while new gated communities offer luxury townhomes and condos encased in high-rise buildings. Prices for properties range from $100k to over $1M.
There are also several local spots for residents looking to grab a drink, a meal, or do some window shopping. J. Henry's Draught House & Kitchen offers a huge selection of craft beers and unique menu items that include offerings like beer-battered onion rings in gravy and a candied pepper bacon burger. Clear Lake Marketplace is a 412-acre, one-stop shopping mall with salons, retail stores, dining options, and plenty of parking.
Find the Perfect Place to Live in the Houston Area
Each suburb surrounding Houston has its own unique personality. It can be overwhelming for those looking to purchase in the area to try and choose between them. Good news: it's hard to go wrong with any of these great suburbs near Houston. Each has its own unique charm and pleasant amenities that make it a great option for any prospective homebuyer.