Best Neighborhoods in Austin, TX
Posted by Danny Evatt on Monday, December 12, 2022 at 12:38 PM
By Danny Evatt / December 12, 2022
Comment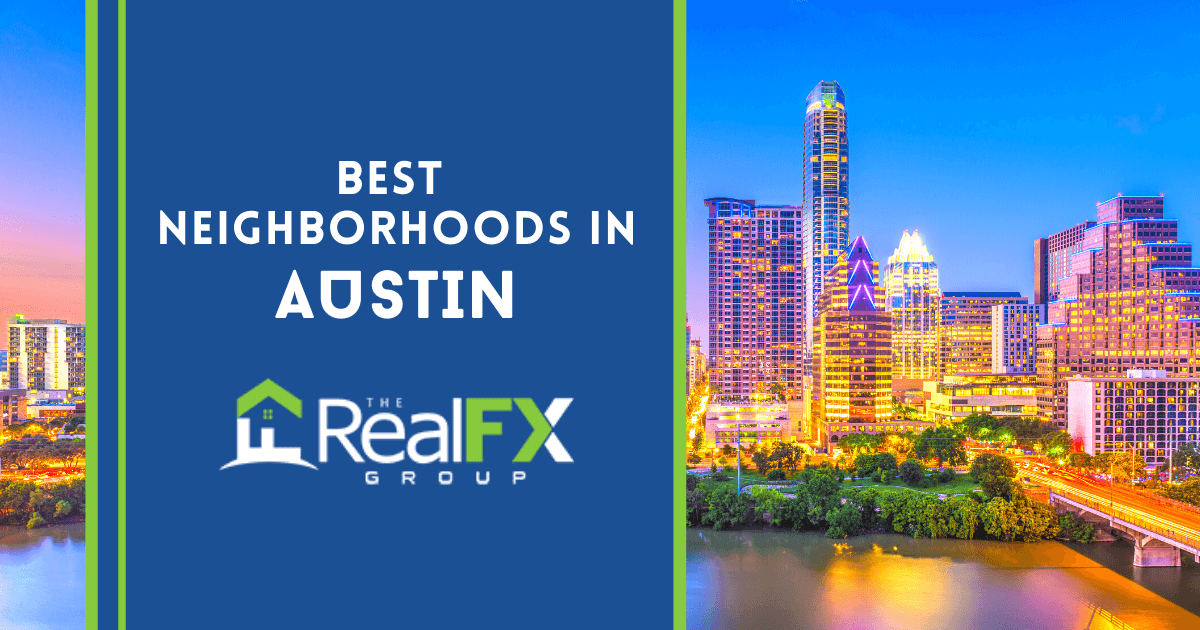 The city of Austin in the heart of Texas has enjoyed incredible population growth in recent years, to where it now stands as the tenth most populous city in the United States. Its metro area spans five counties, which increases the overall population of the Austin region to more than two million. In just the last 10 years, the area's growth has increased by about 10% as people discover the sights, sounds, and attractions of the state's capital city. This growth can be attributed to a booming job scene, where Austin has emerged as a major entrepreneurial hub, as well as to the celebration of culture, outdoor activities, and good quality of life. Local events and facilities offer a wide range of amenities.
Looking to make the move to Austin, and searching homes for sale or planning a visit? Here are a few fast facts about Austin:
Population within city limits: over 1 million
Home to the State Capitol Building, University of Texas, Formula 1 Racing: Circuit of the Americas, and a music scene known worldwide
The Austin-Bergstrom International Airport is 10 miles southwest of downtown Austin
Area Codes: 512 and 737
Mainly in Travis County, with parts in Hays and Williamson Counties
Throughout the city of Austin, neighborhoods are the glue that holds the community together. Neighborhoods in Austin are diverse: some feature thriving arts and shopping districts, while others are primarily residential. Read on to check out some of the best neighborhoods in Austin, Texas, and see why Austinites love to call this region home.
Downtown
Seeking a quintessentially urban experience? Look no further than the condos in Downtown Austin, where high-rise residential buildings full of luxury condos and apartments play nicely alongside business centers and local government offices. The downtown Austin community spans several individual neighborhoods offering a mix of high-rise condominiums, historic sites, popular music venues, and places to eat, shop, and explore. In the heart of the Downtown District, the urban lifestyle thrives with condominium buildings like the Town Lake Residences and The Independent. These high-rise homes have concierge services, roof-top lounges, private pools, lake views, and more. The Independent even has its own dog park. There's a rich nightlife scene here, with restaurants, lounges, bars, and nightclubs galore. During the day, there are plenty of cafés in which to sip coffee and parks in which to take a stroll.
Nothing in Austin is a stereotype. Cuatro Gato is a favorite local hangout, combining the deep flavors of Mexican coffee with Venezuelan street food to create a unique experience. Want to grab a drink at night? Discover the speakeasy at Midnight Cowboy, and enjoy the unique flavor profiles behind every cocktail. The urban feel in downtown Austin does not mean that the community feel is lost in any sense; that vibe is reinforced in all sorts of ways. For example, every Saturday morning, a Farmers' Market brings everyone together around sustainable, local food and artisanal products.
Downtown is also home to Austin neighborhoods like:
The Warehouse District
Rainey Street
The Uptown Arts District
Sixth Street
The Red River Cultural District
Market District
The Warehouse District has apartment rentals plus neighborhood bars and restaurants located in renovated warehouses. It's known for its unique venues for entertainment and music.
Rainey Street was once an Austin area with single-family detached homes lining the streets. Today, it's mainly high-rise condominiums, businesses, hotels, and restaurants.
The Uptown Arts District is bordered by the Texas State Capitol on the east and the University of Texas West Campus on the northern edge. It's the downtown area that is home to the courthouse and the Bullock Texas State History Museum.
The Sixth Street neighborhood is known for its hotels and places to have a drink and enjoy the nightlife.
The Red River Cultural District spans three blocks and has a wide selection of nightclubs, music venues, hotels, and restaurants.
The Market District has luxury condos and is just steps away from unique shops, restaurants, and bars. This area is home to the condominiums The Monarch and The Independent, a 58-story building. The Whole Foods Flagship Store also is in the Market District.
Mueller
Mueller Amenities
Come home to Mueller, a master-planned community located less than five miles northeast of downtown Austin. Mueller is an up-and-coming neighborhood resulting from careful urban planning, aiming to create new hubs that continue to stimulate local growth in healthy ways. It sits between downtown Austin and The University of Texas at Austin on the grounds of what used to be a local airport, the Robert Mueller Municipal Airport. This Austin neighborhood has a mix of rentals, townhomes, and single-family detached homes on streets walkable to parks, businesses, and places to eat and shop. The townhomes and single-family houses are newer constructions, built in about 2007.
The Mueller neighborhood is home to the Dell Children's Medical Center of Central Texas, which is located on the northwestern edge. The Wilshire West Apartments also are on the northwest side. The Mueller Lake Park is on the west side, just south of the Thinkery, a children's museum. The Morris Williams Golf Course is adjacent to Mueller Lake Park on the south side, and Bartholomew Park is on the northeast side. There are greenway trails on both the north and south ends of the neighborhood.
Austin has been a major contributing force to the development of the food truck scene; Mueller Trailer Eats is a nod to this, effectively acting as a food truck trailer park. Cinema buffs can quickly pivot to go hang out at the Alamo Drafthouse in Mueller, the latest in a local franchise that provides a distinctive movie-going experience (and yes, there's food and beer). Grab a burger at Contigo, noodles at Xian, or chicken at the food hall nestled in the local mega H-E-B.
Mueller's development coincided with the rise of green building, and so sustainability is thoroughly incorporated into Mueller's development. Residents can enjoy the benefits of the neighborhood's efforts to use sustainable materials to improve air and water quality and lower utility bills.
Avery Ranch
Avery Ranch Amenities
Avery Ranch Golf Club
Avery Ranch Main Amenity Center (MAC)
Nestled in northwest Austin and built starting in 2001, the Avery Ranch neighborhood is another example of a planned community and sits about 20 miles north of central Austin. Since the neighborhood's inception, over four thousand homes have been built — and that number only continues to grow as people continue to be drawn to the area. The Avery Ranch community is accessible to everything from downtown to major highways to a scenic golf course while still managing to be tucked away in a quiet little corner of Austin.
The neighborhood trends toward single-family homes, both single-story and multilevel, with between two and six bedrooms. Because these are modern homes, they tend towards open floor plans and gourmet kitchens. The neighborhood has tennis and basketball courts, several swimming pools, a playground, and hiking and biking trails. It's an ideal community for homebuyers looking for an urban oasis with an easy commute into the Capitol and downtown area.
Residents of Avery Ranch have access to public schools that are part of the Round Rock Independent School District and the Leander School District. The neighborhood is adjacent to the city of Cedar Park, a 60-acre lake, and the amenities of the Brushy Creek Lake Park. It's close to U.S. Highway 183, Lakeline Mall, and the Austin Aquarium.
Allandale
Allandale Amenities
The Allandale neighborhood has been part of Austin's history since 1841 when Mirabeau Lamar (then President of the Republic of Texas) gifted over three thousand acres of land to George W. Davis for his service in the Battle of San Jacinto. Much of this land was sold off by either Davis or his descendants, but a core part of it stayed in the family and later became various farms. In 1946, developer W. Murray Graham turned this core part into Allandale, with other sections being added on a bit later by other developers. Most houses in the neighborhood are ranch-style homes.
Also of note is how Allandale has a tight-knit community that participates in several local events. Every fourth of July, there is a local parade through the neighborhood. There is an ongoing neighborhood garage sale, which not only brings the neighborhood together but supports sustainable consumerism. Lastly, during Christmas, local Cub Scouts sell lighted candy cane decorations that homes and businesses have been buying since the 1960s, making them an integral part of the local holiday scene.
Local Austin flavor comes through in this neighborhood's hotspots. Tacodeli is a popular place to get tacos; given the local competition in the taco scene, any spot that gathers a loyal following is clearly doing something right. For upscale dining, Barley Swine is a popular go-to for interesting flavor profiles and seasonal menus. Top the night off with high-end cocktails at the neighborhood Aristocrat Lounge.
Barton Hills
Barton Hills Amenities
You may already have heard of the Barton Hills neighborhood since this is where the famous Austin City Limits Music Festival is held — and this neighborhood's scope extends way beyond music. Barton Hills effortlessly combines historic homes with new construction homes in a community mere minutes from major routes, Austin schools, parks, and amenities. The Barton Hills neighborhood is less than five miles from downtown Austin and is located between Highway 1 and Route 343. Residents can walk to the Barton Creek Greenbelt and enjoy the trails, rock climbing, and beautiful scenery. There is easy proximity to Lady Bird Lake, the Barton Springs Municipal Pool, and Zilker Park, which has over 350 acres of nature to explore.
In 1837, William Barton settled down here near the Colorado River, and the land has borne his name ever since. Since the housing construction boom of the 1940s and 1950s, Barton Hills has been a residential neighborhood. Further waves of construction came in the 1970s and then again in the 1990s. As a result, there is a varied mix of architectural styles embraced by the homes in this area.
A key part of life in Barton Hills is enjoying all the great outdoor hangouts. One popular local attraction is a swim in Barton Springs Pool, one of the largest natural springs found in the entire state of Texas. Winding down with friends and loved ones after a long day outside is made simple at local hangouts like Matt's El Rancho, which has proudly served Tex-Mex to the area since as far back as the 1950s, or Gourdough's Public House, famous for their donut sandwiches as well as their cocktails.
Hyde Park
Hyde Park Amenities
The Hyde Park community in central Austin is widely thought to be Austin's very first suburb. It was developed in 1891 by Monroe Martin Shipe around a large artificial lake and was designed to have wide sidewalks shaded by tall trees. Hyde Park has come to be densely populated, with most houses falling into either bungalow-style homes or duplexes. Hyde Park sits nestled between I-35 and Triangle Park, a community with single-family homes, apartments, and the Elisabet Ney Museum, located in the home that once belonged to sculptress Elisabet Ney. The oldest grocery store in Austin is also located in Hyde Park. Find the Avenue B Grocery & Market off West 45th Street, just a few blocks from the Shipe Park.
Hyde Park has two separate historic districts and several landmark buildings listed under the National Register of Historic Places. The appreciation for vintage styling is visible in the care residents have for preserving historical details. While Austin has a tagline of "Keep Austin Weird," the locals in Hyde Park may embrace it the most of all neighborhoods. Every characterization of Hyde Park celebrates its bohemian flair.
North Lamar
North Lamar Amenities
The overall vibe in North Lamar is a mix between urban bustle and suburban relaxation. Because it's bordered on one side by I-35, North Lamar has easy access to the rest of Austin and beyond. The core part of the North Lamar experience is its parks and restaurants. Residents and visitors alike can spend plenty of time basking in the sunny outdoors, eating and drinking some of the best food in Austin, or partaking in some combination of the two. The variety of the local food scene is key, offering up everything from Mexican to authentic Greek fare at hangouts like Santorini Cafe, the Balkan Cafe and Grill, and Gen Bobabee. The Crescent is one of the shopping strips in the area, serving up local businesses.
Travis Heights
Travis Heights Amenities
The Travis Heights community was founded in 1912, although it took about a decade for the neighborhood to truly catch on and start to flourish. Over the years, new homes were constructed and reflected the architecture modern to their times. As a result, there is a beautiful blend of vintage-style homes nestled alongside contemporary constructions. The streets are dotted with plenty of small neighborhood parks, and since Travis Heights is bordered by South Congress Avenue, there's easy access to plenty of hip shops and trendy eateries, like Banger's Sausage and Beer Garden and Idlehands through Good Company and Goorin Brothers.
A core concept behind the planning that went into Travis Heights was that of garden suburbs, popular around the turn of the 20th century. The garden city movement centered around creating pockets of residential neighborhoods combined with some industry and even agriculture surrounded by green spaces. Its vision was to combine the benefits of rural life with urban convenience and community, such that each style's strengths would bolster each other. Its founder was later knighted for his contributions to urban planning, and the garden city movement took off worldwide — including in Austin, Texas.
Westgate
Westgate Amenities
Garrison Park
Access to MoPac
Joslin Park
Located in the southern portion of the city, Westgate is still considered an up-and-coming neighborhood. The homes in Westgate are more affordable than they are in other parts of the city, making this a great location for first-time homebuyers who are looking to invest in a rising community. It is surrounded by some of the most popular neighborhoods, so it will become increasingly desirable to homebuyers in the years to come. Homes in this area are sure to be a valuable investment.
Circle C Ranch
Circle C Ranch Amenities
Slaughter Creek Trail
Lady Bird Johnson Wildflower Center
Austin's Circle C Ranch neighborhood is on the city's southwest side, located near the MoPac Expressway (TX-1 Loop). Circle C Ranch is about 12 miles from downtown Austin and 17 miles to the airport. It's a master-planned community with more than 5,800 homes, including luxury estates with private pools and expansive living space. Homebuyers can find smaller subdivisions within the main neighborhood like Park Place, Enclave Estates, and Wildflower Park. Some of these communities are gated. Architectural styles vary within Circle C Ranch; it's easy to find homes with traditional two-story designs, as well as Craftsman influence and the classic Texas ranch.
Community amenities within the Circle C Ranch neighborhood include hiking/biking trails, swimming pools, and the Grey Rock Golf and Tennis Club. Residents have access to the public schools of the Austin Independent School District, including several elementary schools, two middle schools, and one high school within the neighborhood boundaries.
Windsor Park
Windsor Park Amenities
Easy access to freeways
Austin-Bergstrom International Airport
Bartholomew District Park
This is one of the lesser-known neighborhoods in Austin, but this may come as a surprise to those who have discovered its affordable homes and large plots of land. Households who want a little more space to grow and breathe without having to leave the convenience of the city behind will love Windsor Park. Expect this neighborhood to quickly be on the radar of those who are looking to move to Austin. Now is the ideal time to look for a house here.
Congress
Congress Amenities
Downtown Hike and Bike Trail
Barton Creek Greenbelt
Congress Avenue access
The best neighborhoods in Austin include the Congress area, which has sections for West Congress, East Congress, and the South Congress neighborhood (SoCo). The neighborhood is bordered at the east by Interstate 35/Interregional Highway, and U.S. Highway 290 at the north. South First Street is the western border, and East William Cannon Drive is the southern edge.
The Congress neighborhood has apartments for rent, like Austin City Lights and the Willowbrook, as well as condominiums and single-family homes. The houses vary in architectural style and size, but many are single-story or ranch-style, nestled on tree-lined streets within walking distance of parks, Williamson Creek, and places to shop and eat.
In the SoCo area, there is a wide selection of businesses, restaurants, and boutiques. Residents and visitors to the SoCo can find unique stores and vintage shops as well as national retailers. The Austin Independent School District serves the Congress neighborhoods.
Crestview
Crestview Amenities
Wooten Park
Commuter rail train
Midtown Commons
In many respects, the Crestview neighborhood offers the best of both worlds. It's centrally located in the heart of Austin and is not far from the vibrant city life that can be found downtown. However, it's also known for its old-world charm, giving residents a sense of peace and comfort that can't be found in many big-city neighborhoods. Here buyers will find a plethora of homes with character, all of which are located within walking distance of parks, shopping, restaurants, and other amenities.
West Lake Hills
West Lake Hills Amenities
West Basin Wilderness Preserve
Mayfield Park and Preserve
Zilker Park
The West Lake Hills community is part of the Austin metro area, located between State Highway 360 and the Colorado River. As an Austin neighborhood, it has allure for its luxury homes and scenic landscapes of Hill Country. West Lake Hills is about five miles from downtown Austin and minutes from the Lions Municipal Golf Course. The sprawling neighborhood features a variety of homes, from luxury estates to elegant condominiums. Architecture styles include mid-century modern constructions, Tuscan villas, and classic Texas ranch styles with stone exteriors and private yards with outdoor kitchens and pools. West Lake Hills (also known simply as Westlake) enjoys easy proximity to the Barton Creek Wilderness Park and Red Bud Isle.
Tarrytown
Tarrytown Amenities
Lake Austin
Deep Eddy Pool
Lions Municipal Golf Course
The Tarrytown neighborhood of Austin sits along the banks of the Colorado River, located about four miles northwest of downtown. The Lions Municipal Golf Course is on the southwest side, and Mayfield Park is on the northwest edge. The eastern border is the MoPac Expressway. Tarrytown has luxury homes on landscaped lots and tree-lined streets. The Casis Elementary School is on the neighborhood's north side, and the O Henry Middle School is on the south side near the golf course. Tarrytown is home to Austin's first vegan gastropub, the historic Stone Windmill, and the Howson Branch of the Austin Public Library.
Find Your Perfect Home in Austin, Texas
The city of Austin, Texas, has a grand selection of neighborhoods — from urban luxury to sprawling communities surrounded by the best outdoor recreation Hill Country has to offer. Explore the neighborhoods of Austin to find some of the most distinctive places to shop and eat and music venues catering to worldwide audiences. Austin's neighborhoods have something for everyone, and the best listed here are some of the most popular among locals and visitors to the city.
From the bustle of downtown Austin through the cooling waters of Barton Springs, there is truly something for everyone of all ages to enjoy in Austin. This city has been one of the fastest-growing cities in the United States for several years in a row and is projected to continue growth at about 2% annually through at least 2050. The population size and range of amenities offered by each of these neighborhoods will likely continue to grow over the next few decades.