Buying a Home: Is a Client Wish List Ideal?
Posted by Danny Evatt on Monday, July 2, 2012 at 3:31 PM
By Danny Evatt / July 2, 2012
Comment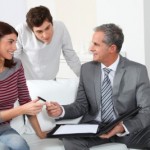 Is there such a thing as an "Ideal Home Buyer?"
I was asked recently to describe my "Ideal Home Buyer Client." The person asking this question had gone to a great deal of trouble creating a very detailed 3-page document describing their home buying "wants" - several of which were defined as "absolutes". While it's nice that that they were so organized, I felt a bit as though I was bursting their bubble when I answered.

"Ideal Buyers" Don't Really Exist
In real life, for me anyway, there isn't an "ideal" Georgetown home buyer. I'm a pretty flexible person, both in my personal and professional real estate life. Having gone through the home-buying process far more times that I'll admit in this blog post, I know VERY well how daunting the process can be. My personal experiences in real estate have benefited me greatly when assisting my buyer clients. I know first-hand how dynamic the process can be - and it's quite often an emotional process as well.
With this said, I try my best to separate the emotional part of the home buying process from the more logical and "business" side of the transaction. Regardless if they are a home buyer or seller, I would be doing a major disservice to my clients by fanning the flames, so to speak, of their stresses and the inevitable complications which often arise. Rather, I must first listen to what my clients say, and then balance their thoughts, opinions and feelings with their actual needs. Obviously, this is sometimes easier said than done.
In any event, for the sake of discussion, I would "define" my ideal buyer client as one who would be organized and in-touch with their needs, but also be flexible and realistic enough to know when they won't be able to fulfill all of their wishes - this is particularly true when it comes to price. Obviously, the longer the home "wish list", the higher the asking price will be.
A Buyer's Wish List Should Not Be "Absolute"
So, while I would like to have "the list", taken as a whole, I would use it to learn about my clients. Of course I need to know what the non-negotiable needs are. But, it's important to separate these "needs" from "desires." Needs are mostly a matter of function - meaning you must have a two car garage with 3 bedrooms and two full baths. Desires are matters of personal taste - you would like to have an oversized garage, 3 large bedrooms, and two full baths with granite counter-tops, and a master bath with separate whirlpool tub and dual-head shower.
it's happened several times where I've been given a list of absolute "musts," and for a buyer client to seem a touch annoyed when I recommended looking at homes which didn't match perfectly. In these cases, I explain to the buyer that because the home buying process is quite dynamic due to the endless variables - it's usually not advisable to be so narrow in focus - other than perhaps matters of price, and the other basics, like the number of bedrooms, bathrooms, and location. Ultimately, it is quite common for buyers to end up abandoning the majority of their "wish list" due to the market conditions, inventory, pricing, etc., etc. And, most buyers are not aware of the actual market conditions until they start looking. Therefore, it's a good idea to consider the first week or so as an "educational" period. Then, after the buyer has become acquainted with the market, we can begin to narrow the focus. (Obviously, with out-of-town buyers, we don't always have such luxury.)
Flexibility and Realistic Expectations are Key
In the end, flexibility and realistic expectations are key - combined of course, with the realization that when serving as a buyer's agent, I really DO have my client's best interests at heart. it's very important to me that my clients find a great home, and that they be pleased with my performance. So "yes", please take the time to create the list, and let's discuss it. But, also be prepared and willing to adjust your criteria as your budget market conditions may dictate. With the right balance of wants, needs, flexibility and communication, the home-buying process can indeed be a fun and rewarding experience!