Buy vs. Rent: Are You Prepared to Buy a Home or Should You Rent?
Posted by Danny Evatt on Saturday, February 8, 2020 at 3:38 PM
By Danny Evatt / February 8, 2020
Comment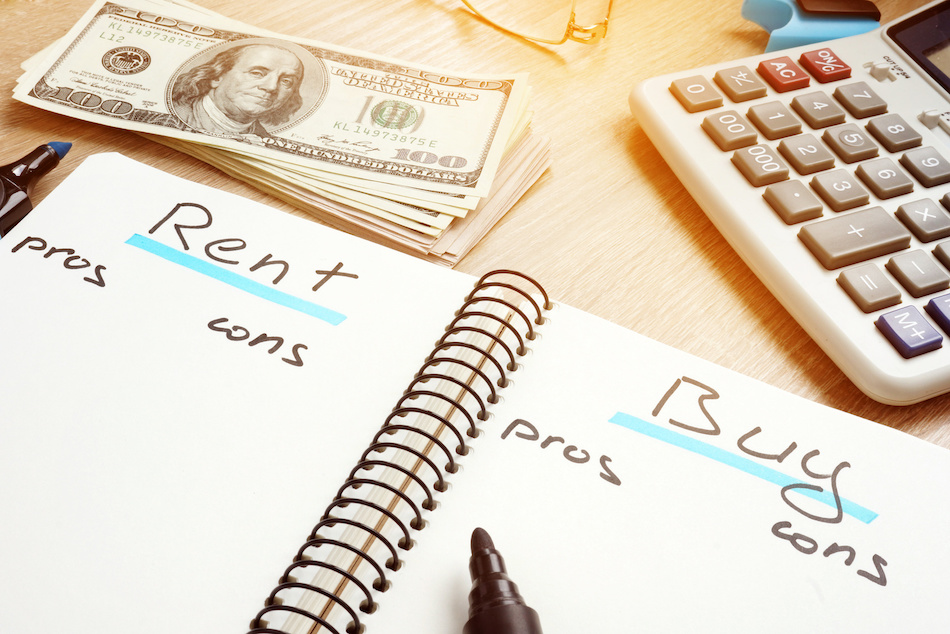 A lot of renters set their sights on homeownership. In fact, it's said that 80% of millennial renters in the United States plan to own a home someday. People who have always rented often have a hard time judging when it's time to buy. Purchasing property takes time, commitment and most of all, money. Knowing what's needed can help renters determine when they're ready to buy a house.
For informational purposes only. Always consult with a licensed real estate professional before proceeding with any real estate transaction.
Buying a Home or Renting - Which is Cheaper?
At some point, most renters ponder the wisdom of buying that first home. So when is it time to buy vs. rent?
Buying Is Usually Cheaper Than Renting
Trulia recently examined housing prices, foreclosure activity and job opportunities across the nation. Given the Hutto housing market, it's not too surprising that they found that in 74 percent of the largest metropolitan areas, it's actually cheaper to buy than to rent. Considering today's low interest rates and affordable home prices, first time homebuyers with reasonable credit scores may qualify for 30-year fixed rate mortgages with monthly payments less than what they would pay to rent comparable property. Tax deductions for homeowners make buying even more affordable.
Rents May Rise While a Fixed-Rate Mortgage is Stable
Once you lock in an interest rate on a fixed rate mortgage, your monthly payments will not change (though your homeowner dues, property taxes and insurance will likely fluctuate over time). Rent, on the other hand, may increase every year or even more frequently depending upon the terms of your lease. In many areas of the country, it's not unheard of for rent to increase as much as 10 to 15 percent in any given year. Even if rent in your area is currently lower than a typical mortgage payment, this annual increase will reduce the affordability over time.
However, if you plan to move in less than three years, renting may still be your best option as selling a home takes time, costs money, and you may not be in the home long enough to build up enough equity to cover the cost of the purchase and sale. Another concern for future renters, is inflation. Renters will be significantly impacted due to rising interest rates and home prices - which due to the economy, is quite likely start trending upward at some point during the next 2-5 years. Understandably, landlords will raise rents as vacancy rates dwindle, and the rental market's demand allows (provided rental increases are allowed in the least terms). A homeowner however, will not only enjoy their low intrest rate, but will also have the benefit of the home's appreciation.
Building Equity By Buying Today
As housing markets stabilize, homes will appreciate in value. Granted, home prices do tend to rise and then drop, but homeowners can expect more moderate yet steady appreciation over the long-term.
Eventually, this equity can be used to supplement retirement savings or fund your someone's college education. Renters can never gain equity. Of course, if housing prices were to fall again, they would lose nothing. There are many other benefits to buying, from the freedom to paint your walls whatever color you choose, to filling your home with frisky felines. it's a big decision, but most people feel that owning a home is the best long-term investment they could make.
Are You Ready to Buy a Home?
Buying a home is a big commitment. Many renters find it difficult to judge whether they have time and money to buy a home. Only by talking to a broker, inspecting the local real estate market, budgeting carefully and evaluating lifestyle factors can renters decide whether it's time to buy a home. Here are a few things to evaluate.
Know Your Financial Readiness
When purchasing a home, buyers must have money up front for the down payment and for closing costs as well. The amount of money required for a down payment depends on the type of mortgage being taken out. An FHA loan requires a down payment that is as small as 3.5%. Conventional loans require a more substantial down payment of 20%. Home buyers who want to know whether or not they qualify for an FHA loan can find out by talking to a mortgage broker. In addition, the closing costs of the purchase can total as much as 2 to 5% of the home's value. The down payment and closing costs are due when escrow closes.
In addition, home buyers must have money for relocation costs. Movers can charge hundreds or thousands of dollars, depending on the stuff moved and the distance being traveled. To find out how much the move will cost, renters can meet with movers in the weeks and months before moving. Home buyers who want to save money on the move can do so by electing to have a DIY move. Home buyers who pack their own stuff and drive their own moving van can save a lot of money on their relocation.
Finally, renters must have enough money in their monthly budget to make home improvements as needed. It's estimated that homeowners can expect to pay approximately 1% of the home's value in maintenance each year. Having this money on hand can help home buyers take care of their new property after escrow closes.
You'll Need Money Up Front
Renters who wish to buy a home need money up front for the down payment, closing costs and the move. A typical down payment on a home will be anywhere from 3.5% of the purchase price of the home, to 20%. The amount needed for the down payment depends on the type of loan the buyer plans to get. FHA loans typically require the smallest down payment, but also require the buyer to pay for a monthly mortgage insurance. Conventional loans require the biggest down payment. Renters who aren't sure what kind of down payment they qualify for can talk to a mortgage lender to find out more about the different kinds of loans.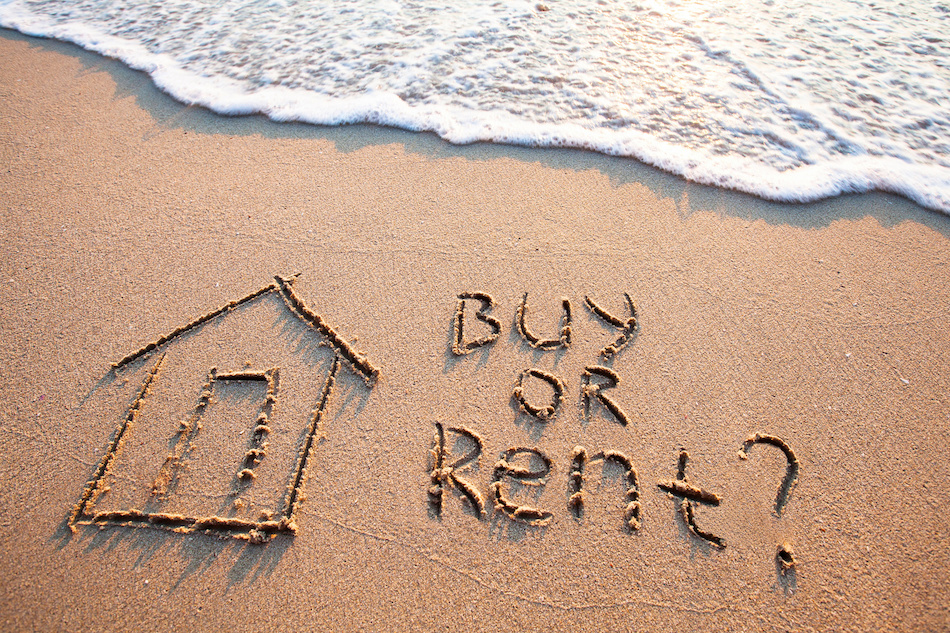 Closing costs can amount to about 2 to 5% of the purchase price of the home. The actual amount buyers can expect to pay for closing costs will depend on many factors. Sometimes buyers can arrange for the seller to pay closing costs. Home buyers who want to know more can talk to their real estate professional about this option.
Finally, home buyers need money up front to pay for the move. The actual costs of moving can vary by quite a bit. Home buyers who aren't sure whether or not they have the money for relocation should talk to movers and investigate the costs of a DIY move.
Go to Home Showings
Going to home showings is a good way for renters to determine how much they can expect to spend and how big their mortgage will be. By attending home showings, renters can see what type of homes are available, how much homes cost and where the best neighborhoods are located.
Homes Take Time, Not Just Money
One of the things that many renters fail to take into account when they're trying to decide whether to buy a Georgetown home is that home ownership can be very time consuming. Homes need a lot of maintenance. In addition, it's common for someone to buy a home that's larger than the apartment they rent. More space takes more time to clean. Finally, yard work can also take a lot of time for homeowners. Renters who feel like they don't have time to spend on maintaining a house may not be ready to buy.
Repair Skills Can Be Helpful
Homeowners spend a lot of time repairing, upgrading and improving their home. Knowing how to paint a room, unclog a toilet, hang blinds, patch drywall, put up shelves and make other small changes can save hundreds or thousands of dollars each year. Renters who have never had the experience of making basic home repairs can benefit from hanging out with a homeowner friend and spending time working on household projects together.
Annual Maintenance Can Be Costly
It's estimated that a typical homeowner will spend about 1% of the value of their home in maintenance every year. Some homes can cost much, much more. Home buyers who purchase a fixer upper can plan to spend thousands on various repairs, even if they're planning to do the work themselves. Renters who aren't sure if they have the money to perform the annual maintenance on a home can start by looking at their budget and determining how much money they would have on a monthly basis to make home repairs.
Is Buying a Home or Renting the Best Option For You?
In terms of planning for a secure future, is it better to rent and keep your options open for job and life changes and travel, or to purchase a home as a financial hedge against rising prices and higher interest rates? There are two schools of thought, each with merits worth considering, but the options may not be quite so simple.
Changing Demographics
The standard progression has for generations been from school to first job and city apartment, and then to a home in the suburbs. However, that standard is less the norm today than at any time in the recent past. In fact, in 2016, 36 percent of college graduates planned to remain at home for at least one year following graduation.
A Pew Research Study reported in 2014 that just over 32 percent of graduates moved back home after earning their degrees, whether or not they had jobs. An almost equal number, 31.6 percent, were married or co-habitating. Only 14 percent of graduates at that time were living on their own or with roommates. Another 22 percent had unspecified living arrangements.
Even though today's graduates face brighter job prospects and a stronger economy, it is evident that Millennials have delayed both their moves to their own apartments and their plans for home ownership. Higher student loan debt and the trend toward later marriages are both viewed as contributing factors.
The Case for Renting
Renting a home in Leander represents a valid way to lock in costs for a set term, typically at least one year. While living with a roommate is less common than in the past, cohabiting and sharing expenses with multiple housemates are both on the rise. Renting offers convenience and minimal responsibility. Ongoing maintenance and repairs are typically not tenant concerns, and the availability of nearby shopping, dining, entertainment and recreation are quantifiable advantages. Travel, too, is easy when one need only turn the key in the lock and leave.
Even though urban living can be pricey, renting even in an expensive locale has its perks and allows job and lifestyle flexibility. However, that may be changing.
Homes as Investments
Millennials have begun to buy in record numbers, according to statistics compiled by the National Association of Realtors, poking holes in the belief that this age group has little interest in home ownership. It seems that members of this generation simply view ownership a little differently from their parents. In short, they will become owners on their own terms and in their own time.
While close-to-the-urban-core convenience was previously seen as a Millennial motivator, the current view is that this age group has long-term goals that are surprisingly similar to past generations, including moving back to the suburbs. In 2017, Millennial buyers represented the largest group of home buyers, at 34 percent of the total, for the fourth consecutive year.
Home buying represents a hedge against inflation, especially when viewing through the lens of applying for a mortgage. Homeowners still qualify for tax advantages, and home equity is often a path to a secure future. As first-time buyers, Millennials don't want to be priced out of the market, so the surge in buying numbers is not unexpected. Many buy homes that they see as long-term residences. Interestingly, Baby Boomers, who have slipped to second-place in the buyer profile, are prime buyers in urban condo developments.
However, home ownership represents an investment of time and energy as well as a long-term financial commitment. Any decision must be based on individual circumstances, taking into consideration specifics that include age, career stability, financial strength, family status and long-range goals. While there are unique benefits to owning, the decision to delay is not necessarily unwise.
Contact A Real Estate Agent For Help
For someone who has always rented a property or home ownership in Lakeway or elsewhere—can look very intimidating. That said, homeownership is also very rewarding. A home is an investment that pays off in countless ways. Homeownership is about making choices, having control and reaping the benefits. If you're a renter who is thinking about homeownership, talk to an experienced real estate professional. Your real estate agent can answer your questions and help you decide if now is the right time to buy.
For informational purposes only. Always consult with a licensed real estate professional before proceeding with any real estate transaction.