Cost of Living in Seattle - Is it More Expensive?
Posted by Tony Gilbert on Thursday, August 23, 2012 at 6:45 AM
By Tony Gilbert / August 23, 2012
Comment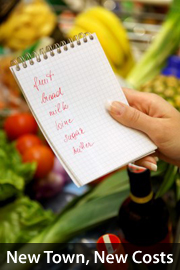 Moving to Seattle? Be Sure to Consider ALL Living Expenses
With home values slow to rise and mortgage rates at all-time lows, there's never been a more affordable time to buy a home in the Seattle metro area. However, there are many more aspects to the cost of living than just a mortgage or rent payment. There's the cost of utilities, groceries, household goods, gasoline, other commuting expenses, professional services, routine medical care, etc.
Not surprisingly, where we live can tremendously affect our costs, and our overall standard of living. Big cities are often more expensive in which to live, for example, and local tax laws influence daily costs, too.
In looking at the entire Seattle metro area, there can also be significant differences between communities. For example, Bellevue is significantly more expensive than Woodinville when it comes to housing expenses, and they're only about 15 minutes apart.
Comparing the Cost of Living Between Cities
For home buyers moving across state borders -- or even for those moving long distances intra-state -- it's important to know the relative costs in your new hometown as compared to your current one. Your household cash flow depends on it. You can't know your budget for a home if you don't know what life in a new town will cost you.
Enter Bankrate.com's Cost of Living Comparison Calculator. In comparing the costs of 60 mundane, everyday items, the Cost of Living Comparison calculator can show you how common costs in your current home town compare to costs in your soon-to-be new home town.
The calculator asks for just three inputs -- (1) In what city do you live now, (2) To what city are you moving, and (3) What is your current salary -- then uses that information to produce a detailed cost comparison.
Some of the Cost of Living items compared include :
Ground beef costs
Veterinary services costs
Dozen egg costs
Doctor visit costs
Hair care costs
So... How Does Seattle Compare to Other Cities?
We pulled a few results to show that it's all relative - some moves would result in a signifciant increase, while others would actually save you money. Based upon a salary of $50,000, below is the increase or decrease in salary required to maintain the same standard of living when moving to Seattle from the following U.S. cities:
Austin, Texas - a 23.56% increase
Chicago, Illinois - a 0.74% increase
Denver, Colorado - a 9.40% increase
Durham, North Carolina - a 27.15% increase
Houston, Texas - a 27.10% increase
Minneapolis, Minnesota - a 3.03% increase
San Jose, California - a 24.38% decrease
Los Angeles, California - a 12.13% decrease
New York, NY (Queens) - a 25.35% decrease
New York, NW (Manhattan) - a 48.52% decrease
Honolulu, Hawaii - a 31.03% decrease
Anchorage, Alaska - an 11.75% decrease
Phoenix, Arizona - a 21.88% increase
Orlando, Florida - a 18.58% increase
Boise, Idaho - a 22.26% increase
Salt Lake City, Utah - a 21.49% increase
The calculator also includes local mortgage rate differences to help plan for housing, and accounts for median home prices, too. The online Cost of Living calculator is based on data from the ACCRA. On the ACCRA website, a similar cost comparison report sells for $5. At Bankrate.com, you can get the data for free.
Expensive and Less Expensive Areas of Seattle
Regarding the Seattle metro area specifically, the cost of living increases or decreases primarily due to housing expenses. Other expenses like groceries, gas, etc. are comparable. Generally speaking, the more expensive areas in and around Seattle include Mercer Island, Capitol Hill, Queen Anne, Bellevue, Kirkland, Redmond & Sammamish.  Some less expensive areas would include Snoqualmie, Bothell, Woodinville, Renton, Kent, Auburn & Maple Valley.
If you are considering a move to the Seattle area, and have questions about the cost of living of one area of town compared to another, please contact the RealFX Group at Coldwell Banker Danforth. We are happy to help you in the decision making process.