Do Seattle Home Builders & Beanie Babies Have Something in Common?
Posted by Tony Gilbert on Thursday, June 20, 2013 at 12:57 AM
By Tony Gilbert / June 20, 2013
Comment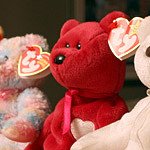 Do Seattle home builders & Beanie Babies have something in common? Yes... Brilliant Marketing!
There's one rule in marketing which remains constant - it's that product "scarcity" often fuels greater demand and higher prices. Combine the aura of exceptional demand with an expertly-crafted marketing campaign, and the result can be a feeding frenzy.
Remember "Beanie Babies"? Buyers were lined-up for hours at store-fronts chomping at the bit to get their hands on the hottest new releases - a few fights even broke-out. Incredibly, there was at least one book published which estimated the "future value" of certain Beanie Baby characters - a book that was written by the very company which created the crazy-popular plush dolls to begin with! Insanity - as discussed in this Seattle Times article, and that "bubble" eventually burst.


New Homes in Seattle Are Hot - But No Fights Yet
Demand for new construction homes in the Seattle area is exceptionally strong, but no fights have broken out - that we know of anyway. Regardless, we have worked with home buyers who have been "put off" by the marketing strategies of a few Seattle home builders. These buyers are often confused when they arrive at new home sales centers as excited, yet serious buyers... only to be promptly informed by the "curiously cheerful" on-site sales agent that not only are there no homes to buy, but a "pre-sale" isn't even an option.
In many new home communities on Seattle's eastside, new home builders simply won't talk about offers until they "release" new homes for purchase. Of course, this only adds fuel to the "feeding frenzy," as when they DO "release" the homes for purchase, buyers who are dead-set on new construction are already lined up - and they're quite often competing on pricing and terms, which of course, leads to higher prices. And as for "negotiation"? That doesn't fit into the equation.
Lack of Inventory Leads to Rapidly Rising New Home Prices
So... the hopeful new home buyers have just left the sales center - perplexed and perhaps a bit annoyed... especially if they don't have their own agent helping them through the process. However, when one removes "emotion" from the spectrum, the situation is pretty straightforward, and makes good business sense.
Home builders have investors - folks who've placed their own money on the line to fund operations and construction. In short, the builder is obligated to maximize their investors' returns. Therefore, if buyer demand is consistently stripping available inventory, the home builder is in the "catbird seat" - they can set prices as they wish, so long as they don't outpace appraised values. And, the "appraisal factor" is key.
Releasing and "Stair Stepping" Inventory Supports Appraisals
The primary reason home builders "release" inventory in stages is simply to make more money - and there's nothing wrong with that, so long as the buyer is willing & able to pay. However, since most buyers will purchase with federally-insured mortgages, appraisals must support the purchase price, and in order for that to happen, there must be comparable sales data. Particularly in new home communities with identical floor-plans and interior finish-out quality, the best way to accomplish this in a "predictable fashion" is to release inventory in stages, as this gives the appraiser "comps" which will support each subsequent appraisal. Thus in times of exceptional demand, with each "release" the builder sets a higher price, and as long as the price increase is within reasonable limits, say 3-6%, it will likely appraise just fine. Of course the builder knows this.
So, let's say those homebuyers who were initially "annoyed," return later and are successful in getting under contract. All is well, right? Well... not so fast. What new home buyers need to be aware of in this type of environment is the risk of ultimately overpaying.
Are New Construction Buyers More at Risk in a Seller's Market?
All buyers in a strong seller's market are at risk of getting caught-up in the emotion of the current market - as many know full-well since the last Seattle housing bubble burst in 2008. The risk however, can be a greater when buying in new home communities, primarily for buyers who come into the neighborhood during the peak of demand. Why? Once the community is built-out, any homeowner who wishes to sell will ultimately have a market value more in line with the entire development - meaning, older homes as well. And worse, they'll also be competing with any new construction in the area. Moreover, the sense of scarcity, and the "aura of desire" crafted by the big-budget marketing campaigns will be gone.
Most buyers know that new construction consistently sells at a premium over pre-owned homes as it is - but when you add a "feeding frenzy" premium on top of that? Well, you get the point.
As the past has painfully demonstrated, home prices can't continue to rise unabated - at some point, a threshold is met and the bubble will burst - or at least deflate somewhat. And with new construction, when the cap is met, especially if it coincides with the neighborhood being built-out, buyers who purchased at the peak will be helpless as they watch the value of their home slide to be on-par with older homes, and even more so if the market continues to decline. However, new construction home buyers who purchased when the neighborhood was brand-new, may actually fair okay, as they might have paid 20-30% less for the exact same house compared to their neighbors, as is already the case if a few select communities on the Eastside of Seattle - particularly the Issaqah Highlands.
Whether a Beanie Baby or a New Home, Keep Emotions In-Check
So... when purchasing any product during a time of limited inventory, especially a home, be sure to keep the emotions in check - and practice good "common sense". If you are worried that you might be overpaying, and are concerned about potential "buyer's remorse", then we suggest looking at other options. Unlike the Beanie Baby craze, if you later regret your decision, you won't be able to stuff your home in a box and hide the bad memory in a closet!
Photo Courtesy of Flickr user: Dominique Godbout
Related Links