Downtown Snoqualmie Re-Development
Posted by Tony Gilbert on Friday, March 9, 2012 at 10:00 AM
By Tony Gilbert / March 9, 2012
Comment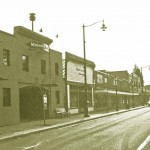 The City of Snoqualmie is beginning it's second phase of downtown redevelopment. The first phase was completed several years ago and included new sidewalks, streetlights and underground utilities.
The project's second phase will change Snoqualmie's main thoroughfare, Railroad Avenue, which is part of a state highway, Route 202 as well as many other improvements.
Downtown Snoqualmie Shopping & Tourism
The second phase is being designed to attract more people to stop and shop in the downtown area. Along with the tourist attractions at Snoqualmie Falls and the Northwest Railway Museum, as designed, a renovated, pedestrian-friendly new Snoqualmie downtown will have a new look that will appeal for visitors and residents alike. After completion, the city hopes to not only attract visitors from across the state and nation but also from the neighboring communities and cities of Seattle, Issaquah, Bellevue and Sammamish.
60 New Trees & More Parking
As part of the phase two project, downtown Snoqualmie will receive 60 new trees to be planted along Railroad Avenue. In addition, the road's center stripe will be moved south by a foot. There will also be new rear-angle street parking from Fir Street to Newton Street. There will also be a new parking area, with green areas, on the city's 70-foot right-of-way between River and Newton streets. There will be a pedestrian crossing signal at River and a mid-block crossing light downtown. King Street will be paved, curbs removed, to create a pedestrian plaza for public festivals.
As currently designed, a planned new boardwalk will also double as a boarding area for the Northwest Railway Museum and as a public walking area along Railroad Avenue. The raised wooden boardwalk would encircle the existing row of large fir trees. New street lights will be added as well as additional utilities will be placed underground. Lastly, a ten-foot median will be added to the highway to separate traffic lanes near Fir Street. There will also be new landscaping and signs which will welcome people to the downtown area.
Grants & Funding
The second phase of the project is expected to cost between six and eight million dollars. The city has been active in seeking grants to assist in the acquisition of the funds and has set a tentative date of 2013 to acquire the majority of the funds and begin construction.