High Demand at Snoqualmie Ridge - Real Estate Market Continues Improvement
Posted by Tony Gilbert on Friday, May 18, 2012 at 12:42 AM
By Tony Gilbert / May 18, 2012
Comment
Snoqualmie Ridge Real Estate Market Continues Improvement
On Seattle's Eastside, the real estate market has made a drastic swing into a seller's market with high demand, and fewer homes for sale. Multiple offer situations are continuing to become more common, prices are on the up-tick, and days on market are sharply down in many areas. Some homes are selling before the listing agent can implement their marketing program fully! Snoqualmie Ridge is also taking part in the market shift, though not quite to the same degree.
Pre-Owned Home Inventory Continues to Shrink
In Snoqualmie Ridge, pending transactions for resale homes have actually dropped, but not because of less demand - rather, it's because fewer homeowners are putting their homes up for sale. Note in the chart below (which represents pre-owned homes only), that pending listings have been following new listings pretty closely since December. With the exception of a few select homes that continue to languish, most new listings in Snoqualmie Ridge are selling in a reasonable amount of time - between 7-30 days. Let's compare to April of 2011 - a HUGE improvement! Just glancing at the chart, one can see the market has really tightened-up.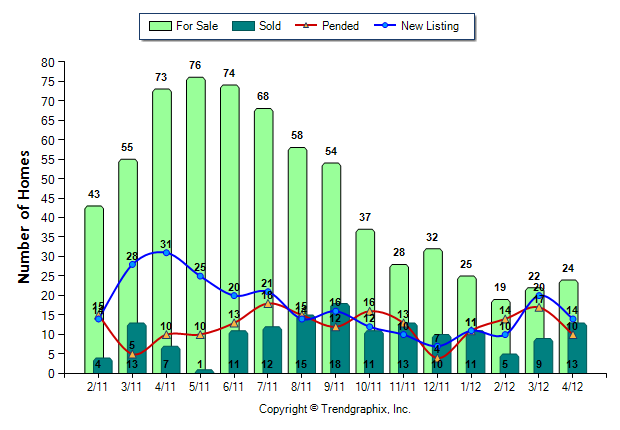 Days on Market Trending Downward
This chart doesn't tell the full story. "Peak" days on market for resale homes has continued downward, but the data is still being skewed by "stale" inventory. If you remove these listings, you would see that fresh inventory is moving much faster - some in less than a week. With this said, we noted in an earlier post about Snoqualmie Ridge homes selling quickly - some homes have sold in only one or two days. Ideally, we prefer enough time for a new listing to generate enough interest in order to fetch top-dollar. This is not possible if only a few buyers are even aware the property is available. So... selling in one day is not necessarily something to cheer about from a seller's perspective - it could indicate underpricing.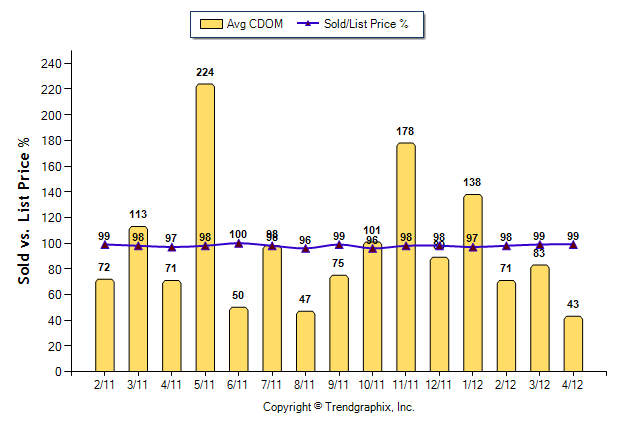 Snoqualmie Ridge is now a "Seller's Market"
There are several ways to calculate "Months of Inventory" - but for the purpose of our real estate market updates, we'll use the basic method of dividing the number of Active Listings on the last day of April, by the Closed Listings during the month. At the end of April, Snoqualmie Ridge only has 1.8 months worth of pre-owned, single-family home inventory. Even new construction on Snoqualmie Ridge is in short supply. As of the writing of this post, Pulte only had 2 new homes in inventory at Eagle Point, and one of those was contingent. At present, new construction on The Ridge are most often selling as "pre-sales" - before the foundation is even poured.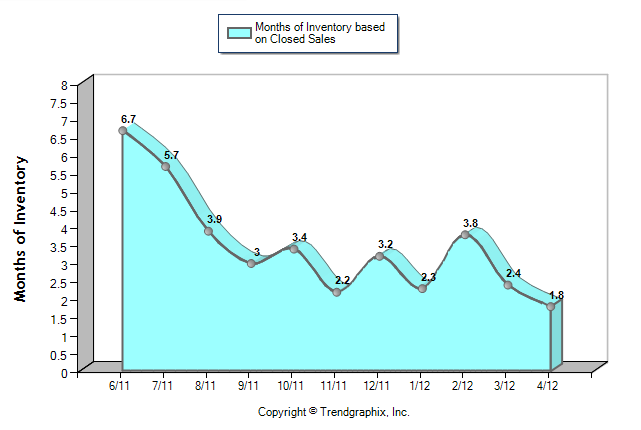 Re-Sale Home Prices are Rising Steadily
Pre-owned home "asking" prices at Snoqualmie Ridge continue to rise, as evidenced by the chart below. And for the most part, new listings are selling at, or near asking prices. The strong dip in the "Sold" average price was an anomaly due to a couple of very low-priced foreclosures. Overall, prices for active listings, pending, and closed transactions continue to rise. Note that last year, average prices were dropping. We would expect this trend to continue somewhat into the summer, and possibly leveling off a bit in the fall due to normal trends in buying/selling homes.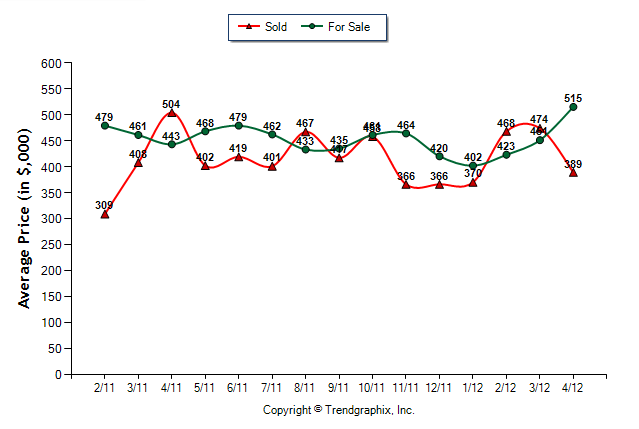 Summary for Snoqualmie Ridge April 30, 2012 Single Family Homes Only - Excluding New Construction
Closings During April: 13
Average selling price: approx. $389K
New Listings During April: 14
Active Listings on April 30th: 24
Average Asking Price: approx. $515K

Statistics not compiled or published by the Northwest Multiple Listing Service.
Related Links