Home Prices Increase in Snoqualmie Ridge with Low Inventory
Posted by Tony Gilbert on Saturday, June 9, 2012 at 3:05 AM
By Tony Gilbert / June 9, 2012
Comment
Snoqualmie Ridge Real Estate Moving at a Rapid Pace
The real estate market in much of the Seattle area is now a seller's market. Home-owners at Snoqualmie Ridge will be pleased to hear, and see from the statistics below, that the local market continues to recover and a rapid pace. If you are thinking of making a move to the area, or considering placing your home up for sale, now is a great time to get in on the action before the summer peak.
Pre-Owned Home Inventory Remains Scarce
In Snoqualmie Ridge, pending transactions for resale homes came up a notch in May. Note in the chart below (which represents pre-owned homes only), that pending listings have followed new listings for quite some time, but this month we see a bit more of separation between new listings and pending sales. New listings are a natural part of the late spring and summer market - but notice, that the pending sales are still following the same trend overall, and pending sales are up by over 18% compared to April. With low inventory, demand remains exceptionally strong - closed transactions in May increased by 46% over April. Let's compare to May of 2011 - the improvement is obvious, with 76 resale homes for sale the last day of May 2011, compared to only 26 in 2012 - a 66% decrease. And last May, only one transaction closed, compared to 19 this year. It's silly to even state as a percentage, but this is an 1800% increase - or 18 homes.

Days on Market Still in Flux from Older Listings
As an average, the Days on Market for resale homes in Snoqualmie Ridge more than doubled this month, due to a few older listings being sold. When older listings finally sell, this is further indication of a tight market. Obviously, as home inventory is down, buyers have fewer options to choose from. Once these older listings are absorbed by the demand, the days on market will likely stabilize moving forward. Notice in the chart, that the "list to sale price ratio" remains steady at 99%. For the most part, this indicates that homes are being priced at, or near fair market value, and that they are selling near asking price. This is critical to keep in mind as a buyer - if a home is priced fairly, remember that your room for negotiations on price alone is limited.

Snoqualmie Ridge in a Stronger "Seller's Market"
There are several ways to calculate "Months of Inventory" - but for the purpose of our real estate market updates, we'll use the basic method of dividing the number of Active Listings on the last day of May, by the Closed Listings during the month. At the end of May, Snoqualmie Ridge now only has 1.4 months worth of pre-owned, single-family home inventory. And, even new construction on Snoqualmie Ridge remains in very short supply. We've recently written about buying a home in a seller's market - which can be a stressful experience.

Re-Sale Home Prices Continue to Rise at Snoqualmie Ridge
"Asking" prices for resale homes at Snoqualmie Ridge continue to increase, however, this is partly due to a few luxury homes having been placed on the market recently, which is skewing the average a bit. The strong dip in the "Sold" average in the chart below was an anomaly due to a couple of very low-priced foreclosures. Regardless, prices for active listings, pending, and closed transactions continue to increase. This is great news for the many "would-be" sellers who have been "upside-down" in value.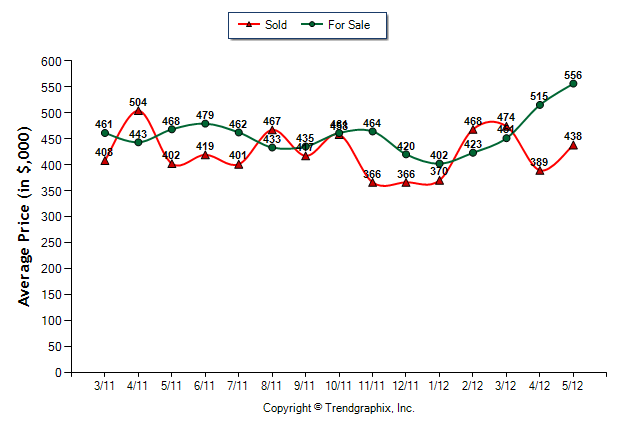 View the currently
homes for sale in Snoqualmie Ridge
, and contact us to day to arrange for private showings, and tours of other available homes in the area.
Summary for Snoqualmie Ridge May 31, 2012
Single Family Homes Only - Excluding New Construction
Closings During May: 19
Average selling price: approx. $438K
New Listings During May: 20
Active Listings on May 31st: 26
Average Asking Price: approx. $556K

Statistics not compiled or published by the Northwest Multiple Listing Service.