Home Seller Alert: Avoid Incorrect Showing Instructions That Say "Keep Out"
Posted by Tony Gilbert on Tuesday, May 6, 2014 at 6:57 PM
By Tony Gilbert / May 6, 2014
Comment
You've worked hard to prepare your home for the market! So you obviously want to do what it takes to have a healthy amount of traffic from buyers and their agents. Showing Instructions are an important tool the listing agent uses to let other agents know how to access your home while it's "Active" and on the market. But often, the instructions can reduce showings.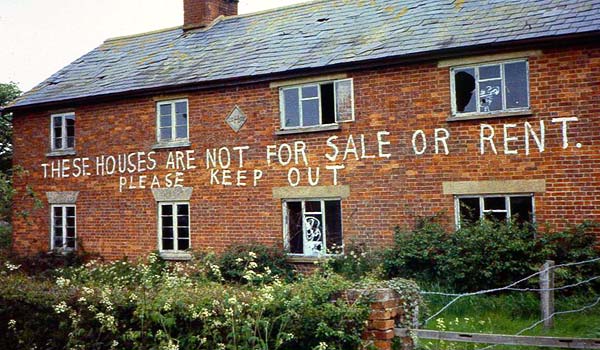 Image by Peter Curbishley at Flickr.com
Here's an example of showing instructions that may send an agent and their buyers on to the next listing...
Showing Info: Appointment, MLS Keybox, Owner Call First, Security System, Pet in House, See Remarks.
Agent Remarks: Call PTS w/ 24 hour notice. Appointment only M-F 10am-3pm. Large dog in home, do not approach. Alarm is set. Security code in lockbox. Box left side of house on gas meter behind hedge. Security cameras recording. Remove shoes. Leave lights as found.
Hmmm... The "large dog in home, do not approach" would do it for me. (Yes, I've seen that before.) These are not showing instructions that compel a cooperating agent to "help" sell a home. This sounds more like an Iron Man Challenge! And "leave lights as found?" That's simply not going to happen (it's not practical).
Unfortunately, many sellers are not properly advised just how important (and potentially damaging) showing instructions can be to a home's overall market exposure. As a result, the seller may not be aware of the instructions, or if they're correct.
A "Phone To Show" Number That Goes Unanswered
In the Seattle area, it's most common for buyer's agents to schedule showings directly with the seller (which is actually quite helpful to everyone - there's no middleman). If the listing notes request agents call the "Phone to Show" (PTS) number an hour or two ahead and the call goes unanswered, the seller may have just lost a showing. When representing buyers, I've had it happen many times when neither the seller nor agent returned a call - even 24 hours in advance. Obviously, that's not conducive to getting the home sold.
Shown By Appointment Only - Use With Caution!
Another challenge can be the "appointment." It happens all too often when the agent notes say "appointment only" when in fact the seller was open to showings at any time of the day - and was unaware that an actual "appointment" was even necessary. Instead, they simply wanted a call in advance.
Agents often work with homebuyers on hectic showing schedules. Having too many homes where appointments are required will reduce the number of homes the buyers are able to tour - meaning, your home may be skipped! So, beware of stating "appointment" in the listing, unless it's truly necessary, because showings will be reduced. As an alternative, a better option is to request "Call Owner First" with an hour notice, etc.
The Lockbox Scavenger Hunt - A Personal Favorite!
Yes, this does sound funny... but I can assure it's not amusing when the agent has clients standing right behind them. Typically, the lockbox is secured to the front door, or is tethered with a security cable to railing, etc. But all too often, the lockbox is not in a "traditional" location.
When helping buyers, I've found lockboxes hidden behind a thorny rose bush, buried under mulch, hidden in a dark & creepy garage, hanging on a tree, wedged in a small mailbox - and (ack), at the bottom of an empty flower pot with a large, and very healthy-looking spider on guard. And of course, on multiple occasions, the lock box was nowhere to be found - and the listing agent wasn't available. So... on to the next house!
Discuss Showing Instructions Before Listing
When listing your home for sale, be sure to discuss the showing instructions in-depth with your agent - and update them as needed during the life of the listing. While we all know that having a home on the market is decidedly inconvenient, overly restrictive instructions and/or incorrect agent remarks can easily put the skids on buyer showings.