Essential Tools for Every Homeowner
Posted by Danny Evatt on Friday, November 1, 2019 at 3:57 PM
By Danny Evatt / November 1, 2019
Comment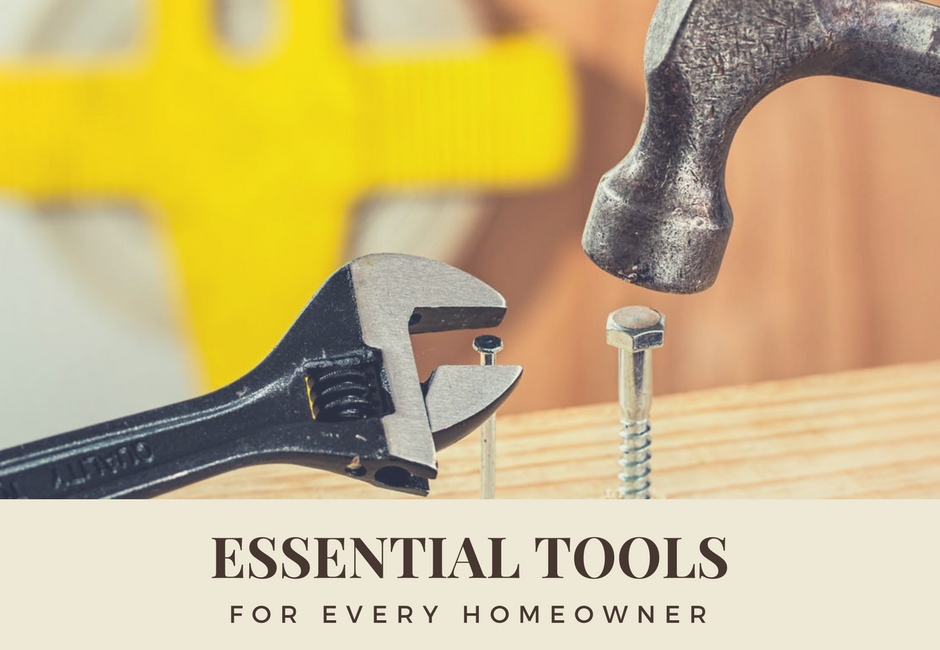 Homeownership comes with a major responsibility: home maintenance. While renters can assume landlords will shoulder most of the burden, homeowners need to be willing and able to make the repairs themselves or pay for the work to be done by a licensed professional. The thing is, it costs money to maintain a home and even more when you want to hire someone else to do the repairs for you. Homeowners wanting to handle small maintenance issues and repairs themselves can save a significant amount of money. What tools do homeowners need to get started?
The typical homeowner can benefit from having and learning to use the following tools to maintain their home. Save money and tackle common home repairs with these common tools.
A Tape Measure
Make sure that you can properly size anything in or around the home. Do you want to get to Home Depot or Lowe's and then realize later that what you ordered simply will not fit in a space? We thought not. The most useful tape measure is a 25-footer with a blade one inch in length. This inch prevents buckling and 25 feet can let you measure just about anything you may need.
A Flashlight
During a power outage or camping trip, a flashlight comes in handy. An LED flashlight offers a powerful light source when investigating electrical issues or an unfamiliar noise. Keep one handy, as well as stock up on a few candles and matches, in preparation for any such issues.
A Utility Knife
This is an all-purpose tool to keep in your DIY kit. Use it to cut drywall, mark wood, cut away carpet edges, scrape away resin or paint and open packages. This is an inexpensive tool available as a blade that retracts into a handle or a system that works more like a pocketknife. Choose what works best for you.
A 4-in-1 Screwdriver
From hanging pictures and putting up shelves, to making small repairs on appliances and more, a screwdriver is a tool you will turn to again and again. A 4-in-1 screwdriver comes with four bits to be easily changed out for your various needs.
A Hammer
A hammer is a basic tool for homeowners. Get one with a comfortable grip or choose one with a vibration-dampening coating. Hammers can be used for pounding nails and small demolition projects, like taking down drywall. A model with a "rip" claw or straight claw is preferable for such applications. Choose a hammer with a smooth head to avoid nail slippage or surface damage.
A Level
This tool help you put up shelves, hang pictures and accurately line up materials for your projects. A 4-foot level is generally recommended for larger projects. A torpedo level or line level works well for leveling picture frames. This type usually has a magnetic side, making it easier to balance the tool.
Pliers
There are times where you will need some extra grip. A multi-tasker such as channel-lock pliers can grip showerheads and nuts. Lineman's pliers are used to twist and cut wires. Vise grips also work as clamps. Consider having one of each in your toolbox for common maintenance issues and necessary repairs around the home.
Adjustable Crescent Wrenches
Homeowners will need to grasp and get leverage to turn the majority of nuts and bolts. The 14-inch adjustable crescent wrench offers more leverage and the 6 inch wrench is better suited for tight places. These tools will come in handy for small plumbing repairs and other issues that creep up over the lifetime of owning a home.
A Cordless Drill
This is a convenient tool when you need to work on the roof or other areas where an outlet may be hard to access. It is easy to use and allows homeowners to quickly complete small projects. You will not go wrong by investing in a good-quality drill and drill bit set. Universal drill bits, wood drill bits and metal drill bits will cover the needed repairs and maintenance issues that may occur both indoors and out.
Stud Finder
Without a stud finder, it is nearly impossible to find a secure mounting point for heavy pictures, TVs, and more. Hanging the item anyway could result in it falling and causing damage or even injuries. A stud finder ensures that the hardware makes purchase in a wood stud, giving it the support needed to hold the heavy item. You just have to run it over the wall and wait for the beeps to find the perfect mounting point. Higher end models can even detect wires within the wall to prevent incident while putting up décor and other items.
Common Gardening Tools
Your garage or shed should include a rake, a flat-edged shovel, a round-point shovel and a garden spade to spruce up small gardens and dig small holes during an easy outdoor repair. Homeowners will also need a push or riding lawnmower if they are going to cut the grass themselves.
Maintain Your Investment
When it comes time to sell a home, a well-maintained home allows homeowners to recoup the full value of their investment. However, this is not the only reason to learn how to maintain a home. Unexpected expenses can creep up and learning how to do small repairs yourself can save you money. Seek the help of a professional when the job exceeds your comfort and skill level or when it comes to electrical issues. There are some instances when problems must be handled by a professional and work has to be done to code. Keep basic tools in your home for all other situations, and make the effort to keep your Austin home in top shape.