7 Ways to Improve Your Garden & Landscaping
Posted by Tony Gilbert on Thursday, November 4, 2021 at 7:35 AM
By Tony Gilbert / November 4, 2021
Comment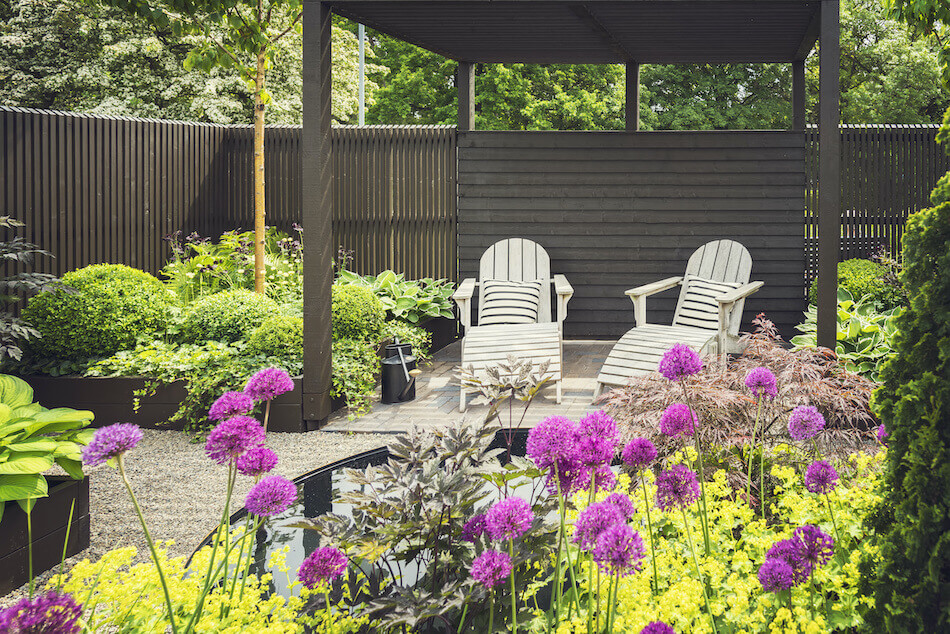 Updating the interior and exterior spaces of your home is an exciting aspect of homeownership. If you're trying to increase the curb appeal of your home before selling or would just like to have more inviting outdoor spaces, you should spruce up your garden with new landscaping upgrades. A few new plants, smart lighting, and even paving stones can all give new life to your garden.
A little can go a long way in adding some color to your yard or creating a livable outdoor deck. If you're not sure where to start, this guide can help you learn about landscaping ideas for modern homes. Keep reading to find 7 great tips for sprucing up your garden and home landscaping.
Start With The Foundation: Your Lawn​
If you haven't refreshed your lawn in years, consider it the first step in this project. The sod delivery service SodLawn recommends selecting pre-grown grass varieties that are optimal for your local climate. The right sod selection will also define how well some of your plants will look together with the lawn, as well as with the rest of the elements you choose.
Many homeowners invest in pre-grown sods of grass to make sure their lawn will look stunning from the moment they lay it out in their garden. When it comes to sod, there's an option for everyone. You can find lush grass types that grow at different paces and in various lengths, comments professional gardener & lawn mower Pol Bishop of Fantastic Gardeners. Each type of sod requires different levels of maintenance. Consider which lawns will best complement your garden.
Create An Outdoor Living Area​
It's always a good time to turn your yard into a more inviting outdoor living space. Small projects can create space in the garden that promotes private relaxation and quality time together. The perfect outdoor living area should contain certain essentials. For starters, you'll need durable yet aesthetically pleasing furniture that can handle the kind of weather you have in your region.
Even if it's just two lounge chairs and one coffee table, go for sturdy materials that you can easily clean and protect from the elements. Then, add cozy details such as throw pillows and blankets that you can bring back indoors anytime if it rains or snows. If your garden is big enough, you can set up a barbecue area, too, just be sure to invest in long-lasting appliances.
Switch To Solar Lights
Outdoor lighting allows you to enjoy garden living spaces at any time. Many homeowners are switching to solar lighting as their preferred option, both for indoor and outdoor lighting systems. It's good for the planet, and it cuts your energy bill significantly.
To combine form and function while giving your garden that enchanting look and feel, you can add beautiful solar string lights and create the perfect summer night atmosphere. You don't have to worry about any power cords or look for energy sources. Go for LED lights for even more durability, and some even come with added features such as dimmers.
Add New Plants And Trees​
If you're a skilled gardener yourself, you can completely revamp your garden by simply adding some new plants and flowers. However, some projects are for professionals over DIYers. If you're prepared to hire a landscaping team, they can help design the layout of mature plants and trees for optimal shade and privacy.
Texas climates can support evergreen sumac, a beautiful plant to cool down your outdoor space and surprise you with delicate white flowers during summer. Desert willow and Texas sage can also liven up your garden with bright, vivid hues, and they can grow to impressive sizes if you have the space.
Create Privacy with Fences and Hedges​
For homeowners who want to create a unique layout with various zones and add a fence around the entire yard, you'll need to ensure you're doing everything by the book and within your property lines. According to C&A Land Surveyors, working with a local expert allows you to determine the best zone borders for your garden and where precisely you can place your fence, be it a rustic wood fence or one made of lush hedges.
Once you know the zoning rules for your space, you can add battens or trellis and let climber plants do the rest for creating privacy and diversifying your garden's color palette. Even a simple screen can shield your seating area from unwanted gazes, and you'll establish clear layout boundaries. If you want to join the zero-waste movement, consider a place for in-ground composting, starting a Bokashi bin, food recycling, or even worm farming.
Refresh Your Garden Paving
Broken stones in your paving aren't just an eyesore but also a potential hazard for slipping or tripping. Inspect every paved area in your garden to check for cracks and broken pieces. If you're going to repave everything, you can go for a completely new look.
But if only one or two pieces are no longer usable, you can replace them with different kinds for a more eclectic look. Mixing patterns and textures is a great method to give your garden some more personality and pizzazz. If you're doing major repaving work in your yard and the surrounding area, be sure to check if you have the necessary home improvement permits before you start.
Consider Herbs and Vegetables
Some garden elements contribute more to beauty, but others can be alluring and purposeful, especially if you're a gourmet. Your outdoor space is the ideal area for adding a vertical garden for quickly grown veggies and herbs.
Add to that, and you can go for window boxes to maximize space use and introduce hanging planters in rustic baskets. Home-grown veggies and herbs are an excellent way to let your garden serve an additional purpose while improving curb appeal.
Ready For the Garden of Your Dreams?
Whether you decide to turn this into a DIY project that will take several weeks to unfold, or you hire an expert landscaping architect to design the space for you, the listed trends and ideas will help transform your garden.
Consider your outdoor space the ideal representation of your home, a serene slice of paradise where you can spend hours with your friends and family. Taking good care of your garden will always bring you joy and make your home a prime piece of real estate.