Issaquah Home Prices Jump 25% in November, as Inventory Drops Again
Posted by Tony Gilbert on Monday, December 16, 2013 at 3:17 PM
By Tony Gilbert / December 16, 2013
Comment
Just when you thought increasing prices for Issaquah homes were taking a hiatus, we see more signs that the local housing market isn't going to slow down anytime soon. November single-family home prices in Issaquah were up - the median single-family home price increased a whopping 24.6% over November of 2012 - and available inventory has retreated once again to 90 units, a decrease of 28.5% compared to the same month last year.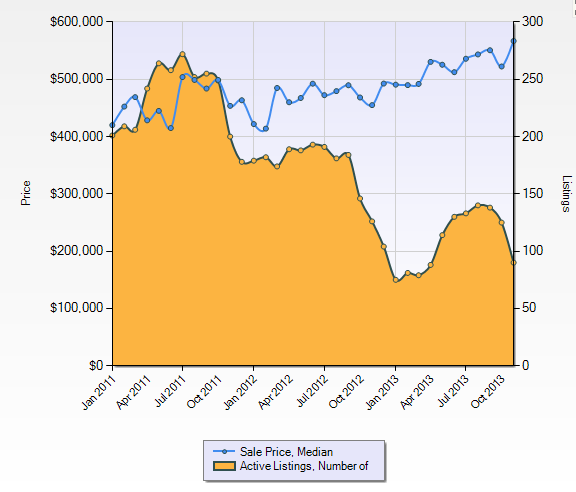 What's Causing Issaquah's Rising Prices?
It's no secret that the entire Seattle metro area continues to experience rising home values - inventory remains low, although some markets on the Eastside have relaxed "slightly" from the hectic atmosphere we saw last spring.
Issaquah in particular, is being heavily influenced both by popular new construction, and the lack of "affordable" homes in nearby Bellevue. The increase in interest rates is also most certainly causing more buyers to consider purchasing their new home farther out in Issaquah, and points east - such as Snoqualmie Ridge.
While areas like Klahanie and the Issaquah Highlands have played a significant role in rising prices, a closer look at the market shows the entire city continues to increase - but perhaps not nearly at the same rate as the Highlands. Also, prices for the typical resale home in Klahanie have leveled off just a bit - showing that there is in fact a ceiling to what prospective buyers consider a fair price to pay for a pre-owned home - which usually hasn't been updated.
Will Issaquah Real Estate Values Keep Rising?
If the last two years are any indication, the spring of 2014 will be just as busy. However, for Issaquah specifically, two factors will likely play more of a role - possibly rising interest rates and reduced FHA loan limits. Both 2012 & 2013 were excellent times to buy a home - especially for first time home-buyers. However, any negative shift in the economics of real estate can have an immediate impact on buyers seeking financing.
So, while it's likely we're in for another run-up in prices this coming spring, based upon current market trends and economic forecasts, it's doubtful we'll see Issaquah home values increase at the same rate in 2014... but we've been proven wrong before! Stay tuned...
Related Links