Issaquah Market Update October 2014: Price Reductions on the Rise
Posted by Tony Gilbert on Tuesday, October 7, 2014 at 3:23 PM
By Tony Gilbert / October 7, 2014
Comment
Did the headline of this post make you do a double-take? Yes... you read that correctly - price reductions in Issaquah have become more common over the past quarter, and the average Days on Market continues to rise, with 40-60 days market time becoming common. While well-priced homes continue to sell quickly in a week or less, the frenetic pace of the Issaquah real estate market has definitely cooled. But the good news is, that for the time being anyway, it appears prices are remaining somewhat stable, as the reductions have been fairly conservative.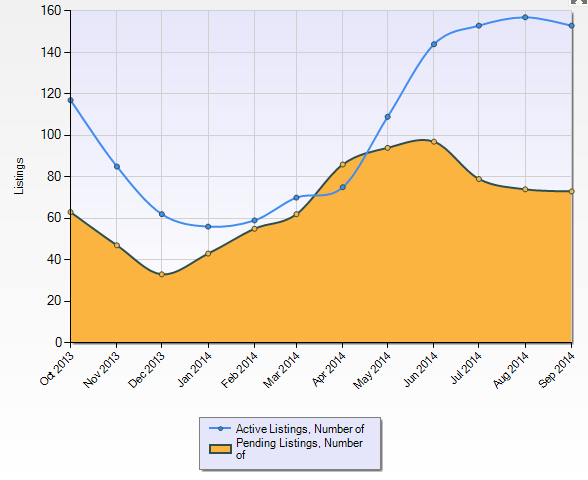 If you've been paying attention to the local real estate market for the past couple of years, you know very well that both Issaquah resale home prices & new construction prices have increased significantly - by as much as 30% to 40% or more. You're also likely aware that new listings were being snapped-up by home buyers almost as quickly as they were coming up for sale. The extremely hot market was most evident in the ever-popular neighborhoods of the Issaquah Highlands and Klahanie - where open-house attendance was crazy at times, and multiple offers were to be expected.
Active Listings Increase - Pendings Decline
In early June however, we noticed things were slowing somewhat. Many attributed this to the typical summer slow-down we experience each year. However, it soon became obvious that home buyer urgency was cooling, as new listings continued to come up for sale and buyer showings declined. In Issaquah, this has resulted in a much wider margin between the number of Active listings compared to Pending sales - and the wider the gap, the more pressure is put on sellers to reduce prices, or otherwise be more competitive in the market.
This trend not only impacted Issaquah, but was even more pronounced in areas farther to the east, such as Snoqualmie Ridge and North Bend, where showing activity dropped significantly in June and July, as the days on market rose quickly - and the pricing pressures remain.
What's Causing the Price Reductions?
Of course, there are many variables and nuances to real estate market in each area. And it's probably worth mentioning that certain "world events" are likely having a negative influence on the economy in general. (Obviously, fewer people are in the "home buying mood" during uncertain times.)
In this case however, as with other Seattle areas and across the country, it's likely that the market simply caught-up with buyer demand in Issaquah, which had been sorely unsatisfied for the past 18-24 months. As prices increased, more homeowners realized they were in a position to sell (no longer being potentially "under water"), and found it financially attractive to move-up, or down. This caused inventory to increase rapidly, while buyer momentum was already slowing down, when compared to 2013. In fact, as we see in the chart above, during the month of June, new listings continued to increase, as pendings were already on the decline.
Thus, it's highly likely it will take some time, at least thru the remainder of the year, for the older inventory to be absorbed, as we wait to begin the cycle again in the early spring of 2015.