July Home Sales at Snoqualmie Ridge Bounce Back from June
Posted by Tony Gilbert on Sunday, August 12, 2012 at 2:19 PM
By Tony Gilbert / August 12, 2012
Comment
July Home Sales at Snoqualmie Ridge Bounce Back from June
The "Summer Cool Down" we discussed in July's real estate update for Snoqualmie Ridge , has bounced-back just a bit for single-family pre-owned homes. While pending listings and closings in July are up from June, we've clearly lost the a bit of the traction which was building in March through May - though it was unsustainable. This is somewhat in contrast with other parts of the Seattle metro area, where inventory remains exceptionally tight and prices continue to increase.
Undoubtedly, the pressure on pre-owned homes is in-part due to the new construction homes at Snoqualmie Ridge. However, Snoqualmie Ridge isn't alone in pricing pressures - I've noted a similar trend in some price-ranges on the Sammamish Plateau. In general, potential sellers need to be very careful not to overprice their homes, as buyers remain VERY price-conscious. These days, purposefully pricing your home higher than trends dictate to "pad" for negotiations may be a mistake. Be sure to discuss these trends in depth with an agent. When in doubt, it's always best to remain conservative with listing prices.
Gap Between For Sale and Sold Homes Grows
In Snoqualmie Ridge, new listings and the number of homes for sale continues to rise slightly. In the chart below (which represents pre-owned homes only), the number of homes for sale increased by one, and most listings continue to be absorbed in a reasonable amount of time. However, if you look at the dark green bar (sold homes) over the past year, you'll note that the number of closed transactions has been relatively flat, with the exception of May and September of 2011. Beyond those two bright spots in sales activity, it's pretty clear that the number of potential home buyers in Snoqualmie Ridge is relatively stable - in fact, the number of homes sold this July compared to last, is equal - at 12 closings. Thus... despite what you may hear about a neighbor's home selling in less than a week, we must remain cautiously optimistic.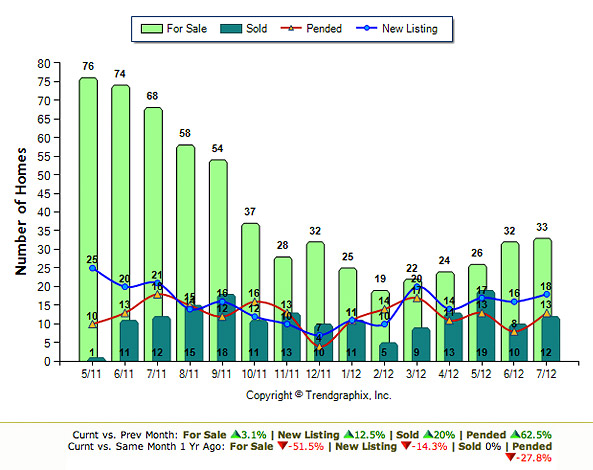 Compared to June, July's Pending sales are up by 62.5 %, and new listings are also up, by 12.5%.  Closed transactions in July increased by 20% compared to June. We continue to have a reasonable level of inventory for buyers to choose from, with 33 homes for sale as of July 31tst. Obviously, we remain much better-off than one year ago, with available home inventory down by over 50% compared to 2011. Since last summer, depending on the price range and location, most home prices in Snoqualmie have increased between 9%-16%.
Pricing Pressures - Pre-Owned & New Construction Price Reductions
While home prices have increased overall in the past year, in the previous 3 weeks, there have been 21 price reductions at Snoqualmie Ridge - this includes both resale homes and new construction. This is in sharp contrast to April and May, when we were actually seeing multiple price increases - not only in asking prices for existing homes, but also for Pulte's new construction at Eagle Pointe. With the exception perhaps of a few "pre-sales" at Eagle Pointe, this trend has reversed.
There have been a couple examples of pre-owned price drops recently between 5-8% off the original listing price. Granted, we do not know those specific sellers' circumstances, but any pricing reductions are obviously not helpful to those who are competing for a buyer's attention. Again... while sales of existing inventory overall is considered "healthy,"  multiple asking price reductions in a short period of time is something to pay very close attention to. This could simply be a sign that we've hit a plateau in asking prices; it's not necessarily the start of a negative trend.
Distressed Home Listings Increase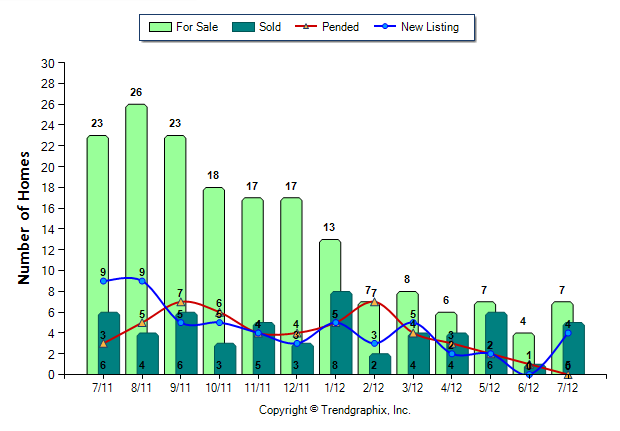 Unfortunately, after bottoming-out in June, the number of distressed homes for sale - including short sales and foreclosures - increased in July with 4 new listings. We obviously still have a ways to go before the general economy improves to a point where all or most homeowners feel a sense of stability. This trend follows distressed homes for sale both in the Seattle area, and nationwide. In Snoqualmie Ridge, all but one of these listings are short sales - as of the date of this blog post, there is only one foreclosed single-family home for sale on the Ridge (which in my opinion, is overpriced - but that's another story).
However, in all of Snoquamlie, compared to July of 2011, the number of distressed single-family homes for sale has dropped by 67%, and new distressed listings are down by 33%. New distressed listings are being absorbed at a healthy pace compared to last year - and we haven't consistently seen more than two months worth of distressed home inventory since last fall.
Summary for Snoqualmie Ridge July 31, 2012 Single Family Homes Only - Excluding New Construction
Closings During July: 12
Average selling price: approx. $441K
New Listings During July: 18
Active Listings on July 3oth: 33
Average Asking Price: approx. $544K
Average Price per Square Foot: $150

Statistics not compiled or published by the Northwest Multiple Listing Service.
Related Links