Klahanie Housing Market Statistics June 2012
Posted by Tony Gilbert on Monday, June 11, 2012 at 1:32 PM
By Tony Gilbert / June 11, 2012
Comment
Klahanie Real Estate Market is Competitive!
As many home buyers and sellers have no doubt heard, the Seattle real estate market has transitioned to a "seller's market" over the past few months. While Klahanie has always been a very popular Issaquah neighborhood, there just aren't enough homes to satisfy the number of buyers, who are in many cases literally lined-up at the door waiting to take a peek as new listings come up for sale.
The fact is... if you are a potential home buyer, and you want to be in Klahanie, you'd better be prepared with a mortgage pre-approval, and be comfortable with making decisions quickly.
List Your Klahanie Home for Sale & Buyers Will Come
Okay... "buyers will come," but with some caveats.  For sellers, this assumes your home is priced "correctly" - meaning, in accordance with the market and comparable Klahanie homes... both those which have sold, and competing homes on the market. Regardless of the market conditions, overpricing is always a concern - price your home too high, and buyers will quickly see right through it, all the way to the next home. But, price your home too low, and you'll quite likely leave money on the table. Be certain when you list your Klahanie home for sale, that you have gone over the numbers thoroughly with your listing agent. We pride ourselves on truly "getting into the numbers," and will always present you with the accurate information needed in order for you to decide on a listing price - using our recommendation of course.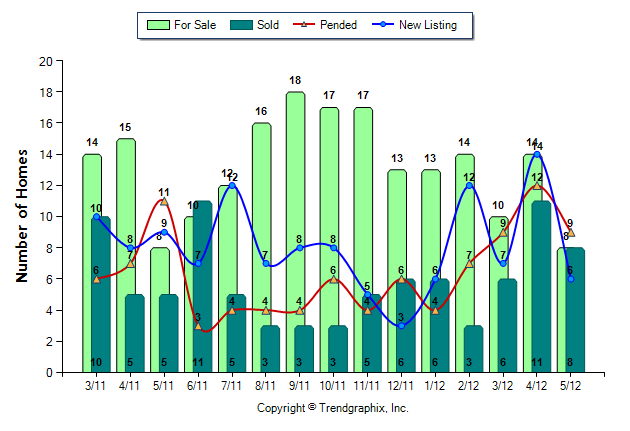 The Klahanie Housing Market: Looking at the Statistics
Reviewing the statistics chart above, what's most striking about the current real estate market in Klahanie, is that for every home listed for sale at the end of May, another home sold in the month of May - essentially a 100% "absorption rate." (Though, we prefer to calculate true absorption rates over a longer period of time.) Moreover, pending transactions outweighed new listings for only the third time in the last 12 months - and, there were more homes pending at the end of May, than were available for purchase.
Klahanie has always been popular, but obviously, it's really "hot" right now. Case in point, I attended an open house in Klahanie a couple weeks ago with buyer clients. Upon arrival there were at least 20 other people touring the home - in the pouring rain. This home went under contract in less than 2 full days, and while the transaction hasn't closed yet, it's a safe bet that it has sold for the asking price, or higher.
Compared to April, there were 43% fewer homes for sale and 57% fewer "new" listings placed on the market. And, as of the date of this blog post, there were only 9 homes "active" for sale in Klahanie and 17 pending transactions - and 8 of the active listings, had been on the market 10 days or less. The average days on market for the present pending transactions is 67 - however, removing the two oldest listings brings the average days on market down to only 25.
Days on Market Continues to Drop Dramatically
As an average, the Days on Market for resale homes in Klahanie dropped by almost half since April - down to only 14 days... and down by a whopping 86% from May of 2011. The "list to sale price ratio" remains fairly steady, at 98% of asking price.
Buyers need to pay special attention both these statistics. I cannot stress enough how important it is for buyers to be educated about the market conditions when shopping for a home. Time and again, we see buyers miss-out on homes to other buyers as they become "acclimated" to the fast-paced market conditions. Unfortunately, many buyers are under the false assumption that the Seattle area market is like the rest of the country, when clearly it is not. PLEASE... take your agent's advice when looking for a home!
Potential home sellers in Klahanie need to be aware of these numbers too, as now is clearly a GREAT time to list your home for sale. But remember... these numbers are "averages." While it may appear that you can just "throw a for sale sign out in the yard" and have your pick of an unlimited number of buyers... don't be fooled. The rules still apply - homes that fetch top-dollar and generate the most interest will be priced correctly, and will be properly prepared for sale - meaning that they have been cleaned, un-cluttered, de-personalized, reasonably staged, and are in good repair.

Klahanie in a Strong "Seller's Market"
There are several ways to calculate "Months of Inventory" - but for the purpose of our real estate market updates, we'll use the basic method of dividing the number of Active Listings on the last day of May, by the Closed Listings during the month. At the end of May, Klahanie now only has 1 month of pre-owned, single-family home inventory - which is the lowest inventory-level of any Issaquah neighborhood I'm presently aware of.
As a home-buyer, this is important to note, because in this type of market, when you find a home that "ticks most of the boxes" you cannot afford to wait too long before making a decision whether to place an offer or not. Many homes in this type of real estate market will have multiple offers. So it is vital you come prepared with a pre-approval in hand, and ready to make the strongest offer possible. While there may be occasions where a new listing is "overpriced," for the most part, negotiations on price will be limited... so keep this in mind. To help make your offer more competitive, it is possible for home-buyers to waive the home inspection period in the offer by performing a "pre-inspection" in these cases, so be sure to discuss that option with your real estate agent (hopefully us).

Re-Sale Asking Prices Consistent, Sold Prices Rising
"Asking" prices for resale homes in Klahanie are remarkably consistent - but what's a bit odd in the chart below, is that the average asking price actually dropped in May compared to April - yet the sold prices for closed transactions have risen by 9%. Looking deeper into the numbers, the lower asking price at the end of the month was due to a smaller townhome, and one older listing - both of which have since gone under contract. Due to normal summer real estate patterns combined with the low inventory, we expect to see the average price continue to climb somewhat, at least into the fall.
Compared to May of 2011, we see a 6.7% increase in the sold price of closed transactions.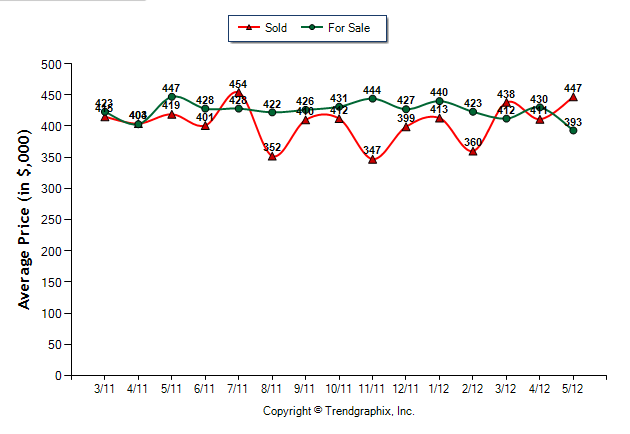 View the current homes for sale in Klahanie, and contact us to day to arrange for private showings, and tours of other available  homes in the Issaquah area.
Summary for Klahanie May 31, 2012 Single Family Homes Only - Excluding New Construction
Closings During May: 8
Average selling price: approx. $447K
New Listings During May: 6
Active Listings on May 31st: 8
Average Asking Price: approx. $393K

Statistics not compiled or published by the Northwest Multiple Listing Service.