Make Small Repairs To Raise Your Home Sales Price
Posted by Danny Evatt on Friday, November 22, 2019 at 2:49 PM
By Danny Evatt / November 22, 2019
Comment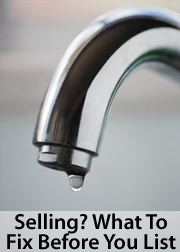 If you're preparing to list your Leander home for sale, please resist the temptation to make major home improvements. Major home improvements can end up costing you more than double your original budget. Additionally, you will be dealing with the mess yourself, and more importantly, delaying how soon your home is shown to potential home buyers in Leander. Rather, for a better return on your time and money, focus on minorprojects instead - especially your "honey-do list." It's the smaller projects that tend to have a bigger, long-term payoff.
Start Thinking Like a Home Buyer!
So, how do you determine which projects are the "smaller ones"? It's obvious when you think back to being a home buyer. You're going to have to emotionally detach yourself from the home at some point... so there's no better time to look at your home with a very critical eye, just like all buyers will. Consider : Home buyers don't always notice when your home is in working order. In fact, they expect it to be that way. What they do notice, however, is when things are "broken".
When a buyer sees torn screens in your windows or burnt out light bulbs, it makes him wonder what else in the home has not been cared for. They will also immediately notice foul, or "musty" odors - it conveys a sense of a home being unclean. This is one reason why—especially during warmer months—it's sensible to hire an exterminator prior to selling your home. If a prospective buyer uncovers bugs in your bathroom, it can leave a lasting, and very negative impression—one that's not as likely lead to an offer to purchase.
5 High-Impact Home Maintenance Projects
So, with "small repairs" in mind, here are 5 simple projects that you can tackle in a weekend, and that will help your home show better. Each is low-cost but high-impact:
Repair or remove torn screen doors
Fix all leaky faucets and toilets
Touch up holes and cracks in paint, interior and exterior
Apply a lubricant to squeaky doors and cabinets
Get "clutter" into storage and physically out of the way
Additional Projects to Add Value To Your Resale Home
Here are a few additional home improvement projects that can add value to your home without breaking the bank.
Deep Clean & Tidy Up Curb Appeal
In addition, you'll want to pull weeds from your yard, seed any bare spots you find, and lay down fresh mulch, where appropriate. You will also want to thoroughly deep clean your home. This means getting down on your hands and knees to clean those baseboards, and also dusting and wiping down every surface possible, including the tops of door frames, window sills, cabinets, shelving and all furniture. You will be shocked when you discover just how much dust and grime is in your home!
Do an Appliance Checkup
You'll also want to do an appliance checkup to make sure everything staying with the house is in good working order. You don't have to replace the appliances unless they're completely broken, but having someone come out to service anything faulty and putting some work into cleaning up the exterior of the appliance can go a long way to promote buyer appeal. A quick touchup to your kitchen appliances takes just a few moments and can go a long way towards making your kitchen look up to date and inviting.
Remove all personal items from the front of the fridge, dishwasher and oven, then thoroughly clean doors, handles and glass. Include the microwave and any other small pieces that are out in the open in this process. Once everything is clean, touch up any dings, marks or scratches with enamel paint designed specifically for appliances. It's easy to colormatch any appliance color and fixing these small but noticable spots will help your kitchen look like new—and make the best possible first impression on a buyer, too.
Re-Paint and Touch Up Scuffs on the Wall
Finally, if your interior home paint is only a few years old, you can touch-up all those scuff marks on the walls. But, be sure to test a small area first for matching - and it's important to thoroughly mix the paint first. Mismatched paint will only draw more attention to flaws. If your walls are scuffed-up in many locations, it may be worth a fresh paint job - just make sure it's done professionally! (And save the receipts to show your agent and potential home buyers.)
You don't need to spend big bucks to get your home ready for sale, but the time spent on repairs and deep cleaning will have a pay-off in the end. Homes that show better almost always sell faster, and at higher prices. For more information on how to prepare your Austin area home ready for sale, please contact us today for a free in-home consultation and in-depth market analysis.