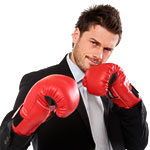 What do real estate agents talk about when we're not busy serving you?

Real estate is anything but "boring." At any given moment, numerous discussions are taking place regarding almost every nuance of the real estate industry - any of which are likely to trigger the hot buttons of agents, many of whom are quite passionate about their profession (yes... that's a good thing.)
Most of these discussions revolve around how agents both obtain and manage their business, topics which may seem innocuous or irrelevant to the average consumer. The fact is however, that the potential changes resulting from these debates have the power to dramatically alter certain aspects of the industry, and ultimately your experiences as a real estate client.
With that in mind, this post is the first...