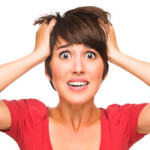 Look at her... she's shocked and upset! And rightfully so. She just learned she lost about $20,000 by pricing her home too low, and accepting the first offer.
Well, not really... we don't know who she is. But, she did a great job in this photo session, as her face certainly fits the circumstances. Don't be like her...
Are some Austin home sellers potentially leaving money on the table? You read the following, and decide for yourself.
Sold in 1 Day - Hip, Hip Hooray!
You've surely seen the compelling advertisements lately... "Sold in One Day," or "Top 1% For Closed Sales Days on Market" (i.e., lowest number of active days on market). Well... sorry...