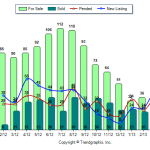 The Issaquah real estate market continues to be driven by exceptionally strong home buyer demand - there's simply not enough resale inventory to satisfy the number of home buyers out there in Issaquah today. As a result, Issaquah home prices continue to increase.
The past couple of Thursday and Fridays have seen quite a few new listings however, and that's good news. But, they've also been snapped-up very quickly by savvy buyers waiting for a good match to come up for sale.
With this said, it is interesting to note, as shown in the charts below, that the trends of the Issaquah housing market...