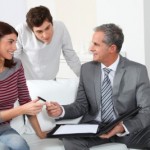 Is there such a thing as an "Ideal Home Buyer?"
I was asked recently to describe my "Ideal Home Buyer Client." The person asking this question had gone to a great deal of trouble creating a very detailed 3-page document describing their home buying "wants" - several of which were defined as "absolutes". While it's nice that that they were so organized, I felt a bit as though I was bursting their bubble when I answered.

"Ideal Buyers" Don't Really Exist
In real life, for me anyway, there isn't an "ideal" Georgetown home buyer. I'm a pretty flexible person,...