Mortgage Rates Rise For Third Straight Week
Posted by Tony Gilbert on Sunday, August 19, 2012 at 12:10 AM
By Tony Gilbert / August 19, 2012
Comment
Attention Issaquah home buyers! Mortgage rates are on the rise again... not only in the Seattle metro area, but nationwide. But don't fret, mortgage rates in Washington State are still at record-low rates. However, combined with rising home prices in Issaquah, rising interest rates further reduce home affordability for many. Thus, while we know it's "cliche" - NOW is a great time to buy a home in Issaquah, or anywhere else in the Seattle metro area.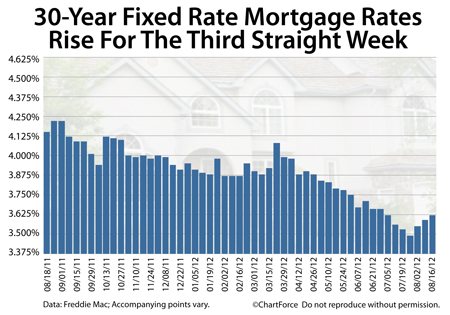 According to Freddie Mac's weekly Primary Mortgage Market Survey,
for the third week in a row
, the 30-year fixed rate mortgage rate increased, this time tacking on 3 basis points on a week-over-week basis to 3.62%, on average, nationwide. The 3.62% mortgage rate is available to mortgage applicants willing to pay 0.6 discount points plus a full set of closing costs. Freddie Mac's published mortgage rates are compiled from a 125-bank survey.
Mortgage Rates Finally Hitting Bottom?
It appears that national 30-year fixed rate mortgage rates bottomed at 3.49% in late-July. In the weeks leading up to that bottom, mortgage rates had dropped in 11 of 12 weeks. Since then, however, mortgage rate have increased steadily, climbing to a 7-week high, depending on where you live. It's common for mortgage interest rates vary by region. As reported by Freddie Mac, mortgage applicants in the South are currently paying the highest mortgage rates. Applicants in the North Central are paying the lowest.
Northwest Region : 3.64% with 0.6 discount points
West Region : 3.59% with 0.6 discount points
Southeast Region : 3.68% with 0.6 discount points
North Central Region : 3.58% with 0.6 discount points
Southwest Region : 3.66% with 0.6 discount points
Earlier in 2012, the economy was stalling; growing slowly. This led to Wall Street speculation for the Federal Reserve to implement a bond-buying program that would cause mortgage rates to go down. The Fed repeated comments that it would do what is necessary to keep the economy on track served to fuel speculation. In July however, at the Federal Open Market Committee, Ben Bernanke did not add new stimulus, and seemed content to take a "wait-and-see" approach. Since then, Europe appears to have put itself on-track and the U.S. economy has shown some signs of expansion, so Wall Street is reversing its bets; planning for no new stimulus at all. Mortgage rates remain low however, so if you've yet to join this year's refinance boom, or if you're hunting for a home, consider locking something in. In a few weeks, mortgage rates may be higher still.
Bottom line... if you've been on the fence for a while looking at homes, don't wait too long.
Home inventory is short in Issaquah and all of Seattle, home prices are rising, and now interest rates are rising as well. So, when you find a home that checks most of the boxes on your "wish list," now be the time to act!
Related Links