Move-Up Home Buying Opportunities in 2013 at Snoqualmie Ridge
Posted by Tony Gilbert on Friday, December 14, 2012 at 8:29 AM
By Tony Gilbert / December 14, 2012
Comment
Currently own a smaller home at Snoqualmie Ridge and feeling a bit "squeezed"? Thinking of buying a bigger house? Move-up home buyers have a great opportunity going into 2013 at Snoqualmie Ridge due to the VERY strong demand for homes priced at, or near $400,000, compared to the somewhat weaker demand for homes priced above $500,000.
To demonstrate the move-up opportunity compared to years past, let's compare the number of sold homes at Snoqualmie Ridge in 2006 and 2012.
>>> Hover over the chart to see the differences <<<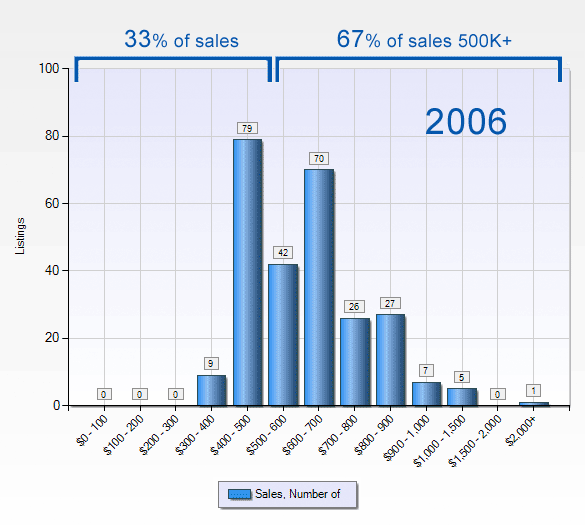 Notice the statistics have completely flip-flopped. Affordability and loan qualification standards are among several reasons for this - but many home buyers are now uncomfortable buying a larger home as in years past, unless they truly need the space. In 2012, it's clear that the majority of home buyers at Snoqualmie Ridge were looking for homes priced at, or below $500,000, and this will likely continue into 2013. We do expect to see continued improvement in higher price brackets, but the rate of increase will obviously be slower.
By Comparison, Lower-Priced Homes Often Sell at a Premium
I had a conversation today with a friend of mine who is a resident of Snoqualmie Ridge. She indicated their family would like to move into a larger home sometime in 2013. They own a smaller home in excellent condition which presently fits into a $375K - $400K price range. With demand being exceptionally strong in that price range, they are in a prime position to both sell their current home at a potential premium (compared to other price ranges), and "move-up" by buying a pre-owned home of $500K or greater at a potential "discount" by comparison, since the pace of the market is clearly slower in the higher price brackets.
More Affordable Home Inventory Needed
Home buyers are looking at Snoqualmie Ridge in impressive numbers - and they're especially attracted to more affordable new construction. But, this is partly due to the lack of affordable resale homes for sale on The Ridge in a comparable price range - roughly between $400,000 - $475,000. For several months, new home builders have been filling the demand in this price range - and building activity is picking-up steam as I write this. However, when a pre-owned home comes up for sale under $450,000, if it's priced according to recent market activity, there should be strong buyer interest.
Margins for Negotiation Will Decrease in 2013-2014
All buyers looking for homes over $500K will find more homes to choose from, and likely a wider margin for negotiation. However, as more move-up buyers return to the market in 2013 and beyond, homes in the upper price ranges will also likely begin to enjoy increasing values. Accordingly, the window of opportunity for buyers to get the elusive "good deal" is definitely shrinking.
So... if you own a smaller home at Snoqualmie Ridge and are thinking of moving-up, now is the time to start planning your strategy for 2013. If you have any questions about your home's market value, give us a call or email. We also have a couple of excellent local lending resources in Snoqualmie who can counsel you on your options well in advance.
Related Links