What to Know Before Moving to Austin, Texas
Posted by Danny Evatt on Wednesday, January 15, 2020 at 8:08 AM
By Danny Evatt / January 15, 2020
Comment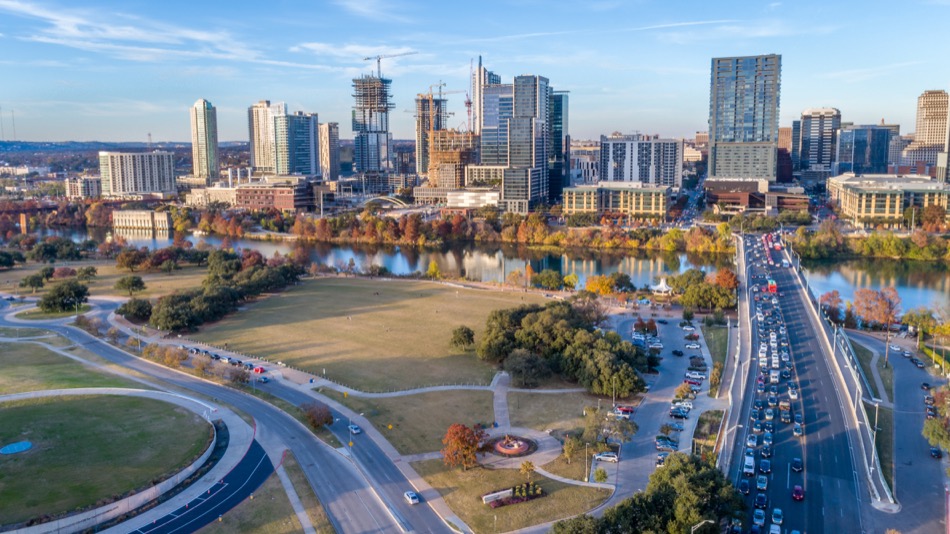 As the capital of the Lone Star State, Austin is definitely a great place to live. Nearly one million people proudly call this city home with millions more residing in the suburbs all around. In addition, more than 27 million people visit each year to just get a taste of what it is like to live here.
To make the most of moving to Austin, Texas, everyone needs to get familiar with all this region has to offer. Then, they can jet over with confidence they are making the right choice for their household. Here's a look at 15 things people need to know before selecting this city as their home.
Restaurants Promise to Delight
Operating as a true melting pot, Austin boasts restaurants offering every cuisine imaginable, including tasty fusion spots. Although Tex-Mex holds the heart of many in this region, the fusion restaurants go above and beyond, melding all the different flavors of the world in amazing ways.
Popular fusion restaurants include:
Koriente
The Peach Tortilla
Dragonbeard Kitchen
REVUE
Ola Poke
At these restaurants, the chefs only use the highest-quality ingredients and cooking techniques. Most are sit-down eateries with dedicated waitstaff offering exceptional services, though some allow patrons to take their orders to go.
Classic eateries abound as well, giving everyone a place to satisfy their cravings. In addition, fast food, casual bistros, and fine dining establishments offer a wide variety of culinary experiences. Even food trucks make their appearance around town, serving up their delicious dishes to all who arrive.
Of all these types of eateries, however, diners are the most popular. Everyone loves to come down and enjoy breakfast, lunch, and dinner at these chill spots, many of which are open late into the night.
Live Music is Easy to Find
Austin is well-known as the Live Music Capital of the world due to all their awesome venues offering shows throughout the week. Residents can visit more than 100 live music venues across the cityscape to see their favorite artists in action.
Popular places to go see musicians play live includes:
ACL Live at the Moody Theater
Germania Insurance Amphitheater
Zach Theater
Pubs and bars, such as The Roosevelt Room, also regularly bring in musicians to entertain their patrons. Although they mostly bring in local acts, these venues tend to fill up with people vying for a chance to find new favorites and jam out with the crowd.
People do not even have to go far to get treated to the best music in the region. The entertainment experience starts immediately after getting off the plane at the Austin-Bergstrom International Airport as they stream tunes over the PA system. Then, everywhere people go, they can hear all their favorite jams from the speakers at stores, restaurants, and more.
There's Fun at All Corners
Although the music and food have enormous pull, Austin has many more amazing things to enjoy across its expanse. This city features breathtaking parks of all kinds, along with museums, aquariums, and much more.
The most popular parklands within the city proper include:
Emma Long Metropolitan Park
Butler Shores at Town Lake
Montopolis Neighborhood Park
Mayfield Park and Nature Preserve
There are also many beautiful greenspaces all around the outskirts of the region, giving everyone ample choices on where to spend their time when the great outdoors calls.
Residents can go beyond the parklands by stopping in at the wide variety of entertainment venues all around. They can see magic shows at Magic's Theater, explore exhibits at Bob Bullock Museum, and appreciate artwork at the UMLAUF Sculpture Garden and Museum.
To see the city in a whole new light, residents can head out on the many tours of the cityscape. On these tours, everyone can take in the views from the roads and waterways. The tour guide provides key insights on the city's history and shares interesting facts along the way.
Racetracks Await Spectators
Out of all the entertainment venues, the racetracks draw the biggest crowds. These tracks host regular events showcasing the best of the best in the automotive and motorcycle worlds. Many other vehicles hit the tracks to compete as well, including go-karts of all kinds.
To watch the races live, residents can visit several tracks within a few miles of the city, including:
Lone Star MX
Driveway Austin Motorsports
Harris Hill Raceway
In addition to regular races, these venues host a variety of other events, including car shows, meetups, and more.
Loyal Fans Love College Football
Speaking of big crowds, college football brings in spectators from near and far as they search for the next big name in sports. Home games almost always sell out, leaving many others to tune in at home on their TVs.
Just at the University of Texas alone, crowds of over 100,000 people clamber into the stadium to witness the game for themselves. As they watch in earnest, the fans sing the school's fight songs, wave their signs, and cheer their hearts out.
Sunny Weather is the Norm
Across the entire year, people in Austin see more than 220 days of sunshine. This is about 20 days more than the average across the rest of the nation. Across all those days, residents have a chance to soak in more than 2,600 hours of sunshine, most of the time without a cloud in sight.
Temperatures match the beautiful weather, often getting quite hot in the peak of August. During that time, it is not unheard of to reach 100 degrees Fahrenheit, creating the perfect weather for a swim. In an average year, residents see more than two full weeks of these high temps, spread out across the entire summer season.
Even as temperatures soar, humidity varies due to the nearby Gulf of Mexico and deserts to the south. Depending on which way the wind blows, humidity rises and falls, surprising residents at every turn.
Snow Flurries are an Extremely Rare Occurrence
Although not as hot, warm temperatures continue for the rest of the year, making snow flurries an extremely rare occurrence. In most years, Austin sees an average of zero inches of snow, which is a far cry from the 28-inch average across the rest of the nation.
Although snow flurries were briefly spotted just a couple of years ago, the last time Austin saw truly noticeable snowfall was in 2004. In fact, since 1898, snow has only hit Austin 52 times for a cumulative total of 90 inches. Across all those events, only four of them resulted in more than six inches of snow falling.
Tubing on the River is a Must
Although tobogganing is not on the itinerary for Austin residents, tubing on the river is a must. The second the sunshine peeks behind the clouds in the spring, everyone starts airing up their tubes for a float.
With their floaties in hand, everyone has their choice of excellent waterways, such as the:
Comal River
San Marcos River
Although not quite a river, Barton Creek also has quite a loyal following. People go up to Loop 360 Access to hop on the water and then float for hours to reach Barton Spring. Along the way, they can stop at the many banks to stretch their legs and have a bite to eat.
Traffic is on the Rise
As Austin becomes evermore popular, it just makes sense that traffic continues to increase. With so many commuters hitting the roadways, this city now ranks 14th in the nation when it comes to traffic congestion.
Most of the traffic arises in the morning and evening hours as people make their way to and from work. But that is not the entire story. Traffic congestion can also build up midday, on the weekends, and even overnight.
Across all time periods, residents spend nearly 70 hours each year sitting in traffic on their way to all their personal and professional engagements. This number has been on the rise since 2009 and will likely continue to increase in the coming years.
Public Transportation Routes are Available
In an effort to decrease traffic on local roadways, Austin created Capital Metro to serve all its citizens. This public transportation company has nearly 50 bus routes running through the city on a regular schedule. They also operate eight express bus lines that quickly move passengers to their destinations with minimal stops along the way.
To further shuttle people around in a jiffy, this city has a rail line that runs between Leander and Austin. This line picks up people at a dozen stops every 15 minutes or so on both weekdays and weekends.
On all the different buses and trains operating in this region, residents have their choice of ticket types. They can pick up single or day pass tickets for a reasonable fee or save money with the weekly or monthly pass.
Small Businesses Thrive
When people move to Austin, Texas, they put themselves in the middle of a great city to build and grow a small business. In fact, CNBC recently put it at the top of their list for small business vitality, and for good reason.
Small companies operated in this region saw nearly 10 percent growth from 2010 to 2013. With the second in line seeing just 6.8 percent growth, simply being in Austin is helping companies outpace their competitors.
Small business owners are taking notice of these figures and more than ever are setting up shop here. As a result, Austin currently has over 44,000 budding companies in its confines and many more on the horizon.
Job Opportunities are Everywhere
For those who would rather not start their own company, Austin also has a ton of jobs up for grabs at any given time. In 2018, new jobs grew by 3.4 percent, adding 35,000 positions across the cityscape. Residents are grabbing them up, too, keeping the unemployment rate hovering around 3 percent.
These figures will likely continue to follow the same trends as more people flow into the region to set up small businesses and further the growth of established companies. Right now, this city is second in job growth out of all the major cities in the United States. Both Houston and Dallas keep it company in the top ten, showing how well the job market in Texas is doing these days.
The City is Seriously Dog-Friendly
When residents are not working, many are spending quality time with their canine companions. The city makes it easy to have pups tag along nearly everywhere, as many businesses have dog-friendly policies.
Residents can even take their pup out to lunch at many restaurants, such as the:
Yard Bar
Austin Terrier
Cedar Door Patio Bar & Grill
While at these eateries, patrons can relax in the outdoor seating area with their dog alongside them throughout their entire meal.
When pups need to run, however, this city does not let them down. They can go to one of the dog parks throughout the region, all of which boast exceptional amenities. Popular ones include Red Bud Isle, Great Northern, and Norwood Estate.
Made to keep dogs safe while they play, all these parks have fully fenced enclosures. As they run free, they can chase other pups, climb around obstacles, and rest in the shade of nearby trees. Most local dog parks have water stations available to refill bowls and even wash off muddy paws when it is time to go home.
Excellent Neighborhoods Abound
When moving to Austin, everyone has many exceptional neighborhoods to consider during their search for a home. Each of the subdivisions offers different home styles and amenities, making it well worth taking the time to weigh each option. Here's a look at several popular communities.
Anderson Mill
Right along the western edge of US Highway 183 is the Anderson Mill neighborhood. Single- and multi-family homes fill most of this space, though there are also many commercial venues along the main road. Living here puts residents within a few blocks of the Austin Aquarium, video arcades, and many other awesome entertainment venues. Burger stands, diners, and wing bars also sit within close range, giving residents all the tasty food they want.
Milwood
The Milwood neighborhood sits between Yett Creek Neighborhood Park and Rattan Creek Park. Spacious single-family homes dominate this space, most of which have 770 to 1,700-square-foot floor plans. While residing here, residents are only a short drive from plenty of shopping and dining venues to the south along US Highway 183. They also have a few restaurants and a grocery store a couple blocks up West Palmer Lane.
Cherry Creek
The Cherry Creek neighborhood lies to the southeast of the beautiful Stephenson Nature Preserve and Outdoor Education Center. Most of this community features single- and multi-family homes, though there is a small commercial center along the northern edge. Within the neighborhood, residents have a well-maintained bowling alley, fitness center, and trampoline park.
Beyond these three options, there are dozens more neighborhoods available to those planning an Austin move. Each one has its own personality and community vibe along with many other unique characteristics.
Housing Prices Steadily Rising
Home prices in Austin, Texas, are rising alongside the popularity of each subdivision. Just in the past year, sales prices increased by 15 percent, putting the average at just over $400,000 or $200 per square foot.
Most homes sell within one month of hitting the market, though some do not even make it a week before offers start pouring in. Whether homes sit for awhile or sell right away, they all tend to go for around the list price.
Finance and real estate experts expect these trends to continue through 2020 and beyond. The construction industry continues to build new dwellings to keep up with rising demand, though that does little to bring down prices.
With this guide in hand, it is easy to see just why everyone loves moving to Austin, Texas. The amazing cityscape never fails to impress, bringing more and more residents here each year.