New Home Prices Increase at Issaquah Highlands' Forest Ridge
Posted by Tony Gilbert on Thursday, September 6, 2012 at 10:55 AM
By Tony Gilbert / September 6, 2012
Comment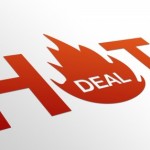 Home prices continue to rise nationwide and in the entire Seattle metro area - and in our observation, this is clearly evident in the prices for new homes in the Issaquah Highlands.
New home construction in the Highlands
has really taken-off during the past several months - and in at least one particular case, since March, new home prices are up as  high as 17.5% - yes... you read that right.
Huge Demand for Polygon Homes at Forest Ridge
One community in particular, is the very popular Polygon Homes community of Forest Ridge in the Highlands. This new neighborhood is located within walking distance of the coming Grand Ridge Plaza, which includes a new Safeway grocery store and a large movie theater. Other development is on track as well, including a new Marriott Residence Inn, and a new home community by highly-regarded home builder Burnstead homes - which rumor has it, will have homes ranging from the mid $600's to $800's.
Presently, Polygon cannot seem to build their new homes fast enough to satisfy the demand - they have yet to have any completed homes sit in "inventory" - most homes are either pre-sales, or have sold during the framing stage. Home prices currently range between the upper 400's to upper 500's. Polygon initially set their pricing prior to the announcement of Grand Ridge Plaza - thus, their introductory pricing may have actually been a little low. Combined with tremendous demand, this has resulted in 11% average increase in pricing since the spring - though one model has gone up by a whopping 17.5%.
Little Room for Negotiations on New Homes
Unfortunately for buyers, when a home builder is moving inventory so quickly, there is little, if any room for "negotiation" on price. Thus, home buyers must decide if being in this new popular community of The Issaquah Highlands is worth paying "asking price." If prices climb much more, the few pre-owned homes which occasionally come up for sale in the Highlands more attractive - even if they need some updating. Regardless, it's quite likely the pace of development and home sales here will continue for quite some time.
It is common for most new home builders to have some room for negotiation on "upgrades" and other add-ons. However, unless a completed home has been "sitting" in inventory for 30 days or more, buyers shouldn't expect a home builder to budge much, if at all, on pricing. And, in an exceptionally active community like Forest Ridge, they may not negotiate at all. (If you were had a home to sell in such a strong market, you wouldn't budge either.)
With this said, Polygon appears to have an excellent reputation among home-buyers - and with their customer service and exceptionally strong warranty programs, these homes would be especially appealing to first-time home buyers as an affordable option in the Highlands.
Home Prices on the Rise Nationwide
According to the Standard & Poor's Case-Shiller Index, home prices nationwide rose 6.9% between the first and second quarter of 2012, the largest quarter-to-quarter gain since the home-value tracker's 1987 inception and another signal that the housing market is in recovery. Many areas in the Eastside of Seattle have increased 3-4%  in the same period, and 6-10% since the same period in 2011.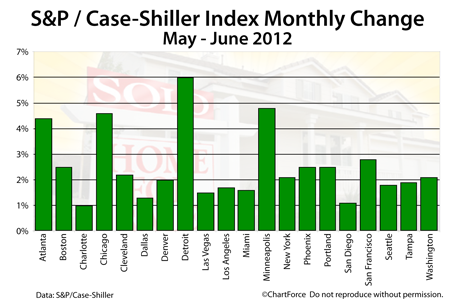 However, it should be noted that the Case-Shiller Index pulls from a limited sample set. It does not include condominiums or multi-unit homes in its findings, nor does it account for new construction.
Low mortgage rates make new homes affordable and rising rents are turning the Rent vs Buy equation on its head. In July, according to the National Association of real estate agents, first-time home buyers accounted for 34% of all home resales.  This trend is expected to continue into 2013. As compared to one year ago, today's home buyers have 8% more purchasing power and, with rising home prices, they're going to need it.
For more information about new homes in the Issaquah Highlands, or to schedule any home showings,
contact us
today!