New Issaquah Development & Buyer Demand Sparks Rising Home Prices in 2013
Posted by Tony Gilbert on Thursday, November 21, 2013 at 12:04 PM
By Tony Gilbert / November 21, 2013
Comment
Issaquah is proving more popular than ever with home buyers in 2013. While Issaquah has historically enjoyed a very active market compared to other "suburban" communities in King County, with inventory continuing to shrink in neighborhoods closer to Seattle (and affordability dwindling), a greater number of buyers are choosing to purchase homes farther east. This trend, combined with new commercial & residential development in perennially "hot" neighborhoods like the Issaquah Highlands, has lead to a seemingly never-ending increase in home prices.
Is this good news? Well, this of course would depend on who you ask. For sellers, compared to previous years, this obviously means fewer days on the market, and a higher selling price - and perhaps some relief for many weary homeowners who are no longer "underwater." But for buyers, it means less home for the money, and potential affordability issues - especially when combined with higher interest rates.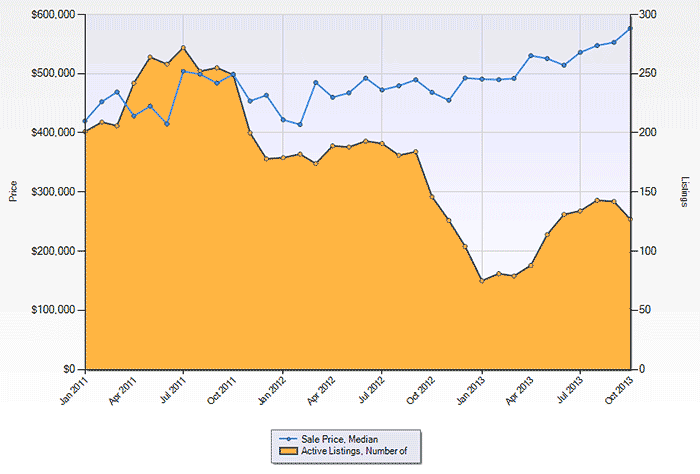 How Much Have Issaquah Home Prices Increased?
The chart above makes things pretty clear - prices continue to rise at a steady pace, and we're currently at a peak. In November (as of today), the median sale price for a home in Issaquah (excluding condos) is $579,500 - a whopping 27% increase over November 2012's figure of $455,000. If this number sticks over the next few days, this will be the highest increase compared to any month in 2012 - and the largest increase since 2006's hectic market, when compared to 2005.
What's Driving the Price Increases?
Beyond low interest rates, a healthier economy in general, and rising prices elsewhere on Seattle's Eastside, an important contributing factor for the steady price increases is the undoubted influence of new residential & commercial development at the Issaquah Highlands.
2012 brought a return of new home construction, which was rather slow to begin. However, by the end of the 2nd quarter, as demand continued to outpace home inventory in Bellevue, buyers began flocking to Issaquah again in earnest - and the pickings were slim as well - especially in neighborhoods such as the Highlands and Klahanie.
Simultaneously, Grand Ridge Plaza broke ground at the Highlands, - obviously the areas largest retail & entertainment center construction project in many years. Once the news spread of the new movie theater, grocery store, retail outlets and restaurants, the real estate market kicked into high gear with buyer interest, record attendance at open houses, multiple offers for resale homes - and as a result, higher home prices.
What's in Store for 2014 in Issaquah
Of course, no one truly knows what the future will hold. But, judging by the number of new residential projects coming online in 2014 - especially in the Highlands - home builders are clearly quite confident a steady stream of home buyers will continue. However, it is predicted that interest rates will rise somewhat in 2014, and possibly increase significantly in 2015 - which of course, could cause demand to slow.
Regardless, at the moment anyway, it appears that the Issaquah housing market may be setting up for another very active spring.