New Listings Under $400K in High Demand at Snoqualmie Ridge
Posted by Tony Gilbert on Tuesday, December 11, 2012 at 12:59 PM
By Tony Gilbert / December 11, 2012
Comment

Pending sales at Snoqualmie Ridge increased in November, and demand for pre-owned homes under $400,000 is exceptionally high, as we experience the lowest available inventory in that price-range in a few years. Fortunately, we've reversed what we discussed in November's market update for Snoqualmie Ridge, when the overall dynamics turned negative.
Pre-Owned Pending Sales Increase - Inventory Remains Tight
Compared to October, November's pending sales increased by 20%, while new listings dropped by 36%, with 9 new listings in November.  Closed transactions in November remained flat with 8 closings. Home inventory levels remain "healthy" where most sellers are concerned with 20 homes for sale as of November 30th. Compared to last November 2011, available home inventory is down by 28%, and new listings are down as well, by 35%. While these dynamics may "look" healthy overall, there's more going on here - and it's not all "good news."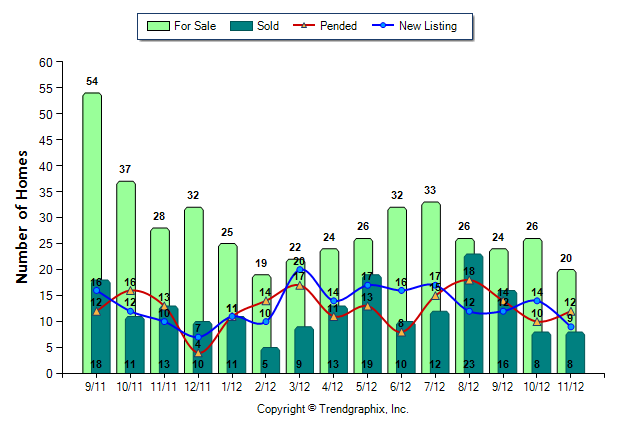 Buyers Ready to Buy - Sellers Not Ready to Sell
The health of the market at Snoqualmie Ridge is not as "rosy" as it may seem - and we're certainly not alone, as other "hyper-local" markets across the country have similar dynamics. We know for a fact that there are plenty of buyers out there looking for homes between $300K-$450K. At the same time however, there are likely just as many homeowners with valuations in that range who simply cannot sell, or choose not to at this time, because they may be "underwater." Of course, there are others who don't wish to sell at this time, even if they have plenty of equity - waiting perhaps to recoup some of what was lost in the market crisis.
Even with Limited Inventory, Pricing Pressures Remain
So... we have a waiting game of sorts - and when a more "affordable" home comes up for sale, buyers literally pounce on it, and multiple offers are more likely. This creates the illusion of a "hot" market - a market where one would reasonably assume prices were increasing rapidly. However, even with limited inventory, prices are not going up quickly, particularly with homes valued over $500K. We've clearly hit a bit of a plateau after the run-up in home prices during the spring of 2012. This is because there are fewer buyers who can afford or be qualified to purchase a more expensive home, as in years past. Therefore, we have competing market dynamics between what sellers are able and/or willing to accept, compared to what buyers are able to afford. Thus, pricing pressures remain.
A Tale of Two Price Ranges - Under and Over $400,000
Almost No Homes for Sale under $400K
The two charts below truly tell "the tale" of two price ranges - the first chart shows home priced BELOW $400K - and no... it's not a mistake. Notice what happened in November. All but one of the listings under $400K was absorbed by buyer demand! There was only one new listing under $400K in November. Thus... any new listing which comes up for sale below $400K will have VERY strong interest. If it's in otherwise good shape, and the price is reasonable, any home priced under $400K at Snoqualmie Ridge will likely go under contract in a matter of a few days.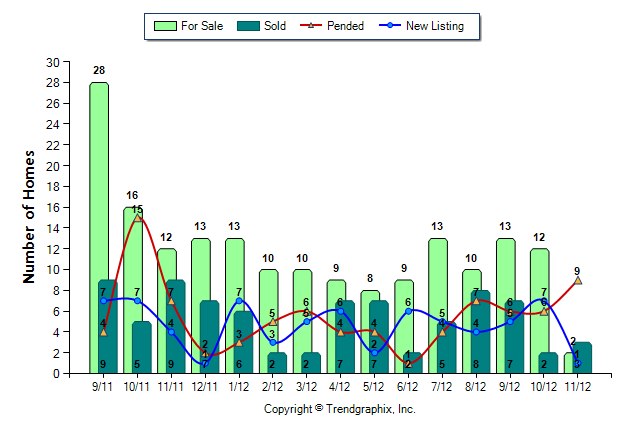 Demand Over $500,000 Much Weaker
The chart below represents homes priced between $400K - $699K, and the differences are plainly obvious compared to the lower price bracket - in fact, the dynamics are the complete opposite. Notice in November, we have increased inventory with new listings and fewer pending sales. Yes... the numbers are better than 2011 - but not so much so that sellers in the upper price ranges can justify "testing" the market. That would be a mistake. As of the date of this post (December 11th, 2012), there are presently 10 homes "active" on the market between 400K - 699K, six of which are priced over $500K, with an average "days on market" of 77 days. Three of those listings have already had price-reductions, and have not yet sold.
Many buyers ARE aware of these inventory levels, and some are waiting for further price reductions before seriously considering an offer - or they're opting for new construction. Hopefully we'll see more buyers in the upper-price ranges come to the table in the late winter or spring of 2013, as was the case in 2012.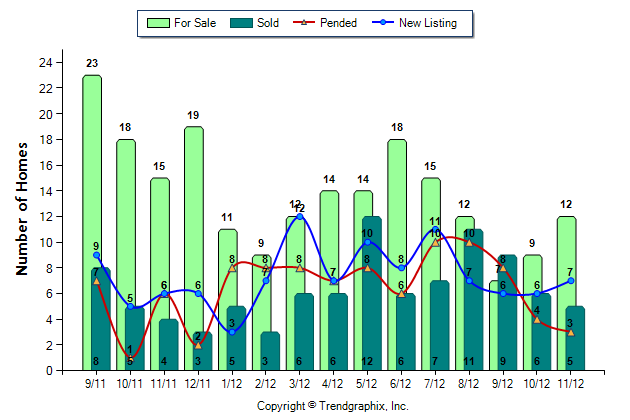 View the current homes for sale in Snoqualmie Ridge, and contact us to day to arrange for private showings, and tours of other available  homes in the area. Want to keep up-to-date with the market activity? Sign-up for our local Market Data Reports. Summary for Snoqualmie Ridge: November 30, 2012 Single Family Homes Only - Excluding New Construction or Condos Closings During  November: 8 Average selling price: approx. $457K Median sold price: approx $455K New Listings During November: 9  Active Listings as of November 30th: 20 Average Asking Price: approx. $668K Average Price per Square Foot: $159 Statistics not compiled or published by the Northwest Multiple Listing Service.
Related Links