Number of Active Listings in Sammamish Rises 24% - Market Shifting?
Posted by Tony Gilbert on Sunday, July 28, 2013 at 10:23 PM
By Tony Gilbert / July 28, 2013
Comment
For the third consecutive month, the number of
homes for sale in Sammamish
continues to increase -
active listings increased 24% in June
, compared to May - which also had an increase of 22% from April. Pending listings have leveled-off a bit, dropping by 13% in June compared to the previous month.
As is the case with other "hyper-local" housing markets on Seattle's Eastside, it appears we may be moving away from the unsustainable market dynamics we've experienced for several months. While it's highly likely neighborhoods in Sammamish will continue to have strong interest from buyers when new listings come up, if the current pattern persists, it's possible we may be at the beginning stages a more balanced (and healthier) real estate market in the future.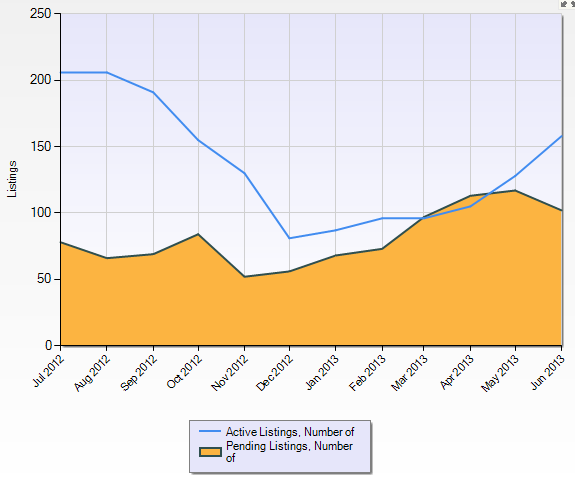 As evidenced in the chart above, the relationship between active and pending listings has been difficult to navigate, both for buyers, and the real estate agents who represent them. With the number of pending and active listings running in tandem during March & April, it was a certainty that any new listing in "good condition" was going to receive strong interest, and quite possibly multiple offers. However, as the numbers indicate, pending home sales in Sammamish are dropping, while active listings are increasing, which should allow at least "a little bit" more breathing room for buyers. But, don't assume this means Sammamish home buyers can rest on their laurels; we're still in a market which strongly favors sellers, thus being fully prepared and vigilant in the house hunt is critical.
Is the Market Shift in Sammamish Seasonal?
Most of the Seattle metro area shares very similar patterns in seasonal shifts, tending to have a bit of a lull in the summer and then peaking again in the early fall - followed by (as you may already know) reduced activity in November through January due to our weather patterns.
However, having consulted with several buyers lately, we think there's more at work here:
satisfaction of previous pent-up demand
buyer "fatigue" (buyers who have given-up competing for limited inventory)
concern of an "overheated" market
and more recently, rising interest rates
it's commonly known that the
Sammamish housing market
is perhaps a bit less "diverse" than nearby areas where it concerns the type of homes available, and the homes are typically more expensive. For this reason, many would-be homebuyers will likely be impacted more by rising interest rates than other markets. Thus, understandably, the demand will be lower. Ultimately, this may mean more consistent, or even lower home prices in Sammamish during the remainder of 2013.
Related Links