Pre-Owned Home Sales Down at Snoqualmie Ridge - October 2012
Posted by Tony Gilbert on Sunday, November 11, 2012 at 2:07 AM
By Tony Gilbert / November 11, 2012
Comment
October Home Sales Drop Sharply - Sellers Should Remain Conservative!
Well in Snoqualmie Ridge anyway, it appears we've come to a screeching halt on the sale of pre-owned homes in October. (Pre-election jitters perhaps?) The momentum we spoke of through the summer, and in October's market update for Snoqualmie Ridge pretty much evaporated over the past few weeks, with half the number of closings, an increase in new listings, and slightly increased inventory. Pending sales have also continued to drop.
Part of this is simply due to seasonality - on average, there's historically less activity as we exit summer. However, as we've been saying for quite some time, while the market dynamics at Snoqualmie Ridge have drastically improved over the past year, seller's MUST be conservative when pricing their homes. It's tempting to price a new listing near the upper-end of the competition and comparables. But, with the current market dynamics, it's quite clear the data simply doesn't support that type of strategy.
Resale Home Inventory and New Listings Increase
Compared to September, October's pending sales are down by 21%, while the numbers of new listings increased by 15%, with 14 new listings in October. Closed transactions in October dropped by a rather dramatic 50% compared to September. While home inventory levels remain better than 2011, we have 26 homes for sale as of October 31st. Compared to last October 2011, available home inventory is down by 30%, but new listings are higher. When looking at the chart below, it's a bit worrisome that the dynamics have changed so drastically. Hopefully this isn't the start of a trend, and will be corrected in November and December.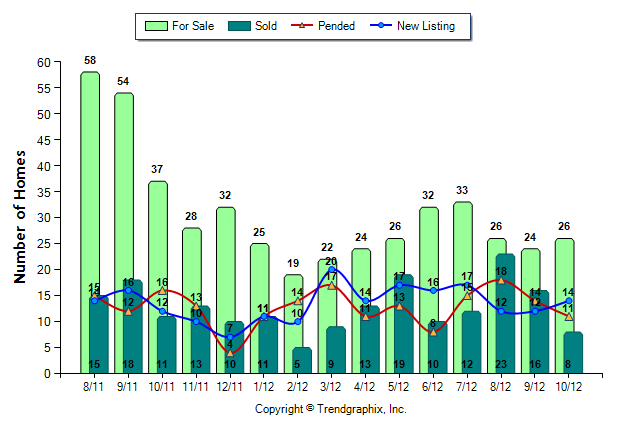 Days on Market Up Just Slightly - Again
The "Days on Market" rose just barely for resale homes at Snoqualmie Ridge - but we're still about 50% lower than October of 2011 - a very good thing. However, we are still seeing price reductions at Snoqualmie Ridge with regularity - in October, about 2 per week. When listing your home for sale, be sure to review the CMA (comparative market analysis) very carefully! While buyers are out there and inventory has indeed tightened up, keep in mind that buyers will likely have the mindset of the past several years. If they see your home is priced higher than something they "perceive" to be comparable, they will want to see the justification for that asking price - upgrades, higher-end finishes, etc. Otherwise, the home that's priced higher, is actually making the comparable home look like a "better deal."
Please note... the chart below indicates a "Sold to List Price Ratio" based upon the asking price when the home went under contract - NOT the original asking price. Home sellers at Snoqualmie Ridge are currently receiving an average of 96% of the original asking price - though there are a few which have had price eductions of 5-7%.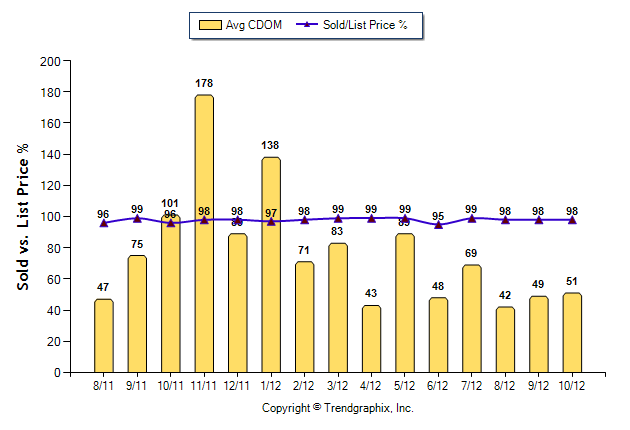 Average Asking & Selling Price Bounce Back Up
As seen in the chart below, home prices at Snoqualmie Ridge have bounced back up again, but as more inventory has hit the market, and with price reductions, in addition to the current pending sales in the lower price ranges, it's doubtful this will hold-up during November. As one can see, there is ample reason to remain conservative with asking prices. As mentioned last month, we won't likely see prices begin to rise significantly again, until "move-up" buyers return to the market in greater numbers - perhaps in the spring of 2013, as was the pattern in 2012.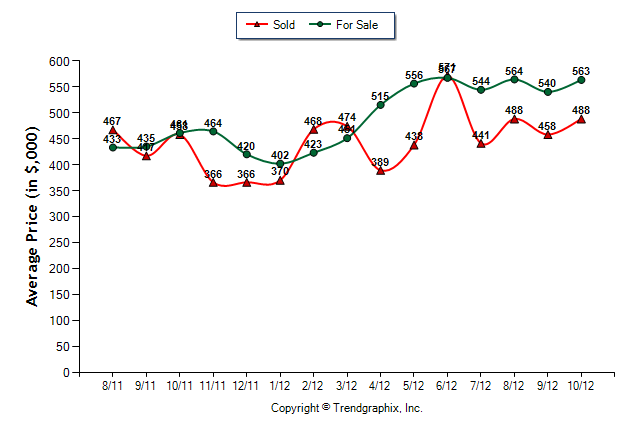 Summary for Snoqualmie Ridge: October 31, 2012 Single Family Homes Only - Excluding New Construction or Condos
Closings During October: 8
Average selling price: approx. $488K
Median sold price: approx $475K
New Listings During October: 14
Active Listings as of October 31st: 26
Average Asking Price: approx. $563K
Average Price per Square Foot: $154
Statistics not compiled or published by the Northwest Multiple Listing Service.