Redmond, WA Ranked in Top Mid-Sized U.S. Cities For 2012
Posted by Tony Gilbert on Tuesday, August 28, 2012 at 9:15 AM
By Tony Gilbert / August 28, 2012
Comment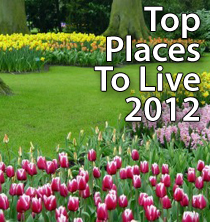 Thinking of moving to the Seattle area, and want to live in a great community?
While there are many fantastic communities in the Seattle area, some rank higher than others based-upon various factors. CNNMoney has released its Best Places To Live 2012 list, and Redmond, WA is on the list, ranking #5. Bellevue didn't quite make the Top 10... coming in at #40, but obviously well within the Top 100.
The survey is based on data from Onboard Informatics. Using Quality of Life factors such as education, crime and "town spirit", and focusing on towns with between 50,000 and 300,000 residents, this year's survey ranks the country's best mid-sized cities.
To be eligible for the Best Places to Live list, all cities and towns must have a median household income greater than 85 percent, and less than 200 percent, of the state median income must not be a categorized as a "retirement community" or a town with "major job loss," and must be racially-diverse.
The complete Top 10 Best Places to Live as cited by CNNMoney, and average local home listing price as of July 2012 follows :
Carmel, Indiana ($304,340 average listing price)
McKinney, Texas ($245,917 average listing price)
Eden Prairie, Minnesota ($413,566 average listing price)
Newton, Massachusetts ($850,117 average listing price)
Redmond, Washington ($518,982 average listing price)
Irvine, California ($904,753 average listing price)
Reston, Virginia ($467,934 average listing price)
Columbia, Maryland ($406,943 average listing price)
Overland Park, Kansas ($278,204 average listing price)
Chapel Hill, NC ($376,660 average listing price)
#40 Bellevue, WA
In addition to ranking its Top 10 Best Places To Live, CNNMoney also offers a host of data on the top-ranked 100 cities at its website. See whether your hometown ranks, and what the data says about your town.
As you review the rankings, however, remember that while lists like these can be helpful to a home buyer in the Seattle area , all "Best Place To Live"-like surveys are entirely subjective. A bottom-ranked town may have no less appeal to you as an individual than a top-ranked one.
Therefore, before making a decision to buy a home, make sure to connect with a Eastside Seattle real estate agent with local market knowledge. That's the best, most reliable way to make sure you're getting the data on the market that matters most to you. You'll spend less time searching for a home, and have a more enjoyable home-buying experience.