Sammamish Heats Up! Resale Home Prices & Demand Increase
Posted by Tony Gilbert on Sunday, May 27, 2012 at 1:30 AM
By Tony Gilbert / May 27, 2012
Comment

While the real estate market in pretty much the entire Seattle metro area has significantly improved and most areas have transitioned to a "seller's market," some areas have experienced a greater share of the action - one of those housing markets is the Sammamish Plateau, on the east side of Lake Sammamish. With the dramatic increase in buyer activity and strong demand, multiple offers have become the norm, and as a result, home prices have increased. Prices are also on the rise as more home sellers in Sammamish recognize the changes in the market.
Over the past several weeks, competition for new listings of homes on the Sammamish Plateau has really taken off - obviously to the delight of many potential home sellers, but much to the chagrin of home buyers. Due to the sudden increase in activity, many potential buyers with a target price range of $450K - $550K have now been "priced-out" of the Sammamish housing market, and as a result, are either compromising significantly on their "Wish List" to keep their search in Sammamish, or they are opening up their home search to include other nearby areas.
Statistics in Different Price Ranges - Below $600K and Above
Let's take a look at the Sammamish real estate market statistics for homes both below, and above the $600,000 price point. The charts below show the differences in market behavior from February 2011, through April 2012.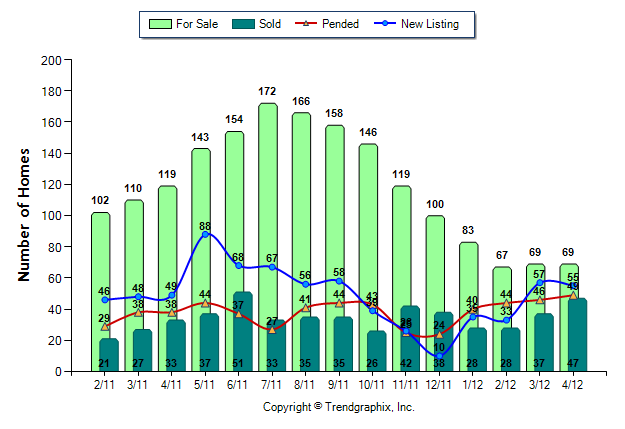 For homes in Sammamish under $600K, note in the chart above that in both March and April, closed and pending transactions picked-up - yet the number of homes for sale was the same, and there were also 2 fewer new listings in April compared to March. While 57 new listings came up in March, there were 49 pending sales, and 47 closings in April - this is a rapid turn-over rate, and is clearly a "seller's market." And judging by the activity we have witnessed, the May monthly statistics may be even tighter - many homes have gone pending in less than 5 days during May.
For Sammamish homes priced above $600K, let's compare by looking at the to the chart below. Immediately noticable in this chart, is the number of new listings during the month of April - they shot up dramatically. Part of this is seasonal, but this is likely due to more sellers in the upper-price ranges attempting to capitalize on a rising market. Notice also, that overall since February of 2011, the market for homes above $600K in Sammamish has also tightened up a bit though obviously not to the same degree as less-expensive homes. While the inventory of Sammamish homes for sale under $600K is pretty flat (for now), the higher-priced inventory continues to increase, and the sales are not as robust.
So... What is an "Affordable Home" in Sammamish?
Of course, the term "affordable" is relative - most single family homes in Sammamish range between $475K to $675K. But, for those who may wish to preserve their cash for home updates and improvements, or for those who may be short on cash regardless, FHA loans are the preferred lending option, with as little as 3.5% downpayment required. Currently in King County, the mortgage loan limit for a single-family home is $567,500. Unfortunately, there are very few homes for sale below $600K in Sammamish. Thus when one does come up for sale, assuming it's in good condition and it's priced reasonably well, there are frequently multiple offers. This puts FHA buyers at a major disadvantage, because a seller may understandably prefer a cash buyer, or a conventional loan buyer with stronger financials, which is usually indicated by a much larger down-payment and earnest money.
Regardless of the region, if you are a home buyer, and you prefer to go with FHA lending, but you could also qualify for a conventional loan with at least a 20% downpayment, you would definitely want to go with a conventional loan in a "hot" market if you wish to make your offer as competitive as possible.
Home Buyers: Don't "Sit on the Fence" in Sammamish!
In the current real estate market in Sammamish, buyers who hold-off on writing an offer to purchase a home, will see their "imperfect matches" continue to go under contract daily, while home inventory continues to shrink and prices overall continue to increase. Moreover, as these new "pending" transactions come to a close, those statistics will then support even higher asking prices and appraisals for future new listings. Thus for buyers with a target home price under $550K, they risk being priced-out of the market in Sammamish if they continue to wait - especially if the prefer a "move-in ready" home.
Seasonal patterns would indiciate that this activity will level off somewhat in the fall, but with the new valuations from closed transactions, in most cases, the asking prices will remain higher than they have been in quite some time.
Sammamish is now a "Seller's Market"
There are several ways to calculate "Months of Inventory" - but for the purpose of our real estate market updates, we'll use the basic method of dividing the number of Active Listings on the last day of April, by the Closed Listings during the month. In the first chart, for homes priced BELOW $600K, at the end of April, Sammamish only has 1.5 months worth of single-family home inventory for homes - a clear and distinguishable seller's market.
However, in looking at the second chart for homes ABOVE $600K, we had just shy of 4 months worth of inventory available. Technically speaking most industry experts would also consider that number a seller's market. But for homes at the upper-end of this price range, obviously the pace of the market would be slower.


View the currently
homes for sale in Sammamish
, and contact us to day to arrange for private showings, and tours of other available homes in the area.
Statistics not compiled or published by the Northwest Multiple Listing Service.
Related Links