Seattle Eastside Home Builder Confidence Rises July 2012
Posted by Tony Gilbert on Thursday, August 16, 2012 at 6:10 AM
By Tony Gilbert / August 16, 2012
Comment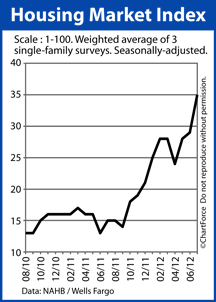 For the second time in three months, the National Association of Homebuilders reports that the Housing Market Index made sizable gains. The Housing Market Index measures homebuilder confidence in the new construction market and is scored between 1-100.
New home builder confidence in the Seattle metro area also remains strong, and in areas on Seattle's Eastside, new homes are selling often as "pre-sales." Additionally, "spec" home (move-in ready) inventory continues to sell quickly. New home communities in the Issaquah Highlands, Talus, the Sammamish Plateau and Snoqualmie all have exceptionally strong buyer interest.
Readings above 50 indicate favorable conditions in the single-family new home market. Readings below 50 indicate poor conditions. The Housing Market Index leaped to 35 in July, a 6-point improvement and the index's biggest one-month gain since September 2002.
The HMI is now up 14 points this year and is more than double its value of one year ago.
The Housing Market Index itself is a composite of three separate survey questions sent to NAHB members monthly. The questions are basic :
How are market conditions for the sale of new homes today?
How are market conditions for the sale of new homes in 6 months?
How is prospective buyer foot traffic?
For July 2012, home builders reported huge gains. Current home sales are up 6 points; sales expectations for the next six months are up 11 points; and buyer foot traffic is up 6 points.
All three survey answers made 5-year highs. Not since 2007 has sales volume and foot traffic been as strong, and over the next 6 months, builders expect a blow-out finish to the year.
It's no surprise, either. Low mortgage rates throughout Washington have lowered monthly housing payments to levels below monthly rent for a comparable home. Plus, programs such as the FHA 3.5% downpayment program continue to help first-time buyers get in homes.
Eastside Seattle Home Builders Not Offering Many Upgrades
There is a downside to rising homebuilder confidence, however. When builders feel more comfortable about their business and the prospects for the future, they're less likely to make sales concessions to to offer free upgrades. If you're shopping for new construction, therefore, consider moving up your time frame.
In recent weeks, we have assisted several clients with new construction homes  in Snoqualmie Ridge and Issaquah. In each case, our buyers were somewhat taken-aback by the lack of flexibility in negotiations. While we were not able to negotiate on price for the most part, our buyers were able to obtain a builder bonus or two, such as adding air conditioning, window covering allowances, and a refrigerator or washer & dryer. So particularly in Issaquah, Sammamish and Snoqualmie, when working with new construction builders, unless they have several completed homes waiting for buyers, don't expect too much, if any movement on price or extra features.
Seattle New Home Prices Likely to Rise
If current trends hold true, don't expect new construction home prices in the Seattle area to go down any time soon. With the exception of unusual floor plans, or lots which are not as desirable, new home builders are pretty much in the driver's seat when it comes to pricing and amenities. Regardless, demand for new homes will likely continue to be strong for many months to come.
Related Links