Seattle Eastside Housing Market Continues to Pick-Up Steam - The Heat Is On!
Posted by Tony Gilbert on Friday, May 2, 2014 at 12:33 PM
By Tony Gilbert / May 2, 2014
Comment
The springtime real estate market in the Seattle area has been hot the past two years - and for the last couple days anyway, we've had the temperatures to go with it! (Though, coming from Texas, I still can't help but chuckle when the newscasters use words like "sweltering" or "steamy" when describing our occasional "heat waves.") The last two weeks have seen a huge increase in market activity in Sammamish & Issaquah - and to a lesser extent, Snoqualmie & North Bend. As of the timing of this post, just in the past 36 hours we've seen over 60 new listings in this relatively small area - and we still have the rest of Friday to go!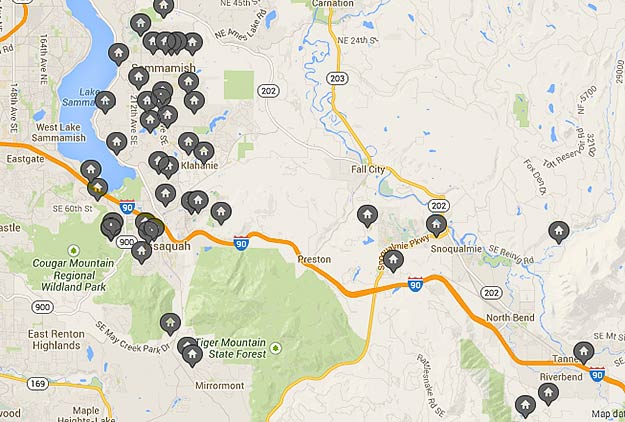 Last week, the same area saw 53 new listings on Thursday & Friday. But what's more interesting - and certainly of great interest to buyers having to deal with this market, is that of those 53 new listings, 24 are already pending - meaning 45% of last weeks new inventory was snatched-up by buyers in 7 days or less (many within only 4 days). This rate is higher than in the previous 3 weeks - though they were equally impressive, with about 58% of new listings going pending in 2 weeks or less - about 32% in one week, or less.
Of the pending listings which went active last week, 15 are already in "Pending" status - meaning, they either had very short inspection periods, or skipped the inspection period completely. (As discussed previously, it is common in this market for buyers to pay for "pre-offer" inspections - and skip the inspection contingency in order to be competitive in multiple offer situations.)
What Does This Hectic Spring Market Mean For You?
For Home Sellers: Of course for Eastside sellers, the good news in the Seattle market just keeps coming. Home prices continue to rise as there's very little inventory for buyers to choose from. While prices in Issaquah & Sammamish are "high" by most buyer's definition, they're actually significantly less than nearby Bellevue, which is part of what's causing this feeding frenzy. With this said, sellers must still let the market be the gauge for proper pricing. In short - try to be on point with pricing, and strike while the iron is hot. Having to reduce your asking price in a week or two is a sign of weakness to buyers & their agents, which can actually cost more money in the long run.
For Home Buyers: It's rough out there - we hear you! The best advice we can give at this time, is to be very well educated concerning the Seattle real estate market, and where you fit. Additionally, and In all candor, there are two words agents dread hearing from buyers in an exceptionally strong seller's market - "good deal." For the time being, it's best to erase those words from your vocabulary, because that approach is a setup for disappointment and frustration. In short, as a buyer you must be fully armed with a good agent, current market data & and a very firm lender pre-approval. Moreover, when you've found the house you like, you must be ready, willing & comfortable-enough in these times to submit your highest & best offer right out of the starting gate, as it's very likely you'll be facing competition on new listings.
However, there are occasional overlooked opportunities out there. Don't pass-up the so-called "ugly duckling" listings! Many buyers will judge a home based solely upon curb appeal & online photos, ruling-out a home without ever stepping inside. However, for a buyer who can see past rough-looking landscaping or cosmetic issues, and if they are willing to put in some effort into making some repairs, these listings may in fact be a "good deal" just waiting for the right buyer to come along.