Seattle New Home Builders Benefit From Sellers Market
Posted by Tony Gilbert on Sunday, October 28, 2012 at 4:00 PM
By Tony Gilbert / October 28, 2012
Comment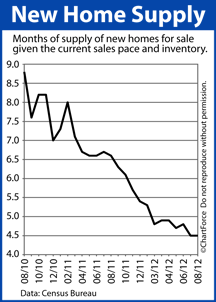 The Seattle and U.S. housing market appears headed for a strong close to 2012 and a roaring start to 2013 - market activity remains active in Seattle and surrounding communities like Bellevue, Issaquah, Sammamish and Snoqualmie.
For most of 2012, choices for new construction homes have been limited, particularly on the Eastside of Seattle, where it is rare to find "move in ready" new construction  - most new home buyers are having to wait at least a few weeks to close as the homes are completed. Seattle new home builders are quite aware they are benefiting from a strong seller's market.
Unfortunately, this also means new home buyers have little, if any room for negotiation.
Inventory Shrinks as New Homes Sell at a Rapid Pace
According to the U.S. Census Bureau, the number of new homes sold jumped to 389,000 units in September 2012 on a seasonally-adjusted, annualized basis. Not since the expiration of the $8,000 federal home buyer tax credit in April 2010 have new homes sold at such a pace. September's numbers mark a 5.7 percent increase from the month prior, and a 27 percent increase from September 2011. There are now just 145,000 new homes for sale nationwide and, according to the National Association of Homebuilders, buyer demand continues to grow.
At today's pace of home sales, the entire U.S. inventory of new homes for sale would sell out in 4.5 months. By way of comparison, in January 2009, new home supply was 12.1 months. And in Seattle, as previously mentioned, there is very little new home "inventory" at all. When home supplies dip below 6.0 months, analysts say, it signifies a "seller's market"; one in which sellers tend to benefit from negotiation leverage over buyers. The national New Home Supply has been below 6.0 months since October 2011.
New Construction Prices on the Increase
Perhaps that's one reason why the average new home sale price has climbed 14.5 percent over the past 12 months to $292,400; and why median new home sales prices have made a similar jump. Just in 2012, we have seen price increases in the Issaquah Highlands of  up to 17% for some Polygon Home models.
Nationally, with builders reporting prospective buyer foot traffic at its highest level since 2006, home supplies are shrinking at a time when buyer demand is rising.  Low mortgage rates and affordable housing choices contribute, too. 30-year fixed rate mortgage rates have been under 4 percent for all of 2012, and are now under 3.50% nationwide. Low rates make for low monthly payments but, like home prices, conditions can't remain buyer-friendly forever.
Home Builders Not Willing Negotiate - BUT Let Them Prove It!
For today's home buyers of new construction, the outlook for finding "great deals" in 2013 will likely be slim - we've worked with several new home buyers in 2012 who were "dismayed" that home builders were not willing to negotiate much - not even for a free garage door opener! (We're not kidding.) New home prices are expected to rise and supplies will continue to grow scarce, and builders aren't likely to repeat the mistakes of the past by having too many move-in ready homes in inventory. The best homes in the new construction market, therefore, may be the ones you buy today. By early-next year, low home prices may be gone, and ultra-low mortgage rates may be as well.
With this said, even IF a builder indicates there's no negotiation, it's important to put in an offer, and let the builder come back with a counter-offer that proves in writing they're not willing to negotiate. With unique and complex contracts, multiple deadlines, builder upgrade options and common financing incentives, it's important to work with a buyer's agent when navigating the new home buying process. While the "sales office staff and/or agents" may be really friendly, keep in mind they represent the SELLER! Don't worry... they're getting paid whether you have an agent of your own, or not.
If you are interested in new construction home in Bellevue, Issaquah, Sammamish or Snoqualmie Ridge, please give us a call! We specialize in helping new home buyers navigate the often confusing and at times "intimidating" process of buying a new home - including builder purchase & sale contract consultations. And "no" - you won't pay less by not using an agent. In fact, you may pay more! Don't get caught up in "new home fever" - and don't go unrepresented! Be sure to connect with a buyer's agent to discuss your needs today - the service is almost always free of charge to the new home buyer.