Seller's Market Coming to an Abrupt End at Snoqualmie Ridge?
Posted by Tony Gilbert on Thursday, August 22, 2013 at 6:13 AM
By Tony Gilbert / August 22, 2013
Comment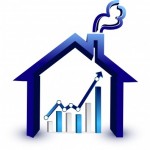 Are we seeing an abrupt end to the strong seller's market at Snoqualmie Ridge?
The market data from August and September will certainly tell the tale - however in our observation of
CURRENT
market dynamics, the answer to that would be "yes". As many homeowners and current sellers are aware,
Snoqualmie Ridge has enjoyed a very fast-paced market over the past few months
, with resale homes in several price ranges selling quickly, and at prices we haven't seen in a very long time.
In fact, t
he median selling price for resale single-family homes at Snoqualmie Ridge in July was approximately $497K - an approximate 14% increase over July of 2012
. However,
looking at the chart below
, notice the two spikes in new listings - both in April, and July. While the new listings in April were quickly absorbed by the market, the same cannot be said for many of the new listings in July - and unfortunately the
ADDITIONAL 23 new listings thus far in August
- the inventory is simply not moving like before.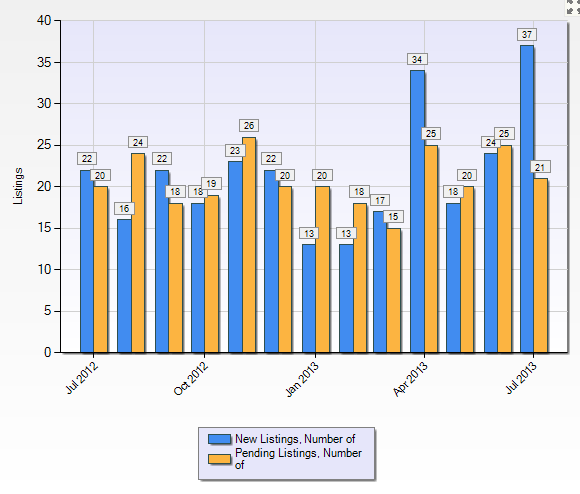 Snapshot of the Current Market at Snoqualmie Ridge:
45 Active listings
18 Pending Listings
23 new listings in the

last three weeks

!
14 price reductions in the

last three weeks

!
The most recent home to go under contract was August 7th, when two homes went pending. No other resale homes on Snoqualmie Ridge have gone under contract in the last two weeks - in fact, no other homes have gone under contract during the entire month of August! Considering the amount of activity over the past three months, that's an exceptional turn-about. And unfortunately, the result is a very sudden increase of available inventory.
Breaking Down the Current Inventory
Earlier in the year, we had an extreme shortage of homes priced below $450K - such a shortage in fact, that some homes sold in only a day or two, and there were a few multiple offer situations. This trend has completely reversed, as now we're seeing "days on market" increase, and there have also been several price reductions in that price range as well.
Current Inventory by Price:
$300,000 - $399,000 - 8 Homes - all at/above approx. $350K
$400,000 - $499,000 - 8 Homes
$500,000 - $599,000 - 7 Homes - all but one is priced at/over $575K
$600,000 - $699,000 - 7 Homes
$700,000 - $799,000 - 6 Homes
$800,000+ - 8 Homes
As has been the case for several months, we still lack resale home inventory in the $500-575K price range. This price bracket in particular may present a strategic pricing opportunity for savvy homeowners who have considered selling, as for various reasons, the number of qualified buyers drops dramatically over $550K, and especially over $600K.
Asking Prices are Now Behind the Curve
Based upon the current data, it is our opinion that too many of the homes now for sale at Snoqualmie Ridge are "behind the curve" - meaning that they are clearly priced based-upon old real estate market dynamics. The result is a rapid rise in the number of price reductions, and an increase in the days on market - both of which can cost sellers money.
We often hear agents strongly suggest pricing a home based-upon "comps." Well, to a large degree that's true - as part of an overall evaluation, pricing should always take into account previously sold homes. However, especially when the market begins to shift up or down, it's absolutely CRITICAL to also consider TODAY'S market activity - not just what happened 1,2,3 months ago, or longer. Not keeping an eagle-eye towards the current market dynamics can potentially cost a seller 10's of thousands of dollars - both in the return of equity and carrying costs.
Will the Snoqualmie Ridge Housing Market Recovery Continue?
With the strong seller's market over the past few months, one might expect the market to continue to recover from the low-point. However, due to various factors in the nationwide economy, the financial markets, and the inevitable seasonal trends in the Seattle area, in our opinion, it's doubtful w'll continue to see the same rate of improvement and recovery going forward. Indeed, according to the Snoqualmie Ridge housing market TODAY, it looks like we may see a bumpy-ride here shortly - which will hopefully be temporary.
Thus, while it's usually not a wise approach at any time, now is definitely NOT the time to "test the market." Rather, it's clearly a time to reassess pricing strategies! Otherwise, Snoqualmie Ridge is presently setting-up for a rather lack-luster housing market this fall.
Related Links