September Home Sales Drop at Snoqualmie Ridge as New Inventory Shrinks
Posted by Tony Gilbert on Sunday, October 7, 2012 at 4:25 AM
By Tony Gilbert / October 7, 2012
Comment
September Home Sales Drop Slightly as "Fresh" Inventory Shrinks
The momentum we spoke of in September's market update for Snoqualmie Ridge has slowed down just a bit, with fewer closings and essential "flat" new listings in September. Pending listings are also down, likely due in large part to fewer "fresh" listings coming up for sale - many buyers feel they simply don't have enough to choose from in order to make a purchase at this time.
Regardless, inventory remains tight for resale homes, which normally would put upward pressure on home prices. But as many buyers sit on the sidelines waiting for their "perfect match" to come up for sale, we continue to see price reductions with regularity - not only in Snoqualmie Ridge, but in Issaquah & Sammamish as well. The fact is, that a some don't realize that the rapid run-up in prices we experienced in the spring has gone dormant - thus, they try to push the envelope on the initial asking price. That's a mistake which can cost a home seller thousands of dollars.
Resale Home Inventory Continuous to Drop - New Listings Slow
Compared to August, September's pending sales are down by 22%, while the numbers of new listings was unchanged. Closed transactions in September decreased by 35% compared to August. Home inventory has continued to tighten up, with only 24 homes for sale as of September 30th. Compared to last September 2011, available home inventory down by over 56%. And, compared to last year, new listings continue to drop. It will be interesting to see rises or falls during the fall and winter (which contrary to popular belief, can be an excellent time to list your home for sale!)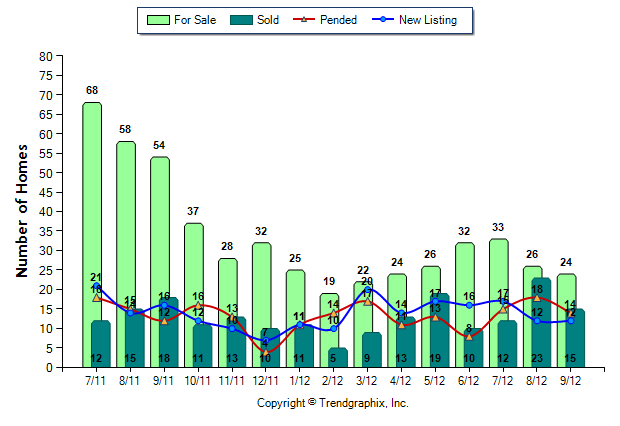 Days on Market Up Just Slightly
The "Days on Market" rose just slightly for resale homes at Snoqualmie Ridge - but we're still about 30% lower than the summer of 2011. We still see price reductions quite often at Snoqualmie Ridge - at the moment about 2 to 4 price reductions per week. We must always warn, while it's always tempting to "test" the market at it's very upper limits, this is NOT advisable. Unless your home has features that no one else has, and these special features are marketed and noted by buyers, you never want to be significantly more expensive than comparable homes.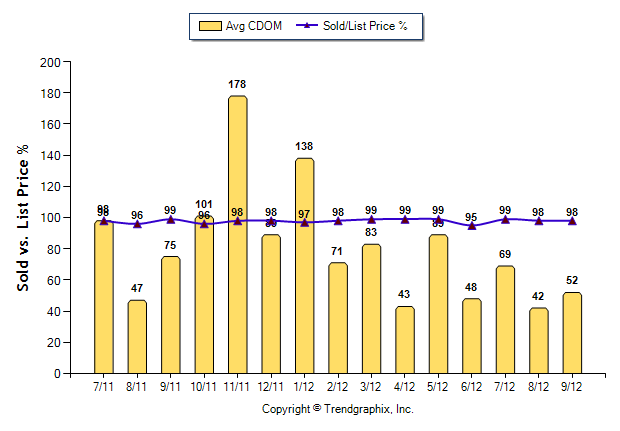 Average Asking and Sold Prices Have Hit a Plateau
As clearly demonstrated by the chart below, we have hit a plateau in both asking and sold prices on Snoqualmie Ridge. The run-up we mentioned earlier in this post is quite evident. There is ample reason to remain conservative with asking prices. We won't likely see prices begin to rise again, until "move-up" buyers return to the market in greater numbers. For now, most home buyers are either first-time buyers, experienced buyers who simply don't want to overextend themselves, or "move-down" buyers - a growing trend across the country.
Summary for Snoqualmie Ridge: September 30, 2012Single Family Homes Only - Excluding New Construction or Condos
Closings During September: 15
Average selling price: approx. $451K
Median sold price: approx $451K
New Listings During September: 12
Active Listings as of September 30th: 24
Average Asking Price: approx. $540K
Average Price per Square Foot: $155

Statistics not compiled or published by the Northwest Multiple Listing Service.
Related Links