Underpricing - When 'Sold in 1 Day' Isn't Something to Celebrate
Posted by Danny Evatt on Friday, February 15, 2013 at 2:07 PM
By Danny Evatt / February 15, 2013
Comment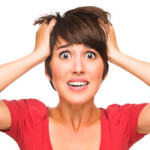 Look at her... she's shocked and upset! And rightfully so. She just learned she lost about $20,000 by pricing her home too low, and accepting the first offer.
Well, not really... we don't know who she is. But, she did a great job in this photo session, as her face certainly fits the circumstances. Don't be like her...
Are some Austin home sellers potentially leaving money on the table? You read the following, and decide for yourself.
Sold in 1 Day - Hip, Hip Hooray!
You've surely seen the compelling advertisements lately... "Sold in One Day," or "Top 1% For Closed Sales Days on Market" (i.e., lowest number of active days on market). Well... sorry to burst any bubbles, but a quick sale is not always something to celebrate.
In fact, such jovial declarations could just as easily indicate the home sellers lost money - $1,000's, or potentially tens of thousands of dollars by selling too quickly and not benefiting from enough time on the market. Obviously, buyers can't view a home and consider placing an offer, if they're completely unaware the home is for sale to begin with! (We're not talking about "planned" multiple-offer strategies here, where offers are held for the seller to review on a future date.)
Ultimately, it's up to the seller to establish an asking price, and later, to decide when to accept an offer, and under what terms. In the case of a low asking and selling price, it's certainly possible that the seller may not be concerned about the potential loss, or they may be pressured to sell as quickly as possible. But, if they make these decisions based-upon outdated, careless or purposefully misleading advice, then that's another matter entirely.
Agents Have a Duty to Stay Informed About the Market
Regardless of the cause, we as agents have a duty to be "educated" when it comes to the market dynamics, and to inform our clients if we have ANY information which justifies a higher (or lower) initial asking price, and a future agreed-upon contract price. Unfortunately, there are agents and brokerages out there who don't do their research - or, they're looking squarely at their own interests, and simply want a quick sale. At best... I guess that is "unfortunate." At worst however, one could argue that a cavalier attitude regarding the market conditions, and/or an intentional recommendation of a low asking price which benefits the agent due to a quick sale, could be a violation of real estate licensing laws.
But I digress...
Pricing Isn't a Cake-Walk in a Seller's Market
In 2012, a seller's market began to take shape in many areas of the country. Now let's be clear... pricing is never a "cake-walk" - even in a seller's market - and a "hot market" isn't a green-light for a homeowner to overprice their home. In any market, careful consideration must be given to all variables affecting market demand and price. Not only does this include considering a home's features and advantages when compared to other homes, but more importantly, it requires a careful review of the homes available to buyers TODAY. If an agent doesn't give strong consideration to the current pending sales AND the homes presently available in a particular price range, they could easily be leading the seller towards an inappropriate asking price.
To add further insult to injury, when a home is underpriced and is "Sold in One Day" or two, this can result in market statistics and possibly appraisals which are lower than what the market might have otherwise dictated, if all cooperating agents (i.e, MLS members) and their active buyers had been made aware of, and been given time to act upon the new listing. Thus, when other homeowners decide to list their own homes in the future, they too will be negatively impacted, because a good part of the pricing equation is based-upon those previous comparable transactions.
Sure, It Can Happen... But We're Not Convinced
With all of this said, it is true that sometimes the "right buyer" just happens to be in the right place at the right time, and snaps-up a home that was "appropriately" priced. At the moment however, we're convinced that too many homes in certain price ranges are going under contract too quickly due to sellers being uninformed, and/or agents apparently being "behind the curve" on current market trends.
Be an Educated Seller - Get Into the Numbers
When preparing to list your home for sale, please work with an agent who is truly "into" the numbers. Ask questions regarding the the reasoning behind their choice of comparables. Ask if they've been in the comparable homes - and if you're brave, accompany the agent when they're previewing other homes (without inconveniencing anyone). Lastly, be sure to re-examine the market the day before listing. In short... be an educated seller!
And just as critical, choose an agent who is service oriented, and one who truly has your best interests in mind - an agent who cares about your interests not only during the listing appointment, but all the way through to closing... when "outstanding" service is demonstrated, and not just a marketing tagline.