Yes, Issaquah is a Seller's Market - Curb Appeal Still Matters!
Posted by Tony Gilbert on Friday, March 29, 2013 at 10:19 AM
By Tony Gilbert / March 29, 2013
Comment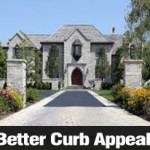 You know the saying... "First Impressions are Everything!"  And, nothing holds more true than in real estate, when placing your home on the market. If you are preparing your Issaquah home for sale, it is critical to take a step back and look at the home's curb appeal through potential buyer's eyes.
When driving by, all buyers will immediately form an opinion about your home based-upon the exterior - and letting exterior issues go unattended can send potential buyers directly to your competition. It has been demonstrated time and time again, that
curb-appeal can be the number one factor in getting a home sold in a reasonable time, and for the best price
- and even in our current
seller's market in Issaquah
, the home's exterior appearance is still a top priority. Obviously, a home can have a flawless
interior
- and that's something to be proud of. But, it should go without saying that if there are obvious flaws and/or deferred maintenance on the exterior  many home buyer's won't bother to make an appointment to look at the perfect interior - and that can cost you thousands, or more.
Top Tips for Improving Curb Appeal
Here are a few inexpensive things you can do to improve your home's curb appeal, which will make your home more appealing to buyers, and likely increase your resale value:
No matter the season, give the lawn a fresh mowing & edging, trim edges of bedding
Remove all leaves and debris from flower beds - add fresh mulch
Trim-up any trees with low-hanging branches
Shrubbery getting out of control? Trim back shrubs, or consider replacing completely
Plant a few decorative flowers near the entrance or in pots to welcome guests
Especially in the Pacific Northwest, consider having your porches & driveways powerwashed
Take a look at your gutters. Repair any issues, and be sure to have them professionally cleaned!
Consider sanding and repainting/staining your front door if needed
Clean all windows and trim work - make them shine!
When choosing a local Issaquah real estate agent,
don't be offended by their suggestions
. Remember, you are hiring them for their expertise - it is your agent's job to view your home through a buyer's eyes.  Obviously, the above list isn't all-inclusive, but taking care of these few relatively simple and inexpensive tasks will absolutely invite more home buyers to view your home - which will help sell it faster, and quite likely at a higher price.
Related Links