Counting Days in Real Estate Contract Contingencies
Posted by Danny Evatt on Tuesday, April 14, 2020 at 11:58 AM
By Danny Evatt / April 14, 2020
Comment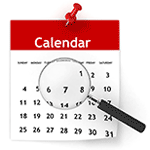 How do we count the number of days for contingencies in home purchase & sale contracts? It's not too complicated to answer, but misunderstandings regarding the "Computation of Time" in real estate contracts are unfortunately very common.
While all contract contingencies are necessary, arguably, the most critical contingency in any real estate purchase and sale contract is the Financing Contingency, which is typically 20-30 days. All parties, especially the home buyer and their real estate agent, need to accurately count the number of days and adhere to any related terms of the contract. The inspection contingency is just as important. Wait too long after the inspection to negotiate any repairs, and you may find you just accepted the home as-is.
Computation of Time - Seattle NWMLS Contracts
In the Seattle area, the Computation of Time is incorporated into the contract, which is clearly stated in the NWMLS Form 21, Residential Purchase & Sale Contract. Unless the parties agree to the contrary in writing, all real estate contracts using NWMLS forms will automatically count the number of days according to the following computation of time summary:
Day commencing the period is Day 0
5 days or less - count Business Days ONLY
Greater than 5 days - count ALL days
All periods must end on a Business Day - except that "possession" can be on a weekend
All periods end at 9pm local time
(Disclaimer: If you are a real estate agent, you must confirm the above with your Principal Managing Broker. In other words... don't take my word for it.)
Therefore, when negotiating the number of days for any contingency agreement or addendum in the contract, it is important to consider business days, weekends, and holidays. It is not uncommon for a contingency period to include all three.
When is 5 Days Longer than 7 Days?
For example, if your Inspection Contingency is 5 days, and the agreement was entered into on Wednesday (Day "zero"), but also includes the coming Memorial Day weekend, then your contingency period is actually 8 calendar days, ending on the following Thursday at 9pm. This is because Saturday, Sunday & Monday (Memorial Day) do not count.
Ironically, if the agreement called for a 7-day inspection period, the contingency would end a day EARLIER, on Wednesday. Why? Because according to the contract's computation of time, any period greater than 5 days includes all days (but must end on a business day). So in this example, a 7-day period is less than a 5-day. Confusing... isn't it?
Thus... when entering into a home purchase and sale agreement, be sure to communicate with your real estate agent, and CONFIRM ALL time periods. "Time is of the essence" is all real estate contracts. Not knowing these dates, or just not paying attention can have dire consequences.